The Times We Made Mitch Cry
Lori Palminteri
December 4, 2020
Lisa, myself and Mitch are all two years apart. We were, undoubtedly, very planned children. Mitch and I are almost two years apart to the exact day.
By far, without any close competition, Lisa cried the most growing up and especially into teenaged years. She was easily triggered and overly sensitive. In the years we shared a bedroom, I often felt like I was walking on egg shells because it was easier than dealing with an outburst. Though, conversely, as siblings often do, sometimes Mitch and I would prod her and intentionally set her off.
However, in our very early vacations to Disney World, it was Mitch who burst into hysterics. This wasn't really his fault, as he was very young, and we tortured him by taking him on scary rides. I think he was in second grade the first time we took him on 'Tower of Terror' (a ride they closed and replaced with 'Guardians of the Galaxy' ride, which caused me pangs as this was one of my favorite rides I wanted to ride over and over to the point where my whole family was like, 'enough'). We dragged him on everything. Somewhere there's a hilarious in-ride picture of him clutching my mom with legitimate terror on his face. It makes me laugh every time. But it was scary. The 'Twilight Zone' based ride, if you've never had the pleasure of enjoying, is fully immersive as it brings you through the haunted Hollywood Hotel, as Rod Serling narrates the legend and you meet ghosts until you're dropped from the top of hotel in the 'elevator' like the story. Even I recall, being so small, my whole body elevating and gripping for dear life as I thought I was going to fly out of the seat. Years later, they installed seat belts, however, in those early years, it was just a lap bar.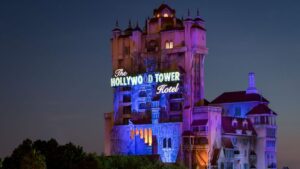 I believe Mitch cried on the Snow White ride (that also closed), which was actually quite creepy when she's running through the dark forest and there's nothing but glowing eyes and sound effects.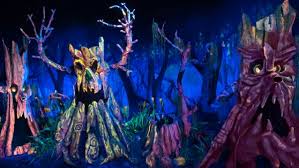 Much of these memories came back to me after I re-watched "Honey, I Shrunk The Kids," which I'm happy to report still holds up and I enjoyed it thoroughly as an adult. Another closed attracted was the 3-D (or 4-D) 'Honey I Shrunk The Audience.' The first time I saw this, I was confused as the whole theater screamed. This is another immersive experience, and there's a point where "mice" run through your ankles, a trick devised by blowing wind on your ankles. I, however, was too small and my legs didn't reach so I didn't feel the effect. Years later when I'd go on it again, it freaked me out since I had no idea it was coming. Mitch also cried during this since giant bugs come at you. My Mom was screaming, but in fun. My Mom is one of those people who screams at horror movies but in enjoyment.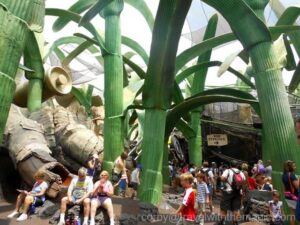 (We did very much enjoy the "Honey I Shrunk The Kids Playground.)
When the third Jurassic Park movie came out, we went with my cousins and Aunt and Uncle. My Aunt Barbara also screams in horror movies. The two of them were just screaming their heads off when the T-Rex shows up, which was equal parts embarrassing and funny to us kids. In truth they are fun people to watch scary stuff with.
Another one of my favorite attractions is 'The Haunted Mansion.' Is it any surprise I loved the rides featuring dead people? I'm unsure if Mitch cried during this, but he most certainly squeezed my mom's arms as hard as he could. Though I remember being truly freaked out when you pass the mirror and see a hitch hiking ghost next to you. Lisa was the bravest in these situations, being the oldest, and I turned to her in comfort, unsure if I was seeing a real ghost or a trick.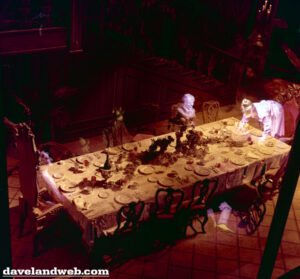 Fun fact about 'Haunted Mansion:' it's the ride with the most security cameras. This is because during clean ups, Disney workers kept finding piles of ash in the ride. Turns out, people used to bring their cremated loved ones to the ride and dumb them out there. And not just a couple people. A LOT of people. Even though that's pretty gross, I very much liked the idea.
By far, the most terrifying thing in Disney World was in Tomorrow Land– the 'Alien Encounter' (also no longer exists, they replaced it with a more friendly 'Lilo and Stich' thing because kids always left that Encounter screaming). In 'Alien Encounter,' you're strapped in a dome and there is an alien experiment/specimen in a large tube in the middle of the dome, similar looking to the alien in 'Alien.' TV's show these scientists filling you in on this experiment. Then, something goes wrong and everything goes black and strobes go off and when the lights go on, the monstrous alien is gone and the test tube is broken and as fog emerges.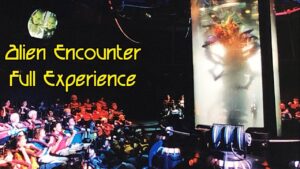 Then the following happens (thanks, Wikipedia): "A maintenance worker attempted to restore the power, but was mauled as the alien's shrieks resounded throughout the room and a spray of fluid flew out into the audience hitting the guests' faces. After the spray of fluid, the guests felt their seats rumble and shake as the alien made its way swiftly through the crowd, during which time the guests also felt the "breath" of the alien on the back of their necks and drool dripping from its mouth. The power finally came back, and with assistance from the two X-S Tech technicians, the ravenous alien was ultimately driven back into the broken teleportation device, but overpowering the tube caused the alien to explode right before the tube closed. Guests were then released from their seats while the two technicians bid them goodbye and resumed their search for the misplaced Clench. On the way out, guests could see the sign "What a Way to Go" and were wished "a nice tomorrow" and exited into Merchant of Venus."
Mitch screamed and begged to leave this the whole time. But you are locked in with shoulder straps and can't move. Other kids cried too. I was on the verge of tears but held them back. My parents laughed at us. But in their defense, in later visits, I would also laugh at the kids crying on this because I also remember being so afraid.
All three of us, like our parents, became huge roller coaster junkies. Being very small, my mom bought me platform shoes which gave me an extra two inches of height one year when I was in middle school so I could go on big roller coasters in Universal Studios. Mitch and I would get pissed when we were denied entry to a big coaster.
One time at Universal, my parents and Lisa went on the 'Medusa' roller coaster. Mitch and I, sulking, had to wait at the gift shop as we were too small to ride it. When they got off the ride, all three of them said it wasn't really that fun. "I know you're lying to me to make me feel better," I said to my sister.
It brings me much joy that both my nephew and my very little niece already love roller coasters, as I foresee very fun outings to amusement parks in our future. As the Disney and Universal vacations we took I regard as some of my most fond memories. Even at a middle school age, I used to skip and dance through the streets of the parks in my ecstasy (Lisa found this horribly embarrassing).
When I find out adults never went to theme parks as kids, I always feel they were robbed of amazing family fun. These peak childhood years make me smile to this day. Even the ones where Mitch was crying (if not especially when Mitch was crying).
Go To Top