About Me
---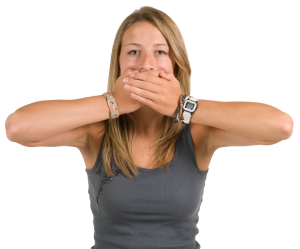 Lori Palminteri likes to jump off cliffs.  Ever since she was a kid, she had a strong desire to climb things and jump off them into water.  It was scary, but also lots of fun.  She enjoyed all aspects of jumping off cliffs.  From the dexterity she used to climb, to the dread in her stomach when she looked down the cliff, the adrenaline of the fall, and the safe embrace of water all around her.  When Lori wasn't jumping off cliffs, she enjoyed writing stories (often involving a scene where someone jumps off a cliff), and watching sitcoms.  Throughout her youth, Lori continued to jump off cliffs and write stories.
In college, Lori dreamt of becoming a professional writer and stand up comedian.  But, alas, Lori was a shy girl, fearing the stage and talking to audiences.  Then one day, a dear friend said, "But Lori, you like to climb, and jump off cliffs, risking your life.  Surely, going on stage isn't as scary as that."  This is something she had not considered, and Lori gave it some thought, deciding her phobia was quite ridiculous.
In the summer of 2009, Lori tried stand-up comedy, discovering that she went through the same emotions as cliff jumping: Anticipation/excitement to dread to adrenaline to an overall feeling of satisfaction and fulfillment.
In the short time Lori's been in the comedy scene, she's been featured on FX's "Louie," "Live at Gotham" on AXS TV, Comedy Time TV, and many festivals including Laugh Your Asheville Off, She-Devil, Laughing Skull, Laughing Devil, Boston Comedy Festival, and she was a finalist in Trail By Laughter in Indianapolis. Her wholesome "girl next door" looks and charm belie her quirky, often edgy style, which allows her to take audiences completely by surprise. Lori's written work includes an animated sitcom pilot developed and written with SNL alum, Jim Breuer, as well as several other television pilots, spec scripts and originals.  Her original sitcom pilot "Honest Living" was nominated for Best Film in the Comic Strip Film Festival, and Lori was nominated for Best Performance for her portrayal of the mischievous con artist, Kate.   Lori is also a contributor and writer for Full Frontal Radio.
In 2013, Lori was featured in a comedy tour in Ireland.  She can be seen regularly at New York City and Long Island comedy clubs including, the Comedy Cellar, Broadway Comedy Club, Governor's Comedy Club, the Brokerage, and more.  Lori has opened for comics she idolizes such as, Colin Quinn, Jim Breuer, Kevin Nealon, Gilbert Gottfried, Adam Ferrara, Wendy Liebman, Pete Correale, Colin Jost, and many more.
Lori still likes to jump off cliffs.
Go To Top