Nightmares
Lori Palminteri
March 13, 2015
Most mornings, I mosey around my apartment interpreting the meaning of the night's dreams while getting ready for the day.  It's rare I wake without a memory of at least one dream.  More than not, these dreams are pretty easy to interpret: a stress dream about work, a sex dream, getting booked to do stand-up on Conan O'Brien, going surfing, meeting Tina Fey, control loss dreams (my brakes on my car failing to work).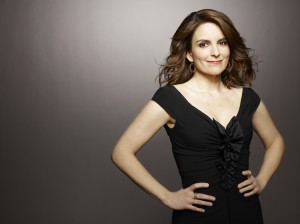 (In that dream, Tina Fey knew who I was and was excited to meet me!)
Sometimes I have these epic, Michael Bay movie type dreams: fighting a giant robot T-rex from outer space, I've battled zombies on the San Francisco bridge, I've sailed the seas with pirates, and been Batman's sidekick.  These are scary, but also fun.  Yes, sometimes, it's quite fantastic to have my brain.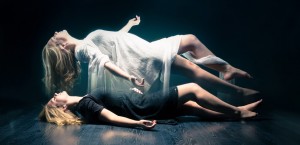 Lucid dreaming is a dream where you are aware you are in a dream.  Scientists say this is rare.  I have at least one lucid dream a week.  It's not as awesome as you might think.  There are always clues that give it away.  Sometimes people in my dreams tell me I'm dreaming.  There's always something off about dreams, how they look or how people act.  Once I pick up on one clue, it becomes more and more obvious.  As soon as I know I'm in a dream, I'm unable to do anything I can't do in realty.  So I can't fly.  Usually, the recognition of my state causes the dream to deteriorate.  Depending on the dream, sometimes I try to keep it together (I recently had a lucid dream that I was hired as a writer for "Broad City," and while I knew it wasn't real, I desperately clinged to it).  Sometimes, I want to wake up badly.  For example, I've seen my brother die in my dreams many times.  This crushes me, and my pillow is wet with tears, always.  My brother lives a lifestyle unlike most.  He is crazy.  As his older sister, I guess I'm always worried he'll get hurt.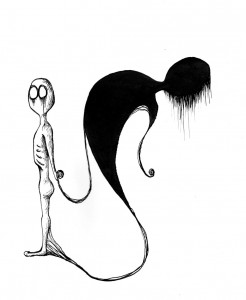 My dad told me at a young age that you can never die your dream.  If you die in a dream, you die in real life (very Matrix like, Dad). This has proven to be true, however.  I've been almost killed many times.  But before that knight stabbed me, or before I fell off that cliff, I wake up.
You can't have amazing vivid dreams without having ridiculously frightening nightmares.  To this day, one of my worst nightmares happened when I was only about seven or eight.  I was being hunted by a terrifying, Nosferatu type vampire.  I woke up.  I ran upstairs to my parents room, wanting to snuggle between them, knowing their love would keep me out of harms way, in life or in my head.  When I pulled the covers back, my parents were decaying corpses.  I woke up again.  A dream within a dream.  This was a relatively new concept for me.  This time I stayed in bed, as tears rolled down my face.  I wanted to run upstairs.  I wanted to jump into my parents bed and never leave.  But I was scared.  Scared I was still dreaming.  Scared my parents wouldn't be there.  The nightmare reminded me of the the worst truth, a truth that petrifies all children, a truth I couldn't accept then, and can't accept now, that one day, your parents won't be there.  After some time, it was clear to me I wasn't dreaming, and I walked up the stairs to my parents room…  Tapped my Mom on the shoulder.  "What's wrong?" She said.  "I had a nightmare," I replied, holding back my tears.  My Mom lifted the comforter, as she always did, and I crawled into their bed, sleeping soundly the rest of the night listening to the sound of my parents breathing.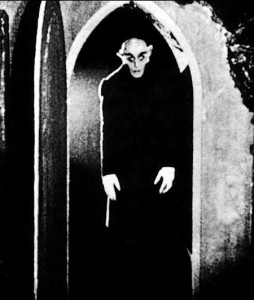 Years later, when it would just be absurd for me to run to my parents room after a nightmare, I still wanted to.  But it's funny to think about a 20 year old running into her parents room.  I can only imagine what my parents would say if I ran into their room at age 20, saying I had a nightmare.  They would probably ask if I were high or drunk.
As stated in this blog (http://www.loripalminteri.com/confessions-nursing-home-worker-part-ii/) when my mental health was deteriorating, largely due to how starkly depressing working in a nursing home had become for me, I had reoccurring dreams of slitting my wrists.  The images are so real to me, it almost feels like it happened.  This nightmare shook me to the deepest parts of my dark soul.  I never saw myself actually die.  I just sat there, as blood drained from my wrists, waiting for death, then I woke up.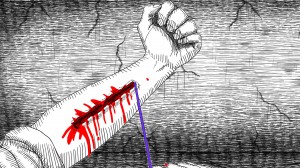 As disturbing as my suicide dream was, it's not my most horrific nightmare as an adult.  The absolute worst nightmare is another reoccurring dream.  I find myself in a mental institution.  It's akin to a 1970's mental institution, where lobotomies are the norm, the doctors and nurses are mad, and they institutionalize the sane.  I have to get out of here.  I first try to reason with a nurse.  "There's been a mistake," I talk to her calmly.  But she's no help.  She tries to give me drugs.  I refuse.  Then, a security guard grabs me and they are taking me to what they call the "hold."  I have no idea what the "hold" is.  But the other patients start freaking the fuck out when they hear it.  I try to escape.  I run away, but I don't make it far.  Doctors and nurses grab me and force me into a bed.  I'm screaming my head off to call my family and a lawyer.  For some reason, going to the "hold" terrifies me.  I'm not even sure why.  I'm strapped to a bed, and a doctor starts talking to me calmly.  I explained to him who I was.  I'm Lori Palminteri.  I'm from New York.  I'm a stand-up comedian.  Please, let me call my Mom.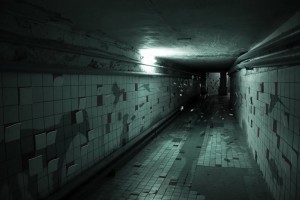 The doctor shakes his head.  He tells me that he's heard this before.  He tells me I always do this.  He tells me that my actual life is a fantasy.  A dream.  This institution, this is my reality, and I've come up with this life as a comic as a way to deal with my situation.  Naturally, I don't take this information lightly.  I cry and scream, and fight the restraints and drugs the nurses are trying to administer.  Calmly, way too calmly, the doctor says, "think about it, Lori.  You, Lori, an introvert, have advanced in the New York City comedy scene?  Do you really think you're friends with Colin Quinn, and wrote a pilot with Jim Breuer?  Do you really think you've performed in clubs and theaters?  Doesn't it sound too good? Try to remember.  Does it seem real?"  He tells me I have frequent hallucinations, and I'm a danger to myself.  I don't want to believe it, but the doctor was starting to make sense.  A lot of my life did seem too good to be true.  Everything grew fuzzy.  The doctor grabbed my hand, and he comforts me.  He tells me it's going to be okay.  He tells me he can save me.  But I can't succumb to this.  I can't go back to the "hold."  Then I wake up.  But there's a moment, a brief moment, I'm not sure if I in reality, or just left it.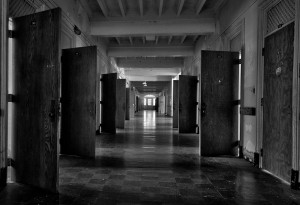 If I had this nightmare once, it would be more than enough.  But I've been a patient in that hospital on numerous occasions.  I'm all too familiar with the halls of that place.  Every time, I try to escape. Every time, this doctor convinces me I'm back in reality, and my life is something I've made up.  "Again with these delusions," the doctor shakes his head.  And he's always so calm.  He's always so convincing, charming, even.  There's something so soothing about him.  A part of me just wants him to hold me, while I sob in his arms.  But I hate him.  He is the devil.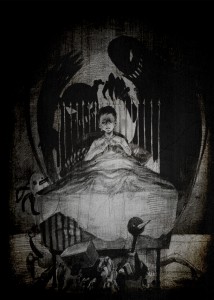 Go To Top