HAZE
Lori Palminteri
July 3, 2017
"Are you a surfer?"
"Of course she's a surfer! She's wearing a wetsuit!  You idiot!" The plump woman with missing teeth yelled at the man who was tanned, wrinkled, and they both seemed high as hell.  They were showering in the outside shower at Robert Moses.  I mean, legitimately showering.  I was rinsing, and peeling off my wetsuit.  I couldn't tell if crack was their drug or meth or both.  I did not want to engage with these people, for more reasons other than the obvious reasons.  This does not make them bad people.  Actually, they were nice, and I even laughed at their bickering.  I almost went to the other shower post (these are all out in the open), but there was an old man just standing there by the shower that creeped me out and I thought maybe I'd best take my chances with the crack/meth heads.  Had I not just gotten out of the ocean, my anxiety levels were high enough to try a life ruining drug.  Growing up in a middle class predominately white town with an underlying heroin problem no one likes to address head on, I've heard many times people say, "I just can't understand what makes people do such a drug," and I accept that they haven't accepted what a meaningless often horrible existence this is, or that they never read the Anthony Kiedis memoir, "Scar Tissue," a book that made me say, "man, China White sounds amazing."
When I got to the beach, around 8am, it was already hot and hazy.  So hazy, the Pencil looked like it had smoke rings around it.  As I walked down the beach scanning the ocean for the best swell spot, silhouettes of people walking in the distance looked like zombies staggering in fog.  Reality seemed suspended, and I was surprised there was not one surfer in the ocean (the waves were not very good, but still, a hot Sunday where there are any waves, you'd expect surfers out there).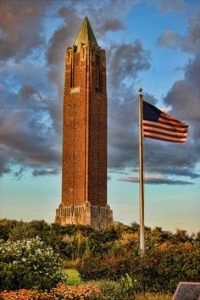 (Above, Fire Island Pencil/Water Tower)
For a few moments, I was a bit dour that the waves weren't better.  I hadn't been surfing in weeks, and my head is a cluster fuck, and surfing is a helpful drug that is good for you, body, mind, soul.  But then I realized how ridiculous it was to be mad that the surf wasn't better.  So many things have to go right.  There's gotta be swell coming in, the tide has to be certain way, and the wind has to be off shore.  All conditions which are completely out of one's control and only one is ever certain (the tide that is, though that is always changing).  Great conditions are the norm in Hawaii, but most places, you just have to seize days when the going is good, which was not today, but at least there was something.  A day at the beach is still better than a day not at the beach.  Fuck it.
Eventually, because you stop responding/going to people's parties/BBQ's, you stop getting invited.  So it shouldn't bother me at all that I was once invited to too many 4th of July parties, and now the invites are null.  We are often our own undoing.  The fourth of July reigned in my youth as a favorite holiday, because it meant summer, no school, fireworks, and celebration.
I never stopped really liking fireworks.  I know it's kind of silly.  But I could watch fireworks for hours.  I like the loud crack, the smell of burning cardboard, but most of all the light show sparkling in the black sky.  A lot of things you love from childhood wane, and I suspected how much I loved a good fireworks show would too, but it hasn't.  There's something about a burst of light in a dark night sky that completely stuns my brain into enjoying the here and the now.
At the beach, I ran into a childhood friends mom, who hasn't seen me in years, but has been following my career.  She said, "you're comedically brilliant.  There are so few people in this world who are."  I agree only with the second part of that, and I'll never live up to the first, though I'll probably die trying.  Still, it was nice to hear.  Like an M80 firework, it was a compliment that lit up my brain from darkness.
My head has been in such a haze, I was almost glad when I wiped out, went over the falls, and got my face smashed into the sand.  I deserved that.  Distraction is not a good companion while surfing.  If you're not in it, the ocean will literally punch you in the face.  That's what you get for disrespecting her greatness.  A mouth full of sand.
I blew off last minute invites, sealing my own fate for the lack of invites I'll get next year.  I just couldn't show up and have more people tell me I seem distracted and distant… more than usual, anyway.
"I'm fine," I say.  Which is a lie.  The truth would be, "I will be fine," because like the morning haze that cleared, or like a firework that brightens the darkness, the disarray that orbits my head will eventually let me be.
The crack heads at the shower at Robert Moses, however, will never let me be.  They always have something to say.  It's never poignant, insightful, nor does it make me ever, ever want to do crack.
Go To Top