Dear Sims I Unnecessarily Murdered
Lori Palminteri
March 4, 2023
Dear Sims I Unnecessarily Murdered,
I guess I should start by apologizing for the very name of this blog. Because I can't really think of a 'necessary' reason to murder a Sim. But here we are. When it comes to caring for little simulated people, I acted like a Greek God… mischievous and without empathy. Forgive me Sims, I was mere child God and, well, I know what I did but I never considered that I may also be in a simulation and if the creator of our Simulation purposefully removed a ladder in a pool so a Sim they got bored of would die, or worse, remove doors and let a house go on fire, I'd think that was pretty messed up. I just didn't consider that your reality may actually be a reality.
Why did I do it? To quote one of my favorite and disturbing sci-fi movies, "Prometheus," "we made you because we could." Furthermore, I kind of enjoyed it when when the Sims turned into ghosts which can only be explained by my fascination with the supernatural and Edgar Allan Poe view of the word. Do the ghost Sims become aware that they are both a ghost and a ghost in a simulation?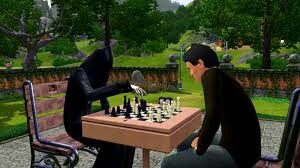 I was also really into making the Sims have sex with other. I enjoyed this more than murdering the Sims. It's kind of perverted (for those who never played the Sims, you should know that when the Sims made love (if you could call it that) they were blurred and pixelated). But it's not cruel like killing the Sims. At least I was trying to give them some pleasure before they died or I killed them on purpose.
When it came to making Sims love each other and making them have sex, I also liked to make a Sim in a 'relationship' with another Sim have multiple lovers. I have no excuses for any of this besides the fact that I would inevitably get bored extending the Sims houses and wanted to meddle in their personal lives. What's more, is I know that this type of behavior was not abnormal. Pretty much everyone I knew who played the Sims was into cheating to get more money (rosebud), killing their Sims and making them have sex. Of course though, making the Sims have sex sometimes resulted in having a Sim baby, which, like a real baby is a lot of work for the Sims to raise a kid. I'm not proud to admit I probably killed more than one Sim baby. On purpose and accident.
Anyway, Sims, you may be relieved to know that I don't play simulation games, VR or any video games at all. It's not that I'm against them. We have some games so cool now, I understand why people turn their backs on reality and surrender to their screens. I, however, prefer reality. For all its flaws, hardships, passing nightmares, real or imagined pain. I still prefer the sunsets, salt water, sound of laughter, vibrations of live music, a meaningful touch, an embrace that makes you feel safe. Yes, Sims, for the time at least you are safe from me turning into some Greek Goddess, who's tired of her realm and would rather fuck with another. I do apologize for murdering you… so I'll just stick to my world and fuck up there for a while.
Etnernally Yours,
Lori
Go To Top