Chapped Lips On The Face Of An Angel
Lori Palminteri
December 21, 2020
Once upon time, when the world was free to go to things like see live comedy, I waited in the wings to perform my art. My fucked up, beautiful, pure, self-righteous, involuntary laughter inducing art form of stand-up comedy. I reached into my pocket for my chapstick. A pre-show habitual ritual of mine since day one as a comic.
"Oh no…" I mumbled, gaining the attention of headliner and friend, Adam Ferrara.
"What is it?"
"My chapstick. I don't have it."
"…so?"
Though Adam is no stranger to irrational neurosis, he's quick to break down your own, in a comedically compassionate way.
"I need it. I always apply chapstick before going on stage."
"You don't need! You're going to be fine with or without it. Your chapstick has no powers."
Says you.
The emcee announces my name and I lick my lips. No chapstick. This set is going to be a disaster.
It wasn't. I did quite well, and when I got off the stage, Adam said, "see? You didn't even need your chapstick!"
"Still wish I had it though."
This chapstick obsession, however, I would find is not so uncommon. Comics can be superstitious in many odd ways, especially given how little spirituality plays in our lives. I'd come to know dozens of comics who had a trusty chapstick, be it Burt's Bees or other in their jean pocket, and sometimes even a back-up in a backpack or in the car. Comedy had repeatedly taught me how often you're not alone in the things you think you most are.
However, this is a legitimate scientific fact: Chapstick is addicting. Basically, once you start using chapstick in the drier months, when you need it, your lips get get used to the supplemented moisture and then your own body starts to decrease the usual necessary oils for your lips. So, once you stop, your lips seem to get more chapped. And if you lick them they get more chapped, throwing you into a vicious cycle.
Even my nephew, at the young age of six, has fallen into the chapstick loop. He has endless (mostly candy flavored) lip smackers chapsticks. My niece also has a chapstick obsession but she tends to just continuously apply the whole stick in one sitting and sometimes lick the chapstick like it's candy itself.
When I was very young, I remember my mom telling me I had perfect lips (sounds kind weird in the written word, but I swear it wasn't that creepy… creepy stuff to follow, trust me). My Mom's side was/is notoriously thin lipped. It's my paternal side, the Sicilians, who have full lips. My siblings and I all had benefited from a genetic mix that made us cute kids turned into attractive adults. The lips compliment I didn't really understand as a kid. There were certain things of beauty you just knew from some sort of innate human instinct, while other concepts of beauty are much learned. I knew skinny was better than fat. Smooth skin was a lucky blessing. Eyes were the most mysterious of beauty to me, though capable of intensity, how or why one persons eyes could do that and another's don't was lost on me. By far, the smile makes or breaks a face. A smile could, as publications like to write about young dead women, "light up a room."
Indeed, I was late to the sex game, given puberty wouldn't fulfill it's course until the untimely age of after twenty, though I didn't consider myself naive (but arguably, like most young women, I was in many ways). It was the compliment of my lips that always seems a bit like an invasion of privacy. It seemed insanely forward for a man, or sometimes a woman, stranger to tell me I had a kissable mouth. A compliment I found near repulsive from some I just met, and even one I'd have to get used to from some I'd come to know more familiar (though receiving compliments is not something I'm good at and I may be even worse at giving them). So maybe my I subconsciously became paranoid that people were looking at my mouth and this fed my chapstick obsession.
There are certain things universally agreed upon about my childhood by myself and my siblings. And one of those things is that growing up I was Mom and Dad's favorite. It may be hard to believe (or maybe not) but I was the "golden child." The wise beyond her years… the introspective empathizer, a little listener who, like Yoda, would dole out nuggets of wisdom that seemed so unlikely to come from a body so small. It's not that I was perfect, or that my siblings were bad, but in those adolescent years I was already suffering from an extra large helping of "middle child syndrome," and I operated with consequences in mind. Mitch was a notorious rascal, the family scapegoat, the youngest and only son— the spoiled Prince. Lisa, the first born, was easily triggered, she could burst into tears if you "bit into an apple too loudly" (I'm not at all exaggerating). I was not an angel. I was, however, pleasant. I was easy company.
My Mother, albeit, would argue that I'm an angel. In actuality, she would say this about all three of us. It's no secret my Mom was and is obsessed with her kids. One time, in therapy, I had a revelation… well, it was almost a slap in the face by my then therapist. I was talking about my family (as you do) and I said something along the lines of "you know how Moms are, they think you're the greatest thing that ever lived," she cut me off— "not all moms feel that way." I laughed, then, pretty hard. She was right, of course— not all parents see their kids as demi-gods. Our parents were unrealistic of us in that way, maybe to some disservice, but it wasn't an exception as much as a symptom of blind unconditional love… the type of love only known by parents, especially mothers. Not everyone had kids and then lived for them. But that was our childhood. My mom once said to me, in a discussion about life dreams (I, of course, had many dreams, most of them about being some sort of acclaimed writer) that her only dream when she was my age (I was a teenager) was to have a family of her own… "kind of sad, isn't it?" She said. "Not at all." It wasn't sad at all, really. Together, with my Dad, their dream was to have the nuclear American family… and they did just that. The only sad thing was her own upbringing lacked levels of warmth, but she was able to make up for it with us… her three "angels."
When I was a senior in high school, we had portraits done, as you do as a high school senior. At this point, I was braces free and starting to look less childish. I was just beginning to go from "cute" to dare I say, pretty? Anyway, they give you all these portrait proofs for you to decide which you'll order (the digital age would soon replace this procedure). So I had all these proofs of my chapstick obsessed face and I started to get into the habit of cutting out my face and taping it onto to statues. One of these would be our angel topper for our tree. I taped my face over hers, and even made a ribbon to go around my oversized head. I did this in silent jubilee until one by one, all the family members noticed.
"Why is Lori the angel on our tree?" Lisa would say one morning, as I howled with laughter.
"Because she's my angel," Mom was sweet to defend.
"Yeah, because she's perfect." Lisa rolled her eyes at me.
"She's not perfect, she smells bad," Mitch would say.
(I was also overly self-conscious about smelling bad… I wonder why.)
In later years, many holiday decorations would feature my glorious face.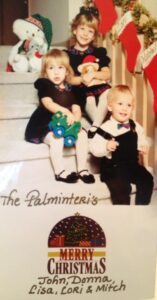 See this here picture… it somewhat perfectly captures our early dynamic. This would be Mitchell's second Christmas. Making me three and a half and Lisa five and half. This picture was taken and staged on stairs in hour house. Lisa, the eldest, looks like a picture perfect doll, clutching a teddy bear. I'm pursing my lips and holding… a truck? But wait… look what Mitch is holding… a stick of chapstick.
See, I remember this photoshoot quite well. Mitch was supposed to be holding the truck (alas, he's the boy). And I guess I was supposed to hold the chapstick (whether this was my idea or my moms is lost on me now). However, Mitch was throwing a toddler tantrum. He did NOT want to hold the truck. He wanted to hold the chapstick. And smell it. Because I was the easy going one, Mom asked if I could just hold the truck while he gets the chapstick.
"But Mommm!!!!"
"Please."
"Okay, fine."
Snap. The picture is taken. It becomes the Christmas card of that year. Three very cute kids. One weird obsession with chapstick. Three angelic faces, with very strange and sick senses of humor to come.
Go To Top