Bugs Bite & Bug Bites
Lori Palminteri
September 19, 2022
It was the last weekend of summer vacation. But not the last weekend of summer… no, not for likes of salty beach bums like us. We stretched the summer well into September, still do. I was going into either sixth or seventh grade, years that are now hard for me to differentiate. So, that last weekend of summer vacation, my family was out on Fire Island, enjoying the sun and surf as we did all summer, every summer.
My kid brother and I, at this point in our lives referred to as "the twins," were eyeing some fun waves. This is years before we would become surfers. We always had an affinity for waves and thrills, and we simply loved boogie boarding. We could boogie board for hours. Our shorty wetsuits were filled with sad. So, we rinsed them off in a shallow tide pool, where the water is heated up to be warmer than the ocean. After assisting each other to zip up our suits, we ran straight into the ocean.
Unbeknownst to a young Lori and Mitch, that tide pool was filled with almost microscopic sea lice. And we just trapped them inside our wetsuits, for a buffet on our tanned but delicate skin. It wasn't till later that night we even realized we had been bit, both of us wearing a rash that outlined our shorty wetsuits.
To put it simply, I was horrified. I had to go to school like this? I begged my mom, pleaded with her as I scratched away, "I can start school next week! Don't make me go like this!"
She made me go to school. It's really the most memorable first day of school I ever had, mostly, because it was terrible. My mom picked out a cotton outfit so my skin could breath, but made sure my rash was covered. You didn't want to be the kid at school scratching. Also, just saying you had sea lice eat you alive raises eye brows.
When we were in elementary school, all three of us kids got regular lice one summer. It was surmised we picked it up from this dumpy movie theater in West Islip on Union Blvd. To be honest, that movie theater was always pretty gross, but I still liked it because it was close to home and they had cheap movies— I always loved going to the movies. We were strictly instructed by our parents we could not tell anyone we had lice and we should be deeply ashamed (pretty sure they didn't actually say "you should be deeply ashamed" but the tone was implied).
My mom, who is a neat freak, and probably one of the few people I know who hates bugs more than myself, sent us kids out with my dad so she deep clean the house. To this day, if there's anyone I would trust to clean to a level of absolute pristine, it's my mom. My dad took us to a play ground and then when we got home we were instructed to go in the pool. That wasn't such a punishment since we loved the pool, but our parents said, "hold your breath under water for as long as you can because it can drown the lice, and they don't like chlorine." Out of context, that could sound like questionable parenting, but my siblings and I stayed in the pool for hours, making games of being underwater until our fingers turned into prunes.
The issue was resolved within a week and it turned out a lot of kids in the town had lice. It was doing the rounds, apparently.
Luckily, we never got lice again. Sea lice might be another story. It's not too uncommon to get out of the ocean with a mystery rash. Jellyfish sting? Allergic reaction to algae? Take some Benadryl, hope it goes away.
When I first moved to Queens, over eight years ago, I was terrified of ever getting bed bugs or cockroaches. So much so, I told friends if I discovered a cockroach in my apartment, I would walk out of the house will all my stuff in there, and just start life over, like the Lutz's in "The Amityville Horror." Additionally, I said if I ever got bed bugs I would burn the house down (probably my landlord would be really pissed off about this though). Luckily, the others who rent in this house are also neat. And we've never had a pest problem besides the occasional spider or mosquitos who like to sneak in from time to time and feast on me.
Now, you can probably see why I became a head case in the throes of a bed bug scare.
For literally ten days straight, I had been in two casinos for gigs. Which in one way is great, because I need the work and the money. But also… ten days in casinos is too long. It gets to you. It's lonely and the desperation of the slot machine creatures seems somewhat contagious. Your grip on reality slips. You can watch your thoughts lose themselves in Wonderland, a maddening trick that instead of being behind the camera of the movie of your life, you are now in the audience while your body and mind go into some sort of auto pilot.
From Mohegan Sun to Borgata I went. At the Borgata (which is really nice hotel, not trying to bash it), on my third day, the ceiling had leaked over half my clothes. The hotel comped dry cleaning and moved by room. Great. But then, two nights later, I woke up with bites or a rash down my arm.
It wasn't time to sound the alarm yet, but my paranoia was building and the hypochondriac in my head is jumping up and down going, "oh I know what this is! Pick me! Pick me! I know all the worst case scenario's."
Shut the fuck up, Hypochondriac Me. I don't need you right now, or ever. I need Logic Lori. Logic Lori… are you here?
Logic Lori steps up. First and foremost, she eliminates Monkey Pox as a possibility. It didn't make sense. These weren't sores, also I had no other symptoms, nor have I had sex with a gay man recently, or ever (actually, come to think of it I think I've had sex with at least one guy who didn't know he was gay yet). My second guess (and fear) was bed bugs. Inspecting the bed for tell tale signs of these little creatures from hell (usually specs of blood left behind, I did my research for hours and hours), I found nothing. Which was good news.
My arm was itchy as hell, and it turned out I had marks on my back and a few on the other arm. I did surf the day before out on the Jersey Shore. And, it did just rain heavily after a drought which means the run off could have contaminated the water, and something could have gotten trapped in my wetsuit with me, as it has happened before. I put cortisone cream on, which helped with the swelling, because the shows must go on, right?
I concluded the next day they were definitely bites and probably not a rash. For hours, I was looking at images of bed bug bites, fleas, sand fleas, sand flies, sea lice, and chiggers. They all seemed pretty similar. Bite wise. And the itching kept getting worse and since I was scratching constantly, I wasn't making it any better. Plus, between hotels, the beach, walking through the dunes… it could be a number of things.
By the time I got home, I had a full blown nervous breakdown at the possibility of bringing bed bugs into my home. Not only does it disgust me beyond words, getting rid of bed bugs can be a lengthy and extremely expensive process, costing hundreds (if not thousands if you have to replace a bed).
Freaking out, I called my friend Antonella who I used to work with in property management. She said the bites did look like bed bugs, but she also told me to get a grip because I was spiraling. I sounded crazy on the phone. Oh really? Do I sound crazy? Because if this happened to me in my mid twenties when I wasn't so mentally stable I would have slit my wrists in the bathtub and let the bugs drink my blood if they want it so bad! Hahahahaha!

And then the bugs win.
Frantically, I called four exterminating companies and no one picked up. Then, I called a bed bug specialist, told him my whole story and he said, "first, you need to calm down. You are clearly upset." He went on to say, "just because you have bites doesn't mean it's bed bugs. Also, just because you got bit by bed bugs doesn't mean they came home with you. People mistake these bites for other things all the time. If you're my daughter, and you seem like you're really ahead of any of this, my advice is to wash everything and buy traps. Do not hire an exterminating company until you have evidence of the bugs otherwise they will charge you hundreds of dollars for nothing."
This guy talked me off the ledge, and I honestly may send him a box a chocolates or something. I had already threw out my suitcase, I threw out pillows, I washed all my sheets and other pillows that weren't discarded. I was desensitizing and dusting and making solutions from essential oils and spraying it everywhere. I did all this between crying and hyperventilating. I'm prescribed valium for anxiety attacks, and I was popping two at a time and it wasn't doing a thing to keep my thoughts from a full blown attack on all my thoughts.
At night, I couldn't sleep. I kept waking up and pulling my sheets off the mattress. With a flashlight, I inspected the mattress. Where were these little suckers? COME GET ME, BITCHES, YOU WILL DIE ALL OF YOU.
I both looked and felt crazy.
The following day, I spoke to a friend of mine in Astoria who had gotten bed bugs from India years ago. He took one look at my bites and went, "nah, it's not bed bugs. They swell up to welts. Whatever bit you is smaller." It was true. At this point, my bites kind of just looked like pimples. Still itchy though.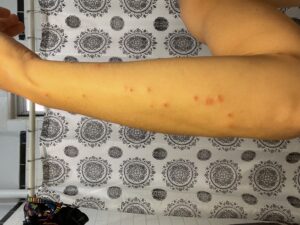 [This is about a week after the bites initially showed up. It looks disgusting, I know, but my bicep looks pretty good here.]
My neighbor is a retired doctor and I try not to bother him with medical questions, even though he always seems happy to help, and even happier to bring me remedies. I showed him too (I told you I was spiraling). He said the same thing. Could be bed bugs, but probably not. I did remember that when I was at the hotel, stupidly, I put the beach bag on the bed and spilled a small pile of sand on the bed. Perhaps it was sand fly bites. In this case, pretty much anything is better than bed bugs. Hell, I'll marry a sand flea if it means never getting bed bugs. Sound those wedding bells.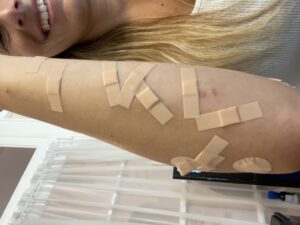 [Since I scratched them too much, I one day bandaged them all with ointment, and I'm laughing in this selfie because even I can admit this probably looks worse like I cut myself or something.]
Days went by and I didn't have any new bites. Additionally, the traps I planted just caught a small spider. No bed bugs. My fears were slowly absolving, just as my bites were. Disappearing more and more each day.
What's the moral of this story? A bed bug scare is worth a temporarily losing your mind? Don't wash your wetsuit in a tide pool? I'm not so sure.
But I swear to god, if anyone ever says, "don't let the bed bugs bite," I will stab them and drink their blood and say, "I'm a bed bug!" I won't do this, I hate blood. The sight of blood makes me recoil. But not nearly as much as the sight of bugs.
Go To Top