Tiny Tears
Lori Palminteri
June 16, 2019
Little baby Charlotte woke up from her nap and is greeted with a smile from me, her Aunt Lori.  Looking up, she seems a little confused.  She knows me but she's not used to waking up to me being there.  In her post slumber confusion, she gives me a look like, "you look like my mom, but I know you're not her."
Picking her up I give her kisses on her cheeks and forehead.  Two for every day I haven't seen her.  When we go downstairs, she looks around for my sister.  Charlotte (her brother, Anthony, as well) is extremely attached to Lisa.  Her favorite place is being on Lisa's hip.  When she realizes Lisa isn't there she starts quietly whimpering.  It's so sad and also so cute.  Little sobs and small tears.
"Hey," stroking her back, I whisper, "it's okay."  She clings to me tightly, despite tears, feels comfort in my arms.  If I could explain to her how time works, how her mom was just going to get her hair done and would be back in an hour, I would.  She misses Lisa so much.  But I'll do for now.
My brother in law goes to take her to put her in the high chair to eat and she wails, arms outstretched towards me.  How could I resist taking her back into my embrace?  There's no way I'm going to let her cry.  My little niece clings to me tighter, burying her head in my breast.  I'm not going to let you go, I think as I smell the top of her head.  I was supposed to be just stopping in and working on a writing packet (I work on writing packets every other month that takes me a week or two to write for submitting for writing jobs that I never get– I don't want to sound too much like a complainer, these are highly coveted writing jobs for late night television.  In many ways, I'm lucky to have legitimate management to get my packets to their desks.  But I'm still a no name writer.  I'm still going to futilely submit every packet that comes my way anyway).  However, once my niece's little fingers clench onto my shirt, knowing that she'll cry until my sister returns if I leave, everything else seems a lot less important.  I love you and I'm not going to leave you.
She even lets me change her diaper without fussing.
"Hiiiii," she says, starting to smile at me now.  When Charlotte says "hi" or "bye," she lingers on the last syllable with an airy tone.
"Charlotte, where's your belly?"
She points to her bulbous baby belly.
"Oh! I kiss it!"  Kiss, kiss, kiss.
My sister's father in law returns with my nephew, Anthony.  At first, he thinks I'm Lisa.  That's how much we look alike.  Even my nephew called me "Aunt Lisa" when he first saw me.  He smiled in embarrassment when he realized his mistake.
"Aunt Wori, you can't catch me now.  I'm really fast!"  
The thing about little kids is, once you've become that person who chases them around (kids love to be chased around), they always want you to chase them around which is quickly tiring.
"You can't catch me!  You can't catch me!"
Her brother's presence eases her, and Charlotte now squirms to get down.  He's so good with her.  He gives her a hug.  He's always going to protect her.  Though I suspect he will need her as much as she needs him, perhaps more so.  Boys with sisters grow to be men with the ability to have stronger bonds with women (romantically or platonically, trust me on this, I've done research and would much rather date a guy who has sisters).
Now we're all running in circles on the lawn.  I'm chasing Anthony, Charlotte's chasing me, Anthony tries to hide behind his sister, who is trying to get caught, hands to the sky, waiting for me to throw her in the air.  They are all smiles.  In fact, all three of us are all smiles.  Lisa's mother in law bought a little slip n' slide and when this is set up, they lose their shit with excitement.  Though they are both more interested in drinking the water shooting in the air than sliding.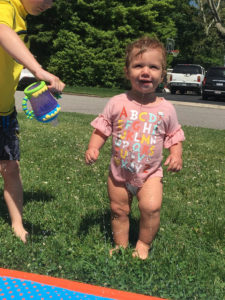 [Now, her tears are dried but everything else is wet.]
Charlotte will return to my side to sort of "check in," look up at me and smile.  It's melting.  How could anyone not love that face.  She is not yet at the age where she resists hugs and kisses.  Anthony does.  That's why you have to chase him and tackle him to the ground.  Tough love.
Anthony and I, however, share a comfort tick.  We both tug at our ears.  Anthony especially loves holding other people's ears too.  Ear rubbing is not so uncommon as a comfort habit for kids (it is hypothesized that this is a sign of anxiety and low confidence).  My habit of it may be rooted in my all too frequent ear infections growing up, but with few people I've been close and intimate with, I have had the tendency of rubbing their ears gently between my thumb and my forefinger in my adult years.  There couldn't be a bigger tell that I'm comfortable with someone than my tugging at their ear.  Trust me, not even close to the weirdest thing I do.
As soon as Lisa arrives, Charlotte will run to her and she won't let me hold her.  Both of Lisa's kids are this way.  They're sensitive.  Though we were sensitive kids as well.  Mitch too, despite his "tough guy" act.  I recall a little boy with pin straight blond hair who all too frequently crawled into bed with my parents, falling asleep with his hand on my moms head (his comfort tick was stroking hair).  He seems to fail to remember that he was constantly by our mother's side, clutching her leg.  As for me, when my Mom tucked me in at night, I'd hug her so tight, as tight as I could, trying to keep her there, "just sleep in my bed, mommy," I'd say every night.  Lisa, sort of ironically now if you saw her affection with her own kids, was the least affectionate child.
When Lisa arrives, Charlotte wails with joy and runs to her.  When I leave, I immediately miss them.  Anthony and Charlotte.  Two of less than five reasons I want to be in New York still.  I empathize with you, Charlotte.  When you miss someone and all you want is for them to be right there.  Tiny tears held in the eyes.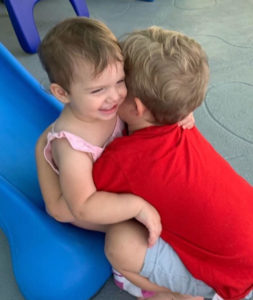 There are times on the subway when I see that back of someone's head and it looks like someone else to me.  For example, I was on the subway platform, and there was a petite woman with long black hair who, from behind, looked like my cousin Cara.  Even though I knew it was not my cousin, I still had to see her face.  I laughed when I did because it was an Asian girl, who, obviously, didn't look anything like my Italian cousin.  I hadn't noticed till that moment that I missed her.
Another time, there was a middle aged woman with feathered blond hair, skinny but with the shoulders of a former champion gymnast.  From a certain distance, she eerily reminded of my mom.  Like Charlotte waking from a nap and her mom not being there, I got choked up realizing how much I wanted this person to be my mom, right here, right now.
Then there's the other type of missing.  A longing.  When the back of some guys head who has the same hair cut of your ex makes you want to grab his ear.  Man, that really is an autistic trait.  Especially considering I've never been a hand holder and suddenly I'm overthrown by the urge to stroke someone's ear.  But when he turns around, he looks nothing like him at all.  These are not the ears I'm looking for.
"Shhawwww-lette," this is how my nephew pronounces his sister's name.  "You have to be careful cause it's slippery."  He warns her of the dangers of the slip n' slide.  It's a moot point.  She doesn't understand.  Nor is she afraid.  She runs into it without hesitation.  You have to watch that one.  Watching little kids is like watching someone who is perpetually trying to kill themselves.
Walking to the subway one morning for work, I hear the voice of the little kid saying, "Hiiii!"  I look around and see no one.
"Hiii!" And then I see her, a little girl in the front window of a building, smiling wide, waving to me.  "Hiii!" I smile and wave back.  I think about how much I miss them already.  And how some pain is the result of something good.
Go To Top