Soft Shoulder
Lori Palminteri
July 1, 2018
I'm goofy.
Not just in the ridiculous sense, which is also true.  But I'm a goofy footed surfer.  This means, simply, that I surf with my right foot forward.  Left foot forward is considered "regular."  It's more common, and I guess, more natural for people to surf (and skate) with their left foot first.
If you drop in on a wave, depending on how the wave is breaking, you want to ride the face of the wave to the left or the right.  When looking at the shore, if you go left, that's considered "left."  Same for right.  Pretty simple.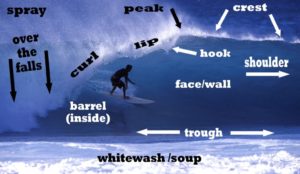 For most surfers, it is preferred to be facing the face of the wave for an optimal ride (like above pic) and it's easier to carve a wave that way.  So, a regular surfer would prefer rights.  Goofy prefers lefts (above pic, a goofy footer on a left barrel).  Except this is also where I'm in the minority.  I prefer to surf backside.  I'm a goofy footer who likes rights.  I've only ever met one other goofy footer with this preference, and we both like it for the same reason: It's a softer drop in to grab the rail of the board and lean into the wave.
Dropping in on a wave is scary as fuck.  I'm still not used to it.  Especially if the swell has size to it.  Riding the wave is the easiest part.  Paddling can be a nightmare depending on conditions.  Dropping in is a thrill, but I'm not super quick at popping up, and since New York waves are generally steep and quick, that's a skill I wish I was better at.  My brother, a much better surfer than myself, who's surfed some heavy swell in places like Nicaragua, Hawaii, Puerto Rico, says New York waves are the scariest waves he's ever surfed.  I was surprised when he said this.  New York waves close out a lot (when the wave breaks, providing no left or right, just a hard crash over the falls).  And when conditions get big, they are quick and ferocious.
I've surfed both Hawaii and Puerto Rico.  Hawaii is amazing.  I have never surfed better than I did in Hawaii.  The waves are easier to catch, and you can actually ride the face for a while, since they're not closing out.  Hawaii is the only place I felt like a good surfer, even though I was perpetually surrounded by amazing surfers when I was there.
That's why sometimes, I love a soft shoulder to a wave.  When it's already started breaking, and you can catch it on the side and easily get on the wave that way.
May and June had been almost completely flat out here.  The water slowly got warm enough for me to brave it, but Mother Ocean delivered no rideable swell.
Finally, last Monday, we got some little waves.  I work later on Mondays, so I stayed on Long Island at my beach house (my Aunts house) after a gig on Sunday to surf in the AM before heading back to the city.  I wanted to go to sleep but I was both reeling from stage adrenaline and knowing I would go surfing in the morning.
At first light, I was up and making breakfast.  There are surf camera with eyes on the beach but it was too early to see anything on them.  I called my brother (Mitch) and our buddy Dean (where my brother was crashing).  Dean and Mitch are both great surfers.  They always get a lot of attention and "woohoos" on waves, as they catch everything and they're both handsome guys who can shred.  I'd be lying if I said I wasn't envious of their skill level.  Because while I can ride a wave, they can rip and do tricks, making the face of a wave a canvas for their art.  They were always naturals, those punks.
Dean is always stoked to surf.  He'll surf anything.  Mitch can be snobby with waves, whereas Dean will join me in even the weakest swells.  So when I called Mitch, he didn't pick up.  Dean did.
"Where we going?"
A groggy Dean is still excited.
We meet at field 5, Robert Moses.  There's waves, and we're all properly thrilled.  It's been way too long since any of us surfed.  The conditions are small, which I prefered, because I'm not in surfing shape.  There's good shape, and then there's surfing shape.  And since it's been months since I'd been in the water, this would be a killer work out.
It was high tide, and the waves were near shore break.  I don't like shore break.  Yes, it's easy to get hurt on shore break and/or break a board, but you have to be really quick on drop ins, and as previously stated, I am not.  Mitch and Dean love shore break.  They're both skilled enough to rip it, and also, the closer a wave breaks to the shore, the less paddling you'll have to do, so in their case, the more waves they'll get.
I was in the water for about 10 minutes when I decided I was going to get out and drive to Gilgo.
"Word?" Dean says, "but Gilgo might not be breaking at high tide."
Indeed.  He was right, of course.  But I predicted in about an hour the tide would drop and east Gilgo would break real nice.  The thing about Gilgo is getting there before they start charging a ridiculous $30 on weekdays, $40 on weekends.  I bid farewell to both my brother and Dean.  Drove to Gilgo.
[Quick Plug! Dean started a board bag/backpack business.  His product is as cool as he his.  Click Here For Odd Rock Gear.]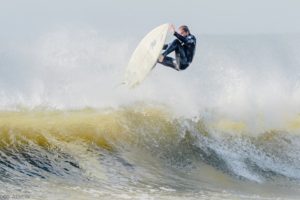 [Legendary LI Surfer and OddRock owner, Dean]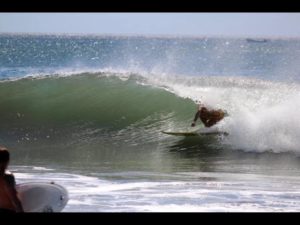 [Legendary Pain in my Ass, Mitch Palminteri]
Gilgo is somewhat regarded as "kook" spot by more skilled Long Island surfers. A kook is an insult: someone who is a surf poser, or who really sucks at surfing and acts like they're the shit.  I'm kind of a kook.  Well, I'm definitively kooky mentally.  I'm queen of the kooks!
Gilgo is kind of ruled by old dudes on long boards.   Long Island surf conditions are far more ideal for long boarders.  I don't like long boards.  While it's much easier to paddle out and to catch waves, I can't steer a long board for shit.  A retro fish is my board of choice.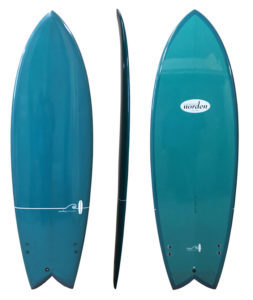 [A Sexy as Hell Retro Fish]
While I would consider New York surfers to be overall a cool people, you can feel the territorial tension sometimes.  The older dudes get sour when the younger guys drop in on their waves, and the younger guys get snippy that the older dudes catch everything from way out because they're riding giant boards.  It's too beautiful a day for anyone to be hostile.  And we're all breaking a dry spell and we try to be respectful to the fact that we are all jonesing for waves like crackheads.  We'll all get rides.  I'm not worried.
When I take off on my first wave, I have a moment where I wonder if I can still do this.  And when I'm up and riding it, I almost can't believe it.  I'm surfing!  I'm doing it!  I'm riding a wave!  This is amazing!  Like a kid, surfing really gets you stoked.  The world is shut out, and now it's just you and this wave.  Water, harnessing energy, that you're riding.  It's a game.  And it's so much fun.  I'm the happiest I've been in so long.  The sun is shining.  The sea is blue.  The world can still make me swoon.
As predicted, when the tide dropped a little the waves became these great clean nuggets.  I got a lot of rides.  My arms quickly tired, a rash from my wetsuit was forming on my neck, but I was having a blast.
The best peak always has the most surfers on it.  I usually surf off just to the side.  Despite being competitive in almost everything else in my life, I'm not a competitive surfer.  I'm here to have fun.  I got caught in the cross fire of two middle aged guys on long boards, bitterly complaining about the swell and the younger generation of surfers.  They were ignoring the real reason they were angry, of course.  That they are slower, weaker, and getting worse at surfing every year.  It's the natural course of things.  These guys are still great surfers, they've been catching waves for as long as I've been alive, but they're in clear denial that they hate that they know that any year now could be the last year of surfing.  And they're still in love.  Is a life without doing the thing  you love most even worth living?  I would answer that with a hard no, but I'm a cynic.
Perhaps I don't feel their pain fully, but I still understand it.  After surfing just over 2 hours, my left shoulder would be bombed for 48 hours later.  I have loose ligaments.  Born that way.  I used to (still could but won't) be able to pop my shoulder out of the socket and put my arm behind my head like a circus freak show.  Ligaments, however, are like rubber-bands.  They will lose elasticity and, eventually, break.   There's probably a shoulder surgery in my future (if I make it that far), which I am not looking forward to.  My left shoulder is soft.  Our bodies will always betray us.  Not only once, either.  Over and over until we are dead.  Your body will try to kill you more than other people will.  Your body is a real asshole.
There's no point in worrying about it now.  Now, there are waves.  Tomorrow my shoulder will hurt.  Tomorrow there will be no waves.  Who knows when the waves will come again.  You have to go catch them when they're here.  When you're able.  Surfing is such an "in the moment" activity.  Where life happens.
A much older guy, probably 70, paddles out on a long board.  It concerns me, if only in the sense that I don't want to have to save him, if needed.  There's a kid in the water too, maybe 9 years old.  His dad is attending to his brother and the kid is trying to catch waves near me.  We don't exchange much words.  If a wave comes I think he should catch, I tell him to paddle.  He has bleach blond hair and reminds me of my nephew, scrappy little guy.  Kids always seem to take to me, as I'm this kids temporary mentor.  Plus, in the water, with my gear on, I look very young myself.  I don't mind him at all.  He's super stoked about it all.  He's going to be a great surfer one day.  He has heart, which squashes the fear of getting tossed, as he tries and tries and tries again.  It's impossible not to respect the kid.
The 70 year-old takes off on a wave.  He's a bit slow to get up, but his wave selection is proof of experience.  It's a nice left with a long face.  The type of ride we'd consider, "wave of the day."
"Whoo-hoo-hoo!" He howls, with a giant smile on his face, riding the wave like he's 30 years younger.
As he glides passed me, I give him a "yeeee, yeee!"  I make a lot of weird sound effects when surfing.  I'm like a whole different human in the water.
He paddles back out for more.  "Beautiful day," he says to me, grinning, with no sense of bitterness or regret, only pure gratitude.
"No place I'd rather be," I say to him.
It's a glorious scene.  Generations of surfers.  Young, old, in-between.  Sharing waves and cheering each other on.  Having a chip on your shoulder about anything at all is not only ridiculous, but impossible on such a morning.
Go To Top