So I Dated A Sociopath
Lori Palminteri
December 2, 2022
"The saddest thing about love is that not only that it cannot last forever, but that heartbreak is soon forgotten." – William Faulkner
It's strange tale, and I'll tell it true with everything I still know… which no longer feels like much.
This is not a love story. This does not have a happy ending.
We met in the beginning of October, on the dating app, Hinge. That's where I met my two previous boyfriends/exes, who were both fine men that I like and admire but the relationships were not working out and even though our breakups were tearful, they were without resentment.
So, while dating apps tend to seem like a wasteland, there are good people out there. But this new flame whom I'll call 'B' going forward seemed different to me. I wasn't sure what to make of him upon our first meeting besides that we had similar taste in music and loved a lot of obscure bands. This common ground would expedite feels for him (I thought for each other) as we frequently exchanged songs and would come to lay in bed and just listen to music together. One date turned into two, then three and four and so on. Everyday I anticipated his texts or songs he would send, and I would try to impress him with offensive jokes I wrote that day for TV or radio. He was always a gentleman, and got my sense sick and often dark sense of humor.
We laughed a lot together and while in the beginning of the relationship I feared he was falling for me too fast and that it could end with me ripping his heart out, suddenly I felt my own feelings growing for him in a way that I hadn't felt in years for anyone I was romantically involved with. These feelings scared me, as I'm not one to turn easily love sick nor is it easy for me to be vulnerable around anyone I haven't known for a real long time. Still, it was exciting that I could have these feelings towards someone who seemed to actually feel the same way back. And did I not deserve that? Did I not deserve such a relationship? Even as my heart fluttered, my usual cynical brain said, "maybe it's just time to let yourself fall."
From music to movies, comedy and tv shows, and the kissing… ah yes, the kissing. We were so compatible. The sex was very good and he gave me these long massages afterwards. He put my needs first, and had a pirate smile that slipped into my thoughts more and more. I told my close friends. I told my family. I really like this guy. He matches me.
Or so I thought.
After less than two months, he invited me to Thanksgiving dinner with his mom which I gladly accepted. Personally, I would have not initiated meeting family just yet. But I was glad he asked. When I told my family I was going to my boyfriends family for Thanksgiving they were aghast with excitement. "Wow," they said, impressed I may have finally met someone, "that's a pretty big deal for you."
B, for some backstory, was (allegedly) in the process of moving to New York. He has/had a home in Utah, but work had brought him to NY, put him up in a hotel and he's yet to find a home here. This is important to know for later. If this sounds fishy to you, I should now confirm that I hung out with co-workers with him. They were also staying in said hotel (which I had been to) and they all worked pretty much every day, long hours, doing something with steel pipes that I never fully understood.
Anyways, I had planned and booked my solo trip to Paris months ago, a long awaited dream trip of mine and even though I would have liked his company, he would not be able to join me because of work. If it bothered him that I was traveling abroad, he didn't show it. From a military family, he moved around a lot his whole life and was very well traveled.
So, I hopped on a plane and off to France I went. We texted every day I was away, just as we had texted every day since we met. Not perpetually like psychotic teenagers, but rather just daily check ins. While Paris was like a good dream, full of art, history and amazing food, I found myself missing and thinking about him. Maybe every failed relationship I was in, every heart I broke, every time my heart was broken, every guy I loved who didn't love me back… maybe that was all a dress rehearsal for this. Maybe, just maybe, someone could make me happy.
I was in Paris from Saturday to Saturday. B and I had confirmed plans for Sunday night since we both figured I would be out of sorts on Saturday because of the time difference. On Friday, we confirmed plans and discussed the plan for going to see his mom in New Jersey for Thanksgiving. Nothing seemed out of the ordinary. Our texts exchanges were nothing but sweet and excitable, as new love often is. On Saturday morning while getting ready to return to the states, I texted him I was looking forward to seeing him. I did not receive a response before I boarded the plane which wasn't odd because of the time difference and he also had been working every of the week for his demanding job in the midst of a project which was tiring him out excessively. When I landed in New York, I texted him and phoned him. No answer. I found this odd but didn't really think too much of it as I'm not the type of person who needs constant validation nor constant communication (in fact, it would drive me crazy if anyone was constantly blowing up my phone). Plus, I was properly exhausted and my body had no idea what time it was.
Now it's Sunday. Which starts my work week. I had waited till the afternoon to text and call him again, aiming to confirm our evening plans. As hours went by, I started getting concerned. Telling myself he was just busy with work, I kept myself busy and had faith he would call later in the day. Dusk came and no word. I was being blown off. While a part of me wanted to curse at him, I was really more worried than anything. Are you okay? I texted. Please just let me know you're okay. I'm worried.
Monday morning comes and my heart is sinking. Here comes the tears. I do not understand why I haven't heard back. Hadn't everything been going so well? We never had a discord about anything. Did we not look into each others eyes and send each other songs that reminded us of the other like totally fucking gay teenagers swept away? What the fuck was happening? I called again. And again. Left a voicemail saying if he doesn't want to talk me anymore that's fine, I won't bother him I just wanted to know he was okay. Sure, this seems like a classic dickhead blowing you off move. Perhaps he met someone else. Perhaps an ex resurfaced. All things that would have made me sad, but I would have cried a couple days and got over it. I was driven by both this now obviously false connection but also the Thanksgiving plans. If you were going to blow someone off, why invite them to a holiday family dinner? Something was off, in my gut.
I then took to the internet to do some research. I googled his name in case he was in some sort of accident and it was in the news. He is not at all active on social media, so that was basically a dead end. I researched family members and tried finding them on social media. I called local hospitals. I called his hotel. I've met a couple of his friends but I didn't have their contact information or their last names so I was at a loss at communicating with a third party.
If he had lost his phone, we had emailed before so he could have easily jumped on a computer and told me his phone was compromised. It was becoming clearer and clearer that the only two options were that he was hurt/unable to communicate or he was ghosting me. I struggled to accept the ladder.
I've been ghosted before. But only after like two dates. Which is an undeniably cowardly thing to do, but if you're ghosted after two dates it doesn't sting that much. It's more like, "well, fuck you, you're a waste of time anyway." But ghosting someone after legitimately dating? After inviting you to a family Thanksgiving dinner? This doesn't track. Consumed with stress and sadness, I obsessed on the internet for answers through tears. My heart was breaking. It's been sometime I've felt such an ache. And if he is ghosting me, not only do I hate him, but I hate myself for being duped by yet another selfish and manipulative man. Having known the lack of love too long, I cursed the universe for denying one of life's most rewarding treasures.
Through connecting some dots via my (yes, unhealthy) internet private investigating, I found his mom on Facebook. This is what I wrote (on Monday evening) via facebook messenger: "Hi [blank], I've been dating B, and we were planning to meet you on thanksgiving. However, I've not heard from him since Friday and we had plans Sunday that he missed. I still haven't heard from him and that seems out of character and I just want to make sure he's okay. Please let me know if you've heard from him for peace of mind. Thank you, Lori."
I'm well aware that this somewhat spontaneous message might make me look like a crazy stalker girlfriend/ex in the midst of a lovers quarrel. But that is simply and honestly not the case and I'd show anyone our text messages to prove it. I didn't know if I should be worried or furious, though I was both.
Admittedly, I was going down a rabbit hole in trying to uncover more information on the internet about this individual. Without revealing too much detail, a lot of things he did tell me checked out based on what I found. Curiouser and curiouser still.
Tuesday and Wednesday come (the day before Thanksgiving). I've been crying. I went out to my family's for the holiday and they also found the whole situation odd at best, shitty at worst. My aunt and uncle made a fine feast for Thanksgiving (as usual) and I spent the night there. Late night on Thanksgiving, I wasn't exactly sober and I decided, "fuck it. I'm going to email the mom." I could tell on Facebook messenger she never saw my message. Perhaps she doesn't check Facebook. Or sometimes Facebook hides messages from strangers. But I found her email on Facebook and once again, sent a simple, non accusatory message about dating her son, not hearing from him, having plans to meet her for the holiday and I said if he doesn't want to hear from me that's fine, I am just really anxious to know he's okay.
This is where things get pretty fucked up. I receive this message Friday morning:
"Yeah, total dickhead I know. Woke up one day coughing blood, went to the doctors and diagnosed with some shit they said a chemical from work could've exposed me to. Regardless, I haven't even told my ma yet, heading home to sell all my shit to give her all the money I'll have. So yeah, it's not a good idea, I'm sorry, I'm probably a dead man far quicker than I though."
What the fuck. Right? Now some of you reading this might be thinking, "Lori, you're way smarter than this. This guy is fall of shit." But understand why I was thrown for such a loop, outside my feelings that were clouding me…
After that text, I called. No answer. I texted and asked he call me. I really was genuinely upset he was having a mental break. This message is beyond alarming. Given his work, he could have been exposed to a chemical. And even if he didn't want to continue to date me/put me through watching him be sick, I really and truly cared about him and felt like if he wasn't lying to me, he could be in the throes of a existential meltdown. As someone sensitive towards people with mental illness, I just wanted a little more answers and perhaps peace of mind that we wasn't going to go home and sell his shit and blow his brains out.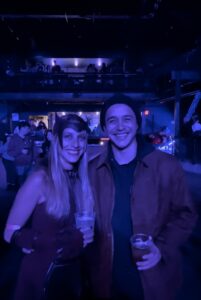 [This is us at a concert the day before Halloween.]
Now, I start replaying the relationship in my head. And while there weren't any real red flags or signs of deception, something else did seem strange to me. Sometimes, after sex, he would lay there with a smile on his face and go, "that's how I want to die." I thought it was funny and kind of sweet way to flirt because I am also dark and twisted. Furthermore, on our second and third date, before we had slept together and just kissed, he would say, "I'm going to die." Once again, at the time, I just took it as flirting and that this guy really liked me. So now I'm thinking, maybe he knew he was sick with something, and suddenly, time is up faster than he thought. And he's pushing me away. I could accept being pushed away and dumped. But still, I was perturbed and stressed as much as I was heartbroken. And if he truly hadn't told his mom, did he have someone to lean on and talk to? Men can shut down like that.
More days went by and I got no answer whatsoever. I just cried and grew upset and was making myself crazy about it. So much so, I found it difficult to eat and gave myself gastritis and couldn't keep down food. At this point, pretty much all my friends and family (including those who met him and liked him) suspected this guy is completely full of shit. Eventually, I sent him a text saying my friends think he's a lying sack of sick and congratulated him for being horrible and said I'm sorry for caring and being confused by this supremely fucked up situation. Within minutes I got this response:
"Defiantly a lying sack of shit who isn't dying. Defiantly a horrible person Defiantly fucked up. All your friends are right. Goodbye."
[My friends were shocked I was dating someone who couldn't spell "definitely."]
Wow… just wow. I did try calling again (no answer). His message was clear he wanted nothing to do with me. The final stake in the heart driven. Fine. But the rudeness and aggression? Now, I'm pretty sure this guy isn't dying. There is maybe like a 2% chance he is dying and not a complete psycho. Either way… this is sociopathic behavior. The people who care about me grew to being relieved that this guy was out of my life, because this is psychological/emotional abuse. Even if you are sick (don't believe he is), this is cruel. Trust me, I know, this guy never did deserve me and all I have to offer.
Still, it fucked me up for days. Not just the heartbreak itself. That I could handle. The snake like charm and deception. The letting someone into my home, my body, my little weird world— I know 2 months is not enough to really know someone, but this has shades of a sick siren with seriously insidious intentions. My head and heart reeled and I was in out and out of rage and depression.
But as my brother said, who is an eloquent poet, "a douche is a a douche and they're all disposable."
Not long ago on Facebook I saw a Facebook "friend" (I don't know more than half the people I'm "friends" with on Facebook) post something in obvious scorn about women having unrealistic standards about men because of Disney movies, that we expect princes or something in a rather over the top and absurd accusation. I didn't comment because it seemed futile. As a Disney lover, I can assure  you that Disney Princess movies has not filled me with delusion about love. In fact, I'm wildly cynical about love and soulmates. No, I have not been waiting for "a knight in shining armor" to save me from pitiful life. Did I not just go to the city of love by myself? I'm stubbornly independent and made sure I wouldn't be dependent on any man or anyone at all. Long ago, I accepted that most relationships run their course. Most romantic love does not stick forever. People outgrow each other. People fall in love with other people even if they are with someone they were once in love with. Such is life. But there is one thing I do believe in and I will settle for no less. To quote a lyric from a Chaos Chaos song (a band I'm sure he would have loved if he was honest about his music taste), "Where is the love, the kind we dream of? The kind that makes us young." And I think that's the key right there. To find someone who makes life feel new. To grow and have adventures. To grow old but not grow up.
Whatever feelings I had towards him turned black inside me. The pain turned into some sort of hate before apathy took it's place. Before I eventually didn't care at all. And another wall is getting built. If our border was like the walls of my heart, only like only illegal immigrant would occasionally get in every few years.
I no longer wonder where is. Or worry if he's okay. At least his very cold, asshole message took concern away. Let the ice queen reign again. For she sits on her frozen throne shaking her head, "I told you," she says, "I told you. I've just been trying to protect you." And as we grow older, can we prevent ourselves from growing colder.
Go To Top