N, N-DIMETHYLTRYPTAMINE/AM I A BABY
Lori Palminteri
January 21, 2018
Ask yourself a hard question.
Ask yourself: Do I Want To See What My Soul Looks Like?
Don't tell me.  I don't give a shit either way.  But have you ever really considered it.  I mean, really really thought about it.  Have you considered that, without a body, how would you recognize yourself, without your face, your voice, your eyes, your laugh.  Many of the things you love about yourself.  Or perhaps you wish you could change.  Could you recognize someone else's soul if they too were no longer attached to their body?  If they were, let's say, a color.  Or a pattern of colors.
And that's one of the many problems with the afterlife, isn't it?  Because, if such a place like Heaven existed, we would all want to be more attractive, better versions of ourselves.  And even though there'd be love, love, love, there'd also be desire.  Desire would breed betrayal, jealousy, heartache.  And therefore Heaven would be no Heaven at all.  I could go on and on about the flaws of the taught afterlives.  Because as a species, like all animals, we are primarily propelled by sex and our fear of death which are the Ego's weapons.
But I digress.  What does pure consciousness look like.  When removed from the Ego.  Our essence.  The word soul annoys me but at this point it's too abstract to not be mere semantics.  What separates us from the other animals.  How come we think and feel and create.  The "purpose" of anything.  The who is the author of the book we are living.  And the why.  What the fuck would that look like and would you even want to peek behind that curtain.
N, N-Dimethyltryptamine or DMT is a natural chemical found not only in humans, but every living organism from animals to plants (with the exception of the hagfish for reasons unknown). The source of DMT comes from the pineal gland of the brain, which, is still rather mysterious even to scientists today.  The pineal gland also produces melatonin (makes you sleepy) and serotonin (makes you happy) and all three are very similar on a molecular level.  What is very interesting to me, is in the womb, the pineal gland is formed at the same time we are able to tell what gender the fetus is (49 days after conception).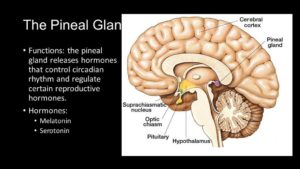 The pineal gland is also referred to by the hippie community as the "third eye."
It is theorized that DMT may be responsible for dreams.  As well as psychosis and schizophrenia.  It is also hypothesized that DMT may be released during orgasms as well.  And an increasingly popular belief is that when you die, the pineal gland blasts DMT into your brain, and that is what is considered "the white light" or "heaven" or even "hell" right before you expire.
DMT, as a drug, is the most powerful hallucinogenic known to man (and animals, I guess, since animals really aren't pulling their weight in creating anything, let alone mind bending psychedelics).  Part of the reason the trip is so intense is because our bodies recognize it.  DMT is immediately absorbed into our system.  Our system knows what to do with it.  And yet, no one knows why it's there or what it's purpose is.  Dr. Rick Strassman did a case study on DMT and wrote a book called "The Spirit Molecule."  I will cite some of my information from this book, which I read after I smoked DMT, because I wanted/needed to know about what happened to me.
For years I was curious about the drug, but also highly intimidated by it.  Joe Rogan talks about smoking DMT on his podcast many times, and raves about the experience (I recommend listening to his podcasts about the times he smoked it, as Rogan is not only funny, but smart, insightful, and poignant).  But if you do some digging, people have some seriously fucked up trips too that will scare the shit out of you.  Though, I always think of something a good friend of mine once said, "there's no such thing as a bad trip, only bad people."  And I think there is some truth to that.  If you are harboring fear, hatred, and negative emotions, that shit is going to swallow you whole on such an intense trip.
I was worried about this.  Because, at this time in my life (late last year) I was going through a tremendous amount of personal stress, heartbreak, a career crisis, and an overall existential questioning (as always).  My mental stability wasn't really stable so even I wasn't sure how I would handle something so powerful.  LSD is a fun drug for me. LSD is powerful. But LSD is nothing compared to DMT.  Nothing can ever prepare you for DMT.  But it's a rare thing to come by, so I took my chances, as I usually do.  I'm afraid a lot, but rarely does that hold me back.
The following section I will describe to the best of my mortal ability of what I saw/happened to me on my DMT trip.  I am totally aware that it all sounds completely insane.  I will fail at conveying what I saw and felt.  This infuriates me as I am a writer and I can not possibly put into words what I experienced.  I will then return and analyze what I believe the trip meant.
THE TRIP
I didn't acquire the DMT.  The person I did I will refer to as Blank.  Blank and I had talked about DMT many times, and Blank had done it before.  Blank had assured me that Blank didn't think it was even possible for anyone to have a bad trip on DMT (internet stories and Dr. Strassman's book would suggest otherwise).  Anyway, Blank is someone I both trust and love, so here was an opportunity I felt safe trying DMT.
DMT, to be smoked, is fine amber powder that smells terrible.  It almost smells like burnt rubber but even that isn't the right description.  It has to be vaporized.  The worst part about the DMT trip for me was that it is a harsh burn when you vaporize it and it burned the fuck out of my throat.  Blank is a smoker and it didn't bother Blank.
I couldn't do it all in one hit because it burned my throat so bad.  I had to do it in two.  But even in the seconds between the first and second inhale, I already saw the effects.  It's crazy how fast it happens.
At first, the whole room was outlined with a rainbow grid.  Then, the whole room started deconstructing itself in almost a rubix cube like fashion.  Parts of the room trading places. As the room deconstructed itself, from behind the physical room were cracks to a bright white light shooting out and filling the room (this is all within 30 seconds probably).  Then I thought, "oh fuck, what did I just do."  I looked to Blank who seemed to be frozen in time, unaware of all the rainbow lights around Blank.  I then curled into the fetal position on the couch.  That's when the couch flipped over and dumped me into a black vortex.
Yes, in a sort of "Alice in Wonderland" type way, I started flying through a black vacuum.  I could feel leaving my body and tried to swim back to it, screaming, "oh no, oh no, I want my body, I want my body."  To be clear, I wasn't screaming at all.  I was laying peacefully on the couch.  I still have no idea if my eyes were open or closed at this time. Then, I screamed Blanks name (as if Blank could save me).  Then I screamed out another name of someone I love.
It was extremely intense and scary but I knew I would come back and I had to let go.
Surrender.
Nothing.
Shed of ego.  Nothing.  Blackness.
The next part is the hardest to explain because it is impossible.  Nothing compares to it or even comes close.  But I will do my best.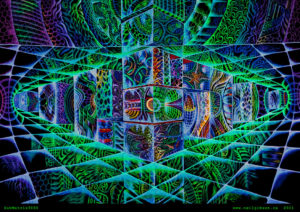 From the darkness, a bright white cube appeared.  And then it multiplied into other cubes of different colors.  And within the cubes were different shapes and patterns kaleidoscoping both away from me and towards me, and I'm moving with them, I'm a color, with hundreds of cubes, stunning, impossible, wonderful, overwhelming as fuck, with little worlds of the most splendid designs within them. This is the part I remember the least, but I also remember being so blown away by it.  It's so unearthly and brilliant and it happens so fast so that even though you're like "holy shit, what the fuck, what the fuck, holy shit," it's overwhelming in a good way.  Kind of like that feeling of being anxious/excited on a roller coaster only 10,000x more intense and nothing like you have ever imagined or seen in life, dreams, television.
In the couple weeks after the trip, I would sometimes get little drips of memory from the "cube dimension."  It's hard to remember because it is so incomprehensible.
I wish there was a way I could better describe it or just show you.  I cannot believe that any brain, let alone my brain, is capable of such a magnificent show.
And then I broke through.
Not everyone who smokes DMT "breaks through."  Breaking through on DMT is the part where people meet God, elves, aliens, higher beings, etc.
By the way, you still know you're you and you're tripping the whole time.  It's a hell of a ride.  But you can't resist it.  Go for the ride.  You're going to be back.
After being in the midst of the cube dimension (couldn't tell you how long that actually lasted or even how long I felt I stayed there), I was shot through another tunnel.  Only this tunnel wasn't a black void.  I was traveling at the speed of light with light all around me.
And then, I was in a white, almost glowing pristine room.  I could feel my body but I could not see it, nor could I move.  Looking around I noticed there were other pillars with cubes or pyramids on them that changed colors.  At this point, my brain is trying to process what the actual fuck is going on while simultaneously knowing there is no way I will ever actually know what the fuck is going on.  My first impression was that I was in a museum.  That I was an art piece in a museum.  I thought that, maybe, I also looked like one of those glowing shapes and perhaps they were other parts of my subconscious.  But then I felt a warm, nurturing presence and felt, "oh, I'm not in a museum, I'm in a nursery."  I cannot move.  I don't know what to think.  I don't know what the fuck is going on.
Something was watching me, so I asked it, "AM I A BABY."  The sound of my voice sounded loud and echoed, which wasn't my intention, but again I didn't know how to speak here, since I wasn't actually using my voice at all.  I'm in the deepest realms of my brain but I am not with my body.  Then I said softer, "am I baby?"  Of course, I didn't mean a human baby getting pushed out of a vagina.  I still know I'm Lori, I'm 28, I'm a stand-up comedian, and I'm on Blank's couch tripping on DMT.
The figure comes into my sight.  It has a human form, but it's very tall, with long skinny arms.  It looks almost like a shadow.  There are no features and it's almost translucent.  Had I seen this "being" walking down the street, I would shit my pants.  But I wasn't afraid of it at all.  I was the intruder in this world.  I shouldn't be here.  I did not feel threatened at all.  Whatever this was, it was not going to harm me.  It seemed both surprised I was "awake" here, but that also I had been there 10,000x and it knew what to do.
The shadow being then shape-shifted and ballooned itself around me, like a blanket, cradling me (like swaddling a baby).  It whispered my name over and over, "Lori, Lori, Lori, Lori," and on top of that it said, "it's okay, Lori, it's okay, it's okay," and on top of that it said, "you're okay, Lori, everything is going to be okay, you're okay, Lori."  A lullaby of whispers.  And I spoke to it too.  I said, "it hurts, it hurts."  I was then, talking about my body, but not merely in a physical sense.  That existence in itself, mortal life, is painful.  I'm in pain down there.  But the being was warm, nurturing, and I felt a tremendous sense of love.
Without warning, the being let me go, and again, I fell back through the black hole, only this time, trying to swim back to the being away from my body.  I wanted to stay there.  I want to learn that universe.  I had more questions other than, "AM I A BABY."  Given the choice between staying there and never returning to this life, in that moment, I would have stayed.  I would have abandoned my body on Blank's couch.  Not a doubt about it.
When I came to on the couch I touched my face and noticed it was wet.  I had been crying.  Wiping my tears, I sat up on the couch, and the room was reconstructing itself in that same cube fashion.  Reality returning.  I was surrounded by a rainbow aura that changed colors and patterns, as if the being was still there encompassing me, as if all the love I've ever given and received travels with me, only in this moment I can see it, and it's beautiful, and I do believe I'm okay, an that everything is going to be okay.  A rare and usually fleeting feeling for me.
Once the rainbow orbs vanished, I was completely sober and lucid as if nothing happened even though I felt as though I have literally been taken apart and put back together.  I asked Blank how how I was out.  Blank said, "about 10 minutes."
Wow.
And then I thought, maybe I'm wrong about there being no afterlife.
So, let's break this all down a little bit.  Especially my question.  We've all pondered that.  What would you ask if you met "god" and my dumb-ass question was "am I a baby?" Hahaha.  I couldn't be more disappointed in myself for that question.  But upon further thought, I didn't think this was a dumb question at all.  There was no way I could possibly understand where I was, what it was, or what exactly this drug is doing to me (and science proves this, they don't know what it does to people), so even though it may be slightly narcissistic, I wanted to know what I was.  What is my place here.  Because in that world I knew nothing at all.  But babies grow, babies learn.  Can I learn how to be here.  I want to know if I could learn to navigate in what is a completely inconceivable "world."
Stop looking outward for God.
Interestingly enough, when I read Dr. Strassman's book (again, after my trip so it wasn't like any seeds were planted) many of test patients also reported feeling or being in a nursery setting. And that they weren't frightened.  They also the described similar "cube dimensions" and intricate patterns.  They were happy and cared for and loved.  It was enlightening.
One of Strassman's volunteers said, "I met myself as the creator.  You can still be an atheist until you do DMT."  Even after Strassman's clinical study, he learned very little about the mysterious molecule.
As for me, well, if you knew me even a little bit (or have read any of my blogs) you would be pretty shocked for me to admit that I may be wrong about this whole "nothing happens when we die" business.  I still think probably nothing happens.  But if that's what happens…  If you become an energy, a color, a magnificent intricate design of a world beyond of recycled energy of love… Well, we're all in for a treat in the end.
Unless your God is fear.  Because religion preaches love but practices fear.  If you live a life true to yourself, and do things and make relations out of love, you'll be okay when you're faced with that shadow being that is your "soul."  That is you as the "creator."
Have I changed post DMT?  Besides now being a self acclaimed Agnatheist (an agnostic/atheist hybrid);  I guess yes and no.  The trip answered no questions.  Only, it posed a thousand more questions.  But such mysteries of the universe are enthralling, intoxicating, and makes existence more interesting in general.  I still think my death will likely be by my own hand (haha) but I've altered the how.  Despite the not wanting to return to our reality in the moment of being one with the "shadow being," I am glad I am back.  Because even though that world is beyond words and easily the one of the greatest things I've ever experienced, it does make me appreciate our reality more.  Because, sure, we are ego driven and flawed, and sometimes we can all be pieces of shit, but there are many things I really love about whatever physical reality we are part of.  Because even if that DMT world is what happens when your body expires, all of this is a wash.  It's amazing there but it's amazing here too. There's a shit ton of beauty here.  I would miss many people, I would miss laughing, and surfing, and reading, and ice cream, and the feeling of an offshore breeze brush the hair on my cheek, or laying next to someone who makes you feel loved as they brush your hair out of your face.
The whole thing makes me think me of a great song called "In The Aeroplane Over The Sea" by Neutral Milk Hotel, the song lyrics ending with, "what a beautiful face, I have found in this place, that is circling all 'round the sun, and when we meet on a cloud, I'll be laughing out loud, I'll be laughing with everyone I see.  Can't believe how strange it is to be anything at all."
I feel as though I know a secret now.  I don't know exactly what that secret is, but it is very good.
And if that's what my soul looks like, then that is truly extraordinary.
Ask yourself a hard question.
Ask yourself: AM I A FUCKING BABY
Go To Top