Mumbling In Portugal
Lori Palminteri
October 6, 2021
I wouldn't judge my first experience in Portugal based on the taxi ride from the airport to the hostel, because, if tourists judged New York solely on their time spent in cabs, New York would quickly be regarded as the worst city ever, and as much as I have a love/hate relationship with my home city, I still regard it as one of the best cities, ever.
The cab driver didn't speak English, which is fine. However, he also didn't have a GPS nor did he know his way around Peniche/Baleal at all. We stopped four times to ask people walking around where to go. And then he charged me full price. That cab ride (about an hour) cost be about half of what the hostel is charging me for the whole week.
So I was pretty pissed about that, but I figured it was necessary to let it go. When you travel, you are bound to get hosed at some point. Even before I check into my room, I rent a board and a wet suit. I brought a wet suit, but I want two. Because I know I'll be doing multiple surf sessions and it's great to not have to put on a dripping, cold wet suit. The wet suit I brought was a hand-me-down from my friend and surf buddy, Christine. Christine and I are lifelong friends, and this past summer was the first we haven't surf together in a decade. This is because she's growing a baby in her belly. She gave me an old wet suit of hers that has tears and holes in it. I will discard the suit at the end of this trip. The wetsuit's last hoorah is surfing in Europe.
My room, hilariously, has four beds. It's a small hostel, but I paid for a private room because I'm not one for sharing. But I guess there were no proper rooms available, so I got stuck with a shared room. So it's just me, and two bunk beds. Why must you mock my loneliness, surf hostel? I'm texting my ocean junky brothers, "get over here, I have three extra beds!"
Baleal, where I'm staying, is an odd town. Because it is basically exclusively about surfing. The hostel I'm staying in has a small shop attached to it. It's less than a half a mile walk to the beach. On the way, you pass three more surf shops. Every house/apartment seems to have wetsuits hanging to dry.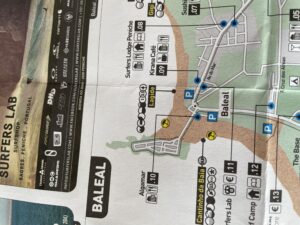 What's interesting about the beach, is there are actually two beaches separated by a little peninsula. And there are great waves at both beaches. Albeit, crowded. I surf only the right beach my first day. It has a smaller inside break, and the outside break is A frame wave that breaks big, but consistent. It breaks in exactly the same spot every time. As a New Yorker, this is a real treat. We do not have the luxury of a break with such consistency. Because of this, I'm able to catch some overhead waves. This is is fun for me because I'm usually a pansy when it comes to big waves.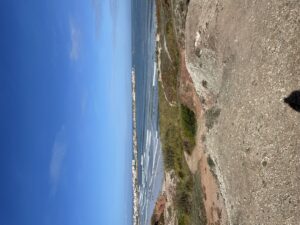 My sleep is wildly fucked up, but it always is. I'm five hours ahead of New York time. So I basically have the day in Portugal to play, in the afternoon I have to work some, but because of the nature of my job I'm getting emails at 2 or 3 in the morning Portugal time, so I have to work in the evenings and then once again before the sunrise. So, I'm basically working in three shifts and sleeping when my body demands it, which it does, because nothing tires you out like paddling.
On Tuesday, my second day, I rise early to finish work stuff from the "night" before. Then, I eat a quick breakfast and head for the beach. My arms are already getting sore, neck pain just beginning…. I will be on a rotation of wine and muscle relaxers the rest of the trip. Good thing local wine is only three euros (and it's good!).
The locals are not friendly. In the water or out. It's not that they are rude, they are just stand off-ish. People usually think New York is a brash city, and are later surprised that we are not so hardened. It doesn't bother me save for the fact that I am alone here, and wouldn't mind making a friend. Mumbling and fast talking, I know I can be hard to understand.
In the water, the vibe is very serious. There are a lot of bodies in the water. Half of the people are very good. Half of them are new comers, on foam boards. I'm somewhere in between. No one was hooting or cheering people on when dropping in on good waves, except for me. I'm doing the usual, "yee yee," or "boy, boy, boy!" Because back home, if we have conditions like this every one's dick is so hard and we're stoked, smiling and making sound effects. They aren't doing this here, because, they are spoiled. They have these conditions regularly.
The second session of my second day, I surf the beach on the left. The waves are breaking a little steeper and faster, which wouldn't concern me so much if there weren't so many people in the water. Additionally, the occasional eight to ten foot set rolls in. One of these monster sets come through and I know I'm not going to beat it. Instead, I catch the white water of the already broken wave, and I'm able to skirt to the shoulder of the wave and it turns into a beautiful long ride, what's left of the wave is at least as tall as I am. However, I erred. I took it too far in one direction into to shallow water. For when I dismounted, I found I was in rocks. The wave dragged me further and my foot got caught. I had to get my feet up but I also didn't want to hit other parts of my body. I knew I was hurt. I got out of the water with my right ankle bleeding and my left big toe shredded. Cursing, more about the fact that this ended my session than the thought of having stitches, but I feared that was a possibility. You could see skin hanging off my toe.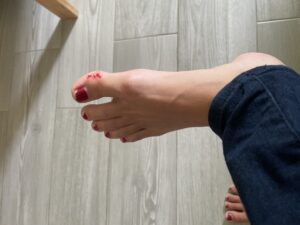 [If this turns you on, venmo me @lori-palminteri.]
Hobbling to the parking lot, I found a surf school booth and asked for a first aid kit. A man there cleaned up my toe for me and it didn't look too bad. I limped to the store to buy more bandages and headed home to work and tend to my injuries. It dawned on me then I hadn't met a single American. Not one. Europeans from all over, but in two days, I haven't talked to anyone from the states. Usually, no matter where I go, I not only meet people from the U.S., but usually people from Long Island or Queens.
I make food and work in the common area. This is a trip I'm doing on a tight budget, so not eating out and utilizing the kitchen to make sandwiches and such is helpful. I play some music and drink wine while I work and I'm later joined by a woman from Belgium who stood up for the first time today. She is also alone, but her husband is joining her later in the week.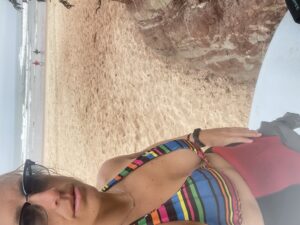 [If this turns you on, venmo me @lori-palminteri – hahaha, I'm (mostly) joking.]
The hostel is small and from what I can tell the residents include a couple that is pretty quiet and to themselves. Two germans sharing a room. The Belgian. And me. One of the germans is a big comedy podcast fan. He was super impressed I personally know many comedians he listens to. I was impressed how many American comedians he knows. Comedians are the most famous least famous people (haha). The germans, Belgian and myself imbibe in some wine and then head to a local bar for some live music. They are quite good, and to my surprise, play all American music. In fact, the only songs they played that weren't American were the Beatles (haha). They sang a bunch of Indie rock, my favorite genre, and we "met" people that they had been surfing with with the school and drank and danced.
When it's over, I have to go to my room to work. Then I'll sleep, and work a little more. The swell forecast for the next day isn't good, so my shoulders, neck and toe might get a break. Either way, adventure awaits in the morning.
My sister is demanding I post on Instagram every four hours so she knows I'm alive. I said, "do you want me to post pictures of my toe every four hours?" She said, "no, that's not proof you're alive."
Go To Top