Movies That Made Me Cry
Lori Palminteri
January 11, 2018
Three Billboards Outside Ebbing, Missouri (2017)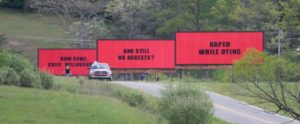 There seems to be some debate about how great this movie is, but it was easily one of my favorites of 2017.  The writer/director Martin McDonagh is definitely heavily influenced by two of my favorite directors, the Coen brothers.  I mean, Francis McDormand is the lead (and she fucking kills it).  This movie has it's problems but it works for me.  I laughed a bunch of times.  Also I cried.  This has been a particularly weird/stressful year which may have a lot to do with it.  I saw this movie on the road with another comic, and I won't tell why/what part I cried at because no spoilers.  I didn't want the other comic to know I was crying so I just let tears stream down my face.
Call Me By Your Name (2017)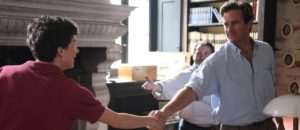 Also on of my favorites of 2017.  I'm in SAG and get the nominated movies in the mail.  I don't have a DVD player, however, so I watch them on my old macbook (haha).  Call Me By Your Name is a pretty cliche story.  Gay lovers in a "forbidden love" type thing.  Yeah, it's been done.  Even though Armie Hammer is about as dreamy as a guy can get with those blue eyes, radiant smile, and smooth voice, guy on guy action does nothing for me.  I'd sooner watch girl on girl.  So it's not super original, but it's such a beautiful film cinematically and the performances are amazing and it feels organic and passionate and true.  Most importantly, the monologue the Father gives at the end of the movie is insanely moving and spot on.  If you've ever been in a "star crossed lovers" situation, this is going to cut you open.  I sat on my bed watching this movie on my laptop in the midst of a snow storm crying quietly on my bed (I even cry quietly alone).
Inside Out (2015)

Pixar movies are great at tugging those heart strings.  Inside Out, to be clear, is not a kids movie.  I don't even know any kids that like it.  I think you have to have at least a little bit of a background in psychology to appreciate this movie.  Also, in a world where everything has been done, Pixar seems to come up with completely original content (I would kill to write a script for Pixar.  I mean really.  I would kill you.)  It's about a girl who moves with her family to a new town and is experiencing the ups and mostly downs of being pulled from your environment.  But most the movie takes place in her head and the emotions are their own characters: Joy, Sadness, Anger, Fear and Disgust.  Yeah, this movie is insanely deep for a cartoon.  Anyway, I saw this movie when I was on the road in New Jersey.  I saw it alone on a Saturday afternoon.  It was packed with families and me (the lone weirdo).  At that time, my parents had recently moved to Florida and I was probably lonely because that's what the road does to you.  Basically, the kid is battling depression, but Joy keeps getting in the way from facing her problems/growing head on.  Moral of the story is sadness is not bad, it's a by product of Joy, and there's beauty to that.  So I quietly sobbed amongst of a packed movie theater full of children that were not crying.
Up (2009)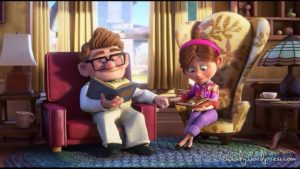 Fucking Pixar, man.  Me and some of my stoner friends (all guys) got really fucking high (I mean really fucking high) to go see this movie (as you do when you're a college student and you go see a Pixar movie).  You don't have to watch this whole movie, but if you haven't seen it, you should watch the first 10 minutes because in 10 minutes Pixar created the most beautiful, moving, lovely, and damn straight heartbreaking silent film of a couple that is in love and ages together.  All of us were too high and not ready to be dealing with this level of a love story that was also heart wrenching (sadness is a by product of Joy).  We were all crying.  It was fucking brutal.  And amazing.  At the same time.
Click (2006)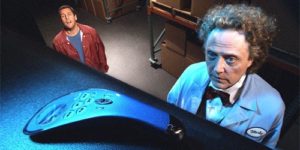 Hahahahaha! Hahahahaha!  Okay, this one is rather embarrassing but also true.  I'm not really sure why this one made me cry?  It's not even really a good of a movie.  2006 was a weird year for me.  I was a junior in high school, and in retrospect, I believe I was going through my first (mild) bout of depression and became really withdrawn from my friends.  I was watching it one evening with my parents which is one of my favorite things to do.  We are a big movie watching family and I always did and always will look forward to watching movies with my parents.  Click is basically a re-hashed version of "It's a Wonderful Life."  So it's kind of about not appreciating family and rushing your life (kind of hack).  I was laying on the floor of our living room wrapped in a blanket, and I don't know it's perplexing to me to this day, but this movie cracked me open somehow and I started crying.  My parents were puzzled.  I was never really a crier.  They were like, "are you crying?  What's the matter with you?  It's an Adam Sandler movie for Christs sake."  Though my Dad shouldn't say shit because the only time I ever saw him cry watching a movie was in X-Men when Jean Grey died (my Dad is in love with Jean Grey).
The Fountain (2006)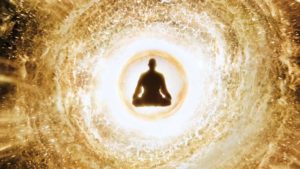 The Fountain is a brilliant work of art directed by Darren Aronofsky that I would recommend to very few people because it's probably too bizarre for them.  It's a weird sort of science fiction, sort of fantastic and definitely spiritual journey of questioning existence and fearing loss.  The score of this movie is also amazing.  I watched it alone in my room on my laptop and cried.  I even cried later in the week just thinking about it.
Pan's Labyrinth (2006)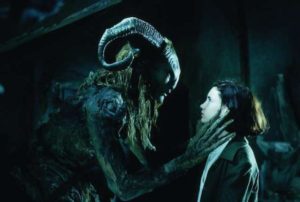 I'll see pretty much anything Guillermo del Toro makes because even when he misses, his movies are so cinematically stunning it's still worth it.  None more than Pan's Labyrinth.  While it takes place in the 1940's in Spain during the Spanish Civil War, it revolves around a little girl dealing with her dying mother and psycho step dad and war time in general.  The fantasy element just exposes the raw and beautiful and scary and innocent mind of a child.  This is a must see movie.  This is another one I watched alone and quietly sobbed in my room.
The Passion of the Christ (2004)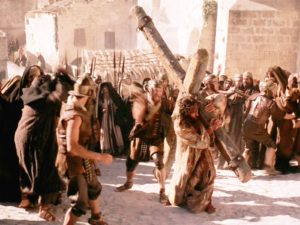 This may seem like an odd film on the list of an atheist (though I am now leaning towards agnostic, I don't have time to go into that now).  My parents forced me, my brother, and my sister to go see this movie in theaters.  My parents are very Catholic so they thought it important that we all see this together.  At this point, my brother and I were both closeted non-believers but we wouldn't make that known to our parents until later.  Still, I was excited to see it because it's a Mel Gibson movie.  Yes, Mel Gibson is a psycho and probably a terrible human, but he makes really fucking good movies.  I recommend this movie to anyone.  My sister cried and I think even had to leave the theater because she couldn't stomach the violence/blood.  I also cried but for different reasons.  Of course I was well versed in the story of Jesus (and many Bible stories which is why I think they're all hogwash).  But what strikes you in this movie is just how fucking awful people are and also how fucking awful crucifixion is and why the fuck do people wear crosses on their necks it's not a symbol of hope it's symbol of injustice and violence.  I didn't come away from this movie with love and hope.  I came away from this movie with hopelessness.  It's depressing.
Eternal Sunshine Of The Spotless Mind (2004)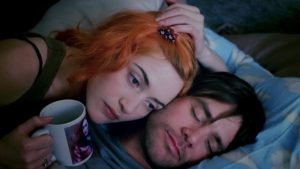 In my top ten favorite movies of all time.  Also, I don't think any movie has made me cry more.  Because I can't stop watching this movie and I cry almost every time, but I find I cry at different parts of the movie every time I watch it.  This is truly an original movie with an original take on love and heartbreak and how love makes people crazy but even if it doesn't stay it's worth it.
Finding Neverland (2004)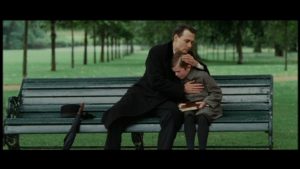 Back to back Kate Winslet movies bring the tears (and no, not Titanic).  First, Peter Pan was one of my favorite stories/movies as a kid.  This is the trueish story of how the author J.M. Barrie (played by my first love, Johnny Depp) was inspired to write Peter Pan.  A young Freddie Highmore is amazing in this movie.  It's sad and hit a nerve.
The Green Mile (1999)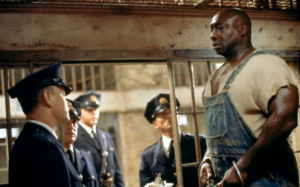 This was another family movie night movie that understandably made me cry.  This is a must see film.  It's so good for so many reasons.  The always awesome Tom Hanks is the lead, but it's really Michael Clarke Duncan that will tear your heart out.  Also, a mouse.
Life Is Beautiful (1997)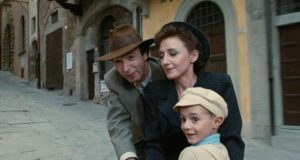 There are a number of holocaust movies that made me cry, but I think this one did the most.  Probably because there was a kid and the Dad kept up a continuous upbeat spirit for his kid.  It's a holocaust movie.  There's really nothing else to explain about how it's going to be sad as fuck.
Dumbo (1941)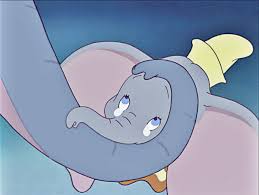 Disney movies are really fucked up.  They're always killing parents.  I think this was impart done purposefully because kids biggest fear is losing their parents and Disney movies are like, "look, we're gonna kill all the parents and it's gonna be okay, life is still beautiful and funny."  Despite the laundry list of Disney films that off parents, Dumbo is the one that I cannot bear to watch.  And it's not even a death!  It's the scene with that above picture.  I saw this movie as a kid, but probably blocked out that scene from my memory because it's so traumatizing.  Then, when I was in my teens I watched it again while babysitting and I had to go the bathroom because I didn't want the kids to know I was crying (hahaha!).  It's so fucking sad as the mom and kid want to be together but she's in the circus prison (she's there because she was protecting him and was deemed "unsafe").  It's such a tender scene.  The lullaby is so soothing/melancholy.  It really captures that unconditional love that you will only ever get from your mother.  If you don't cry from this you may not have a soul.  Also, mom, I love you!
Here's the link if you want to cry/see if your soul is not dead: https://www.youtube.com/watch?v=Q-8MbgMS6jo
Go To Top