May 16, 2019
Lori Palminteri
May 20, 2018
This blog is written by 29 year old Lori.  And if you're not Lori, in the future, you can go ahead and skip this blog.  Seriously.  Or read it.  It's just the same to me.
.
.
.
.
.
You're still here?  Are you pooping?  Don't answer that.
______________________________________
On the eve of your 29th birthday, Lori, there was a flash thunderstorm in New York City.  You dashed from your job, sprinting as fast as you could (which was fast, so you better not be fat now), to the nearest subway, which was the ACE.  Now, as you know, you usually take the N/W, but that's a further walk, so you decided to jump on the ACE and transfer at Times Square.
This turned out to be a mistake.  Because once you transferred to the Times Square stop, it was mobbed with people.  And I mean mobbed.  You had never seen it that way before.  We were barely moving, and it was warm, getting warmer, and the N/W platform is all the fucking way on the other side.  It took you about 10 minutes to walk 20 feet.  You're good at maneuvering through a crowd, small, fast, nimble, weaving in and out.  But not today, on May 15th, 2018.  You were shoved and immobile, your heart rate increased.  You thought you were going to have a panic attack.  You wanted to go into your messenger bag for Valium, but it was hard to even get to your bag.  You feared for anyone who might pass out in the crowd, let alone yourself.  You feared a bomb.  You feared that if someone stabbed you– or anyone else– they would easily get away with it.  You needed to get out of there, even to the street level in the pouring ran, but there was no easy way out.  The nearest staircase/platform was the 7, which you forged through masses to get to which would, at least, get you to Queens.
By the time you got Home, you were drenched but you were almost relieved it was raining because it meant you didn't feel guilty about not going to a comedy club or being social. The year of 2018, insofar, could be defined as "the year you wanted nothing more than to isolate yourself while also being well aware that it is not in your best interest to isolate yourself."  You made dinner and drinks, and it wouldn't be until the morning when you realized you drank too much.
You were working on a radio packet that night, some freelance writing work that came your way.  You'd been doing this for two weeks.  Waking up before work to work on it, going in to work, working on it after work, then running to a gig, and starting over this routine in the morning.  Despite it being tiring, you like working.  You need the money.  Plus, you thrive under pressure.   It's good to be busy.  It keeps your head away from your heart.  However, your body will pay for this restless schedule two days after your birthday, when you wake with a fever and razors in your throat, dampening a road gig you usually look forward to.  You wrote this blog in a fever haze from a hotel room.
Thunder became so intense during the eve of your Birthday, your apartment shook.  Then, FLASH, an intense and fleeting glow filled your apartment.  You thought lightening must have struck close.  You were right.
In the morning, on your run before working on the writing packet before going to work, you discovered this in Astoria Park, just around the corner from where you live.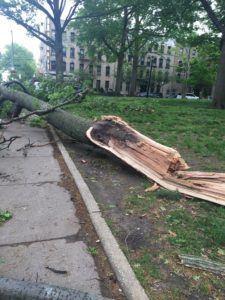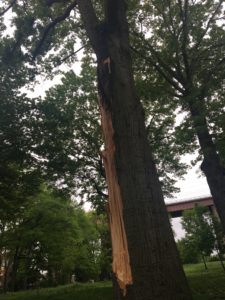 Carnage.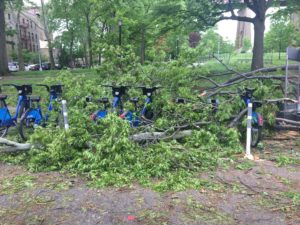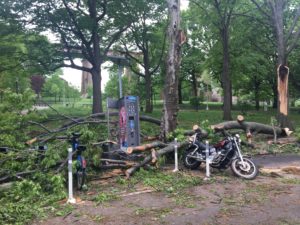 Though it made you laugh because it crushed the Citi Bikes, and you never liked those city bikes anyway because they take up parking in your neighborhood.  You examine the damage.  You spent much of that day, your birthday, thinking about how insane it is, that a lightening bolt, with so many other things to strike, including a bridge that's right there, would come down on that one particular tree in Astoria Park.
It would rain on May 16th, 2018.  Because it always does.  Born on the rainiest day of 1989, rainfall would follow you to all your birthdays.  In fact, I can't remember a birthday when it didn't rain.
At work, no one knows it's your birthday, which is how you prefer it.  You're new there.  If you're still working there a year from now, I'm sure you'll hate it.  God forbid anything keep your interest for more than a year.  But for now you don't hate it.  You do your work, keep your head down, keep a low profile.  Save for your boss, they don't even know you're a comedian.  They know almost nothing about you.  By this time next they will have figured out your secret identity, I'm sure.  You pride yourself as Batman, not Bruce Wayne, anyway.
Towards the end of your shift, a manager comes who does know it's your birthday.  He asks you what you're doing and you tell him you're going to see Avengers: Infinity War.  You wouldn't have told him you're going alone but he asked and then you sort of wished you just lied and said you were going with a friend.  He pitied you, which you hate.  You hate pity.  You don't think it's sad to go to the movies alone on your birthday, even if it is the 7th year in a row.  It's become a tradition/running joke at this point.
One of the guys in the office overhears that it's your birthday.  He's a spry and nerdy Indian guy, probably both your height and weight.  He's easily your favorite employee there.  "How come you didn't tell it's your birthday?" He was genuinely hurt.  As though you betrayed him in someway, keeping from him this information of my day of birth.  It made you laugh because he was so animate about it.  "How come?  How come you didn't tell me?"  Just wait until he finds out you're a comedian.  Then he's really going to be annoyed that you're hiding all this information about yourself.
On your way to the movie, you do feel some pangs of loneliness.  Aging never really bothered you.  Ever since you were a kid, you were anxious to put youth behind you in the sense that you craved independence.  Such things come at a high price.
Before the movie, you go to a bakery to pick up French Macarons.  Macarons are expensive and delicious.  Remember when you said that money can't buy happiness?  I take that back.  As long as money can buy macarons money can buy happiness.  They're orgasmically delicious, and a special movie treat/snack for your birthday.
Once seated in the theater (and after smoking your weed pen in the bathroom), the sadness has worn off.  You love the movies.  It still excites you, just as it did when you were a kid.  You have mouth watering macarons smuggled in, and you are, in fact, happy.  Avengers: Infinity War would not disappoint, whatsoever.
While the credits roll (any Marvel fan knows you have to stay until the post credit scene), you turn your phone back on.  Friends and family have texted you or left messages.  Most Facebook "happy birthdays" you find insincere, but there are people who appreciate your existence.  You've love for those who continue to make you laugh, and hope that you give laughter back.
It's raining still (of course), and you head Home.  You then realize there's a playoff hockey starting soon:  The Vegas Knights vs. Winnipeg Jets.  Game 3, tied 1-1.  Hockey playoffs are awesome, and you're pulling for the Knights.  It's your birthday.  Fuck it.  Go to a bar, get a sandwich and a beer.
This part actually does make you a little sad.  That followed by going to a movie alone, you go to a bar alone, on your birthday.  You hit up a couple of comics who live in the area, see if anyone's around.  It's no big deal they aren't.  You're going to the bar anyway.
Most of the bar is watching basketball.  You find a lone seat at the corner of the bar, hockey on a big TV in front of you.  You order a drink and some food.  You forget it's your birthday.  You don't even really care that much.  It's an excuse to treat yourself, if nothing else.  Otherwise, it's just another day on the calendar.
After the first period, a guy sits next to you.  You know he's going to try to start conversation, and you're torn about it, leaning towards not wanting to talk to him at all.  You could tell him it's your birthday and garnish a free drink, but you won't do that.  That's just not something you would do.
He does start a conversation.  Asking what team you were rooting for.
"I'm a broken hearted Ranger fan," You said, "but I'm pulling for the Knights.  I want them to win the cup because it would be hilarious."  It would be hilarious.
At first, you thought he was pretending to not know about hockey playoffs, and the Knights being a brand new team in order to talk to you.  Such feigned ignorance is annoying.  But he didn't actually know.  He was there to watch basketball.  In order to further conversation, he stated that he didn't think there should be fighting in hockey, and rather condescendingly you told him that fighting in hockey was pertinent for the sport to be self regulated.  That you have less douchebags taking cheap shots at skilled players.  He then agreed for the sake of agreeing.  It no longer seemed that absurd you were at this bar alone, considering you were twice condescending to this stranger in about five minutes.
He tries desperately to keep conversation going.  Talking about how he used to play basketball, and you only tune in during commercial breaks.  "Did you play any sports."  "Yah," you say, "soccer."
You almost feel bad for him.  He's a perfectly fine dude.  He's polite, above average looking, kind but bland.  Probably excited at the fact that he met a chick who likes sports.  But he doesn't know that you are anti-social, so anti-social, that it's your birthday and you are here alone.  He has no shot.
Conversation tapers off, and that's on you.  The bar switches audio from the basketball game to the hockey game.  He points this out.  "It's good they do that," he says.  And you respond, "yah."
You're drunk and you can keep drinking but you have to get up early to work on the radio packet before work.  You get your check and pay your bill.
Back home, you have your cake and eat it too.  Literally.  You heat up a warm piece of cake, top it with salted caramel gelato and enjoy it while laughing at Arrested Development: Fateful Consequences.  And it has you cackling a thunderstorm of laughter.  The jokes are so. god. damn. funny.  And it seems almost the perfect beginning to a new year.  How you'll wake in the morning, writing and honing your own jokes.  Happy enough to have spent your youth on a chance.  Even though when the weekend comes, and you're burning up in a hotel room, dizzy and dehydrated, dreading standing up, let alone doing comedy, totally unsure who you will be a year from now.
Go To Top