The Girl In The Pretty Blue Dress, Knives, Jesus & Gay Sex
Lori Palminteri
September 3, 2019
Which part of this title hooked you in?  Was it gay sex or Jesus?  The gay sex/Jesus combination?  I'm working on making titles more alluring.  How do you feel about this meta introduction to my blog?  Is it annoying or clever?  Often times clever people are quite annoying.  You'd feel this way too if I talked more, I'm just not a fan of speaking a whole lot.
The girl in the pretty blue dress is me.  Was me.  Spoilers, I know.
Given the number of weddings I attend, it would appear that I actually have a lot more friends than I lead on, despite being a hermit.  Last year I attended a wedding of a friend I met through comedy.  The corner table, a table of misfits, would include three other friends/comedians:  Dennis, KC and Scott.  We have all known each other since our beginnings in comedy.  Some of us (me) slow to warm up to, but ultimately, we enjoy each others company.
Booze and/or substance fueled what would be a night of belly laughs and giggling from our island of a table.  Dennis, at the time, struck (poor word choice– hahaha, this is hilarious and also really fucked up and 4 people will get it) bad luck at this point in his life, resulting in moving back with his parents.  He was in need of support and empathy… so naturally we mocked the shit out of him.  One of his woes, we were told, was every time he leaves his room, there's a Jesus portrait, with the sacred heart, looking right at him.  The thought of him leaving his room and getting startled by Jesus every day is just hilarious.  We pressed him to have one of his brothers send us a picture of famed Jesus.
One the dudes in the bachelor party was light featured Italian guy, who was so good looking, KC advised that I "do myself a favor and go for a ride on that."  Having been to the bachelor party, the boys said he showed up with a tray of pasta his mom made (classic LI Italian kid) and they had seen him in a hot tub and KC attested so strongly how cut he was, you'd think he was in love.
The groom, our comedy friend who we were surely losing because he found happiness elsewhere, true happiness and love that us scumbags would probably either lose or deny at some points in our lives, told me the ripped Italian dude was wondering who the girl was in the "pretty blue dress." (hint, hint, it's me).
My boys are all rallied up now.  KC genuinely wants me to fuck this guy.  Dennis just wants to see how awkward I am when someone hits on me.  And Scott is just there.  At the time, I had eyes and a pulsating heart for someone else so I just laughed it off.
Until, of course, hot Italian kid comes over to our table where we were vaping our weed pens in the corner.  My boys all abandon me with this guy.  True friends, really.  Now, I'm talking with this guy who's complimenting my dress and smile.  We chat for a while until a song comes on that he loves and he jumps up and goes to the dance floor and starts jumping around.
My boys return, winking their eyes and nudging me.
With a wide smile, I tell them, "that guy is gay.  He loves dick more than I do."
"How can you tell?"
"How can you not tell?  You spent a weekend with him!"
They did not believe me.  They assumed I was making some sort of excuse.  Or that I was gay.  Only a little.
"But he's so muscular."
"Since when does being muscular mean someone's not gay?"
It's a Brooklyn wedding, so it's more hipster than traditional.  The food was catered from a BBQ place.  Lots of meats and mac 'n cheese.  No vegetables.  The steak knives were really cool, I noted.  They had a great wood handle that gave the hold a nice feel.  I love a good knife.
We continued to eat and drink.  I did more laughing than talking which is how I prefer it.  KC notoriously goes on rants like he's 67 years old that are rather entertaining and Dennis is a proper contrarian, and we all shit on Scott so I could safely say that we were the funniest table. No doubt about it.
After dinner, hot Italian guy returned to our table.  My boys nudged me once again, thinking he was coming over to woo me.  He was not.  He was coming over because we were all vaping THC and he wanted in.
Just then, Dennis gets a text message from his brother.  It's a picture of Jesus.  Not just any Jesus.  THE picture of Jesus.  The phone gets passed around and we all burst out in laughter at the Catholic blue-eyed rendition of Jesus (which is totally ridiculous, white people) that Dennis is subjected to every day.  We try to quickly fill hot Italian in on it and show him the picture.
"OH MY GOD," he says, "is that your wallpaper?"  Referring to the wallpaper behind the picture of Jesus in Dennis's folks home. My boys pause and look at me, and I have the most satisfied smirk on my face.  They start cracking up and now we're all in the throes of hysterical laughter.  Once again, a song came on that made the Italian jump up to the dance floor.
"When you're right, you're right, Palminteri," KC said, "you continue to impress me."
It was pouring out that evening and I took an Uber home.  When I got into the car, something sharp jabbed me in the side.  Then I remembered that I put one of those steak knives in my coat pocket.  Why?  I couldn't really say.  I just liked it, I guess.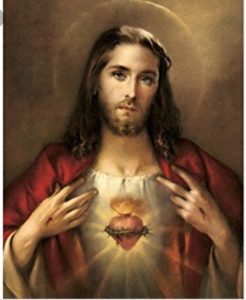 Go To Top