Costa Rica: Sloths, Sickness, Surfing (Part I)
Lori Palminteri
February 10, 2019
In the morning I manically finished a writing packet, bags packed (my bag had been packed almost two weeks in advance) at the door, anxious with excitement for my afternoon flight to Costa Rica.  This is on Monday, February 4th.  My brother and travel buddy, Mitch, would already be there, hours before me. Thank goodness for wifi, for upon landing, the airport wifi sufficed to find each other, my brother a bit tipsy, passing his time waiting for me at a bar.
It's about an hour and a half from the airport in San Jose to Jaco Beach, our home base for the trip, a well known consistent surf spot. Also well known for having young and pretty prostitutes (though my brother would repeatedly tell me to call them "hooks" instead).  Booking a surf vacation is tricky… You can't actually predict if there will be (good) surf.  Unless you're in Hawaii or parts of Australia.  Though Costa Rica is up there for consistent breaks.  One of the reasons I chose this destination.  Also.  Monkeys.
By the time we got to Jaco it was near midnight and we were driving up and down the main strip trying to find the hotel I booked.  We were failing.  We asked some locals but they were little help. Upon pulling over to try to figure out where to go, I almost accidentally picked up a prostitute ("Don't call them that!  Call them Hooks," Mitch preaches).
We did find our place, with little help from anyone.  The hotel is on the main strip, but it is tucked away, feeling private with all the tropical shrubbery and Buddha statues. It's a no frills type of place (I am still poor, remember, but it is right for us).  The hotel has a little kitchen/cafe where we would befriend the chef and his girlfriend (bartender) who would cook us just about anything we fancied.  This would turn out to be awesome, like having a private chef.
"Please be as neat as possible and I'll keep promise to keep my preachy mom lectures to a minimum," I warn my brother.  Our mom would be both happy and surprised that he would keep the room tidy for the most part.  She would say it' she cause I'm one of the few people he actually listens to but I would say it' because he finds me to be horribly annoying when OCD triggers my rants.  There's a TV but we quickly learn that there is only one English Channel that was VH1 (you're heavy on the Kanye West music videos, VH1.  For the most part I enjoyed the 80's music videos, but also, what the fuck was going on in the 80's?).  We passed out pretty quick and woke up early for breakfast.  Then, hastily, walked over to the beach with our boards.
Day 1 (Travel Day Doesn't Count)
There's a certain feeling I'm not sure you would understand unless you're a surfer. The feeling of being stoked to arrive at the beach with promised amazing waves and then there's nothing.  Such a let down.  I suppose I could compare it to getting stood up by someone who meant something to you that you were sure was going to be great time.  My heart it sunk, fearing the surf would be a bust on this trip.
Mitch, a far better surfer than myself and a land owner in Nicaragua, assured me when the tide came in the surf would build and be rideable.  The pacific tides change a lot more drastically than our smaller Atlantic Ocean. (This would prove to be accurate.) We dropped our boards and explored the beach and the area.  Later we would surf small swell when the tide rose.
In the rocks we climbed and checked out the views, I somehow missed a guy sunbathing nude in the rocks.  When we were walking back to the hotel my brother is checking out all the pretty girls on the beach.  There are a lot of them.  Many of them are prostitutes (I SAID CALL THEM HOOKS, GODDAMNIT).
"Did you see the perfect ass on that girl?"
"I did not," growing up a tomboy, this type of candor isn't out of the ordinary between us, my childhood bests, and comedians.
"You are terrible at being a lesbian."
Along the path I noticed a two lines of ants, in one direction they're empty handed, in the other, they're all carrying flower petals 3x, 4x, 5x their size.
"Oh, check this out!  Look at these guys!"
"You don't notice a naked guy.  You don't notice a naked girl.  But you notice a bunch of ants?  We were always joking when we said you were autistic but you really are a fucking weirdo."
A local tipped us off about a bridge where you can see crocodiles, as big as 15-20ft, and it did deliver.  Crocodiles are probably the animals I'm most afraid of.  Those dinosaurs are beasts.  The bridge was a hot spot hang for the crocs, and there was one massive crocodile that was terrifying.  I have seen that crocodile hunting me in a my dreams throughout my life (I frequently dream and my leading animal nightmare dreads are 1. Crocodiles, 2. A Pack Of Wolves).  Later, I was told some guy tried crossing that river and a crocodile ate him so fast, the only reason they even knew a crocodile ate him was because of DNA testing from what was left of him which was no more than a blood stain.
"Geez, I guess it's real easy to get rid of dead bodies around here," I replied like a real Guinea.
When the surf filled in we hit the water.  There are no reefs in Costa Rica, so the bottom is either a sand break or rocky.  Jaco is a sand break and even though waves generally break better on reefs/rocks, it is a comfort to know that if/when I fall of my board I won't smash into a reef or jagged rocks.  Though I can tell you from experience that get smashed into sand can also hurt like a motherfucker.
That night my brother went out with a chick he met and I laid low, went back to the room to read and write (my optimal way to spend an evening).  Feeling more than fine. When on vacation, I don't feel a need to join the nightlife.  Especially in a place like Costa Rica when I want to make the most out of daylight hours.  Also, I live in NYC, one of the best nightlife scenes.  Also, also, I'm a comedian.  I AM the nghtlife (not a hook, a jester!).  People always expect comics to be extroverts.  Most of us are not.
Day 2
The tides of my body were about to change.  As morning neared I woke up feeling like someone kicked me in the stomach. Fuck, I thought, knowing I had frequent bathroom trips in my very near future.  My stomach has always been a weak little bitch, so coming to Central America, I came equipped with Imodium.  Before sunrise, I start projectile vomiting.  It felt like that scene in Team America.
"You alright?" Mitch said, groggy, having woken up from the sound of my heaving.
If my brother was trying to win "rhetorical question of the year" he was in the lead at that moment.
"Fuck," I groan, holding my cramping stomach, "I must have food poisoning or drank bad water."
The morning would be spent with my body ejecting everything inside me.
I was pissed.
My brother, on the other hand, goes out with this chick who's a massage therapist.  I immediately assumed she was a prostitute (HOOK).  They went out, had drinks, she offered him a stone massage at half price.
"But no happy ending."
"I wasn't expecting that," my brother replied.
"But I will fuck you for fun."
So Mitch gets some sort of groupon deal and I get to puke my brains out.  I can't even tell you how much this is really a microcosm of our lives.  Mitch gets lucky and I get very, very unlucky.
After throwing up what was a feeble attempt to eat toast for breakfast, I felt better and decided to continue our plans to go to the rainforest that day.  Because the waves wouldn't pick up till Friday, we had planned to do excursions Wednesday and Thursday.  You might be thinking to yourself, "hiking in 90 degree weather with food poisoning sounds like an awful idea."  We only have so many days here. Waste not.
What else was I to do? Do you know what happens if you watch Kanye West music videos all day?  I don't and I have intentions of ever finding out.
It's about an hour and a half drive to Manuel Antonio National Park.  As we go, I'm drinking water and nibbling on crackers, feeling much better.  I know I'm not out of the woods, but I feel the worst is over.  I have a shit stomach and a great metabolism, so when a bug hits me, it hits me hard and it's not pretty, but it does go through me at an alarmingly fast pace.
When we get to the park, we sort of get hoodwinked into hiring a guide.  It turned out to be a good buy, however, because he had a high tech scope and spotted sloths all over the place.  We maybe would have seen two sloths without him.  The monkeys are impossible to miss, as they get pretty close.  The beach raccoons win as the most hilarious creatures because they just go from beach bag to beach bag, stealing food, until a human chases them away and the raccoons hiss at them.
Some sloth species are close to extinction, but it really is amazing that they have been around this long (since before the Ice Age) because they have virtually no defense mechanisms and humans are the only species who want to cuddle other species over eating them. The sloth is as strange as it is adorable.  Sloths have three stomach chambers and unlike me that morning, they don't take frequent poops, but when they do they climb down the trees (in slow motion) to poop on the ground and bury it, this way predators won't find out where they are chilling in trees, just smiling at the sun, happy to alive.  Maybe they're so happy because they know how easy it would be for them to get eaten that they're like, "it's a good day, nothing is eating me!"
Half way into the hike I start to feel dizzy.  It's 90 degrees midday in Central America.  We're practically on the equator and that sun is relentless.  If I had been even at 50% of my normal self, I'd be climbing the trees with the monkeys myself, the fucking psycho I am.
When we get to the bay at the end of the park, our guide spots an adolescent crocodile in the water and starts calling everyone out of the water (this guy really was insanely good at spotting shit).  All listened except for a couple with their baby (imbociles), and he had to go up to them directly to tell them to get out of the water because there's a crocodile that will not hesitate to eat their baby, and I'm already on the verge of puking again, and even the thought of a crocodile eating a baby makes me want to keel over and die.
Monkeys are swinging through the trees and I would have enjoyed it more if my vision wasn't starting to blur.  A part of my head was like, "this is good, you are sweating out all the toxins," while the echo in my head was like, "you need to lie down in AC ASAP, your body is literally shutting down."  I say to Mitch that we gotta head back.  He's aware.
Back in the car, with AC blasting, water and crackers, I again start to feel better.  The drive back is fine, right up till the end when my insides start churning.  When Mitch pulled into our hotel, I don't even think he had the car in park when I ran out, into the room, and projectile vomited once again (this time, mostly water).
For dinner, I'd eat some potato wedges that I would ultimately throw up.
It still was a good day because we saw a lot of sloths.
(To Be Continued….)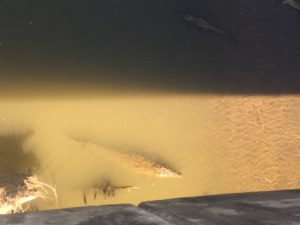 Go To Top