Costa Rica: Ride On (Part II)
Lori Palminteri
February 15, 2019
[Previously on Lori's Blog:  Lori and her brother left for their surf trip to Costa Rica, a trip to celebrate the "end of Lori's 20's."  On the second day, Lori got severe food poisoning but still went hiking in a rain forest where they saw a lot of wildlife and then Lori got sick again.]
Day 3:
In the AM, we would see how my body was reacting to food before commencing our ATV plans.  The corner pharmacy sold pedialyte which would be my savior for the entire trip.  My stomach held down a light breakfast and I felt infinitely better.
"Why didn't you get me one?"  Mitch said, pointing to my pedialyte.
"Um… maybe because you weren't vomiting and shitting your brains out yesterday."
"I love the taste of that stuff."
"Who's the weirdo now?"
We hung around a little while that morning to be sure that my body wasn't going to start purging again.  But I genuinely felt great.  I mean, when I said I needed a getaway to reset, I meant mental clarity, not to clear out my insides.  To be considered was the lack of caloric intake.  Between surfing and hiking and sweating in the Central American sun, I was burning a lot of calories and taking in very little.  Still, I'd have to be careful, starting with simple carbs, then work in proteins.  Whatever was in me was now out and I felt like a brand new person.
"Let's do this," I said with utmost confidence.
We got a package deal of a 3 hour ATV tour plus zip lining.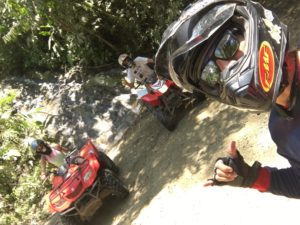 Our ATV tour guide was a stud from Texas I'll call Kevin.  Kevin had been living in Costa Rica for six years.  He followed his wife here and has been working at the ATV place ever since.  It's a different life there, to be sure, but he said he really missed hanging out with his parents, as he hadn't seen them in nearly two years.  The sentiment also made me miss our parents, who had been largely responsible for our thirst for adrenaline fueled vacations.
Kevin and Mitch got the faster, smaller, and manual ATV's while I got the basic automatic because it had been years since I've ATV'ed.
The three of us floored it up and down the hills in and near Jaco.  Up to the top to mountain top views of the sea, through dusty trails, down steep and curvy pathways.  Faster and faster, to a waterfall and an abandoned building that was once meant to be a bed and breakfast up in the hills, overlooking Jaco.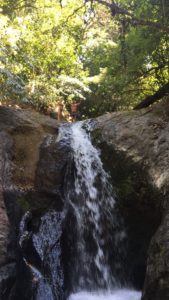 ATV'ing is like being on a roller coaster that you're in control of.  And then you're like, "wait, I'm in control of this?  That can't be good."  Both Mitch and Kevin confessed that they thought I was going to fly off a cliff, as I cut a turn a little too tight skidding close to the edge.  And then Kevin told us story after story of people who took tumbles and flipped their ATV's.
"Maybe close with the stories of people who flipped their ATV's instead of bringing that up in the middle of the tour," I advised Kevin.  In my defense, I didn't think I was going to slide off that cliff, but I did think the ATV might flip twice going down an steep incline, however, I was ready to jump off and dismount, letting the ATV tumble.  I figured I'd be okay as long as the ATV didn't land on top of me.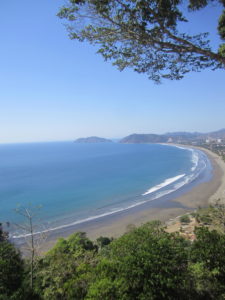 The scenery is beautiful.  Caught up in the thrills, the sickness from just the night before was forgotten, the growing fear of failure in my career path or anxieties that come with being a New Yorker were as far away as New York.  Today you are here, navigating and accelerating in a foreign and stunning country, following the dust trails of kid brother.  Follow the leader.
The abandoned bed and breakfast was dope as hell.  Kevin said that in the early morning you could usually see monkeys from up there.
Because it was just the three of us and Mitch and I are adrenaline junkies, Kevin said we had covered most of the tour with over an hour left.  "I'll take you to some trails I usually don't get to take people."  Kevin later told us we basically did a 4 hour tour in three hours, and he thought that was a record.  He never covered so much ground with other tourists.  CAUSE MITCH AND I ARE CRAZY AND SHIT.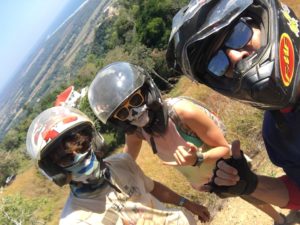 We followed the ATV tour with zip lining through the tropical forest.
"Sometimes people get up here and they start crying," one of the guys told us.  Mitch and I laughed at the notion.  In our family, even if you were afraid of something like zip lining, you wouldn't cry or the rest of us would mock you for the rest of your life.  Pussies.
Back at the hotel, Chef and R (his girlfriend and bartender) asked me how I was feeling.  The previous night when I was sick, my brother had stayed up with them.  R provided me with alka-seltzer tablets and chamomile tea.  Chef made me a specialty rice and chicken dish that would help my stomach.  Every night we'd become closer and closer to Chef and R.  They were super cool, down to earth, hard working people, and they helped take care of us when we got sick (we would both get sick again later this trip, spoiler alert!).
Mitch was looking to go out again and he was trying to coerce me to join him.
"Do you have short term memory loss?  You were there yesterday, witness to the sight, sound and smells of my illness.  I am NOT drinking tonight."
My parents had been so happy my brother was joining me on this trip so I'd have someone to look after me, but meanwhile, Mitch is the worst influence of anyone.  Plus, even though I do love a drink, I don't like to drink much on a vacation like this.  Drinking takes a harsh toll on your body, ultimately, wasting your morning hours.  For weeks before this vacation, I cut drinking out almost entirely and had been fitness training so to make the most of adventures.  I didn't come here to drink daiquiri's on the beach.  I get drunk enough in New York.  Trust me on that.  In fact, I didn't get drunk even once in Costa Rica (Mitch could confirm this and how utterly "lame" I am).  Make no mistake, however, that I found other ways to not be sober that would effect my mind and not my body.
Instead of partying, I hung back to smoke and chill with Chef and R when they had closed their kitchen.  This would turn out to be routine.  We shared a lot of laughs with them, exchanging travel stories, and I'm happy I chose that hotel just to have made friends with them.  It is my hope that our paths cross again.
To be continued…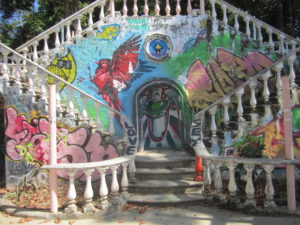 Go To Top