Costa Rica: Mad Monkey Man (Part III)
Lori Palminteri
February 16, 2019
"I'm crazy Felix."
"This is crazy Mitch and I'm loco Lori."
Crazy Felix laughs at this and shakes our hands.  The mangrove tour is tucked away in the rain forest.  A dilapidated house serves as the office and it looks more like a place you'd be taken if you were kidnapped than a tour.
Two other girls around our age join us on the boat.
"Where you guys from?"
"We're from New York."
"Us too!  We're from Brooklyn.  Small world," one of the girls say.  Though I've found that no matter where I travel I can't escape New Yorkers.  We are everywhere.
We all board the boat with crazy Felix.
"You know why they call me crazy Felix?"
"No."
"Because I'm crazy."
"I probably could have guessed that."
My brother and I are seated in front of the boat, the Brooklyn girls behind us.  We're about to pass under a bridge and crazy Felix goes, "you have to be very careful with the bridge."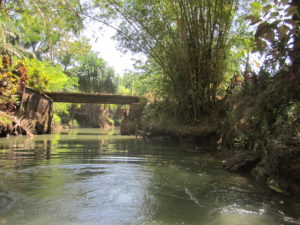 "Why?"  The Brooklynite asks.
"It's dangerous," he says, and as we pass under it, he bangs on the canopy of the boat, making the Brooklyn girls jump and squeal.  Crazy Felix starts cracking up.  Mitch and I laugh as well, mostly because the Brooklyn girls didn't find it funny at all.  They were pissed.
"That's why they call me crazy Felix.  I'm crazy!"
Indeed.
Crazy he may be, but also knowledgeable.  He grew up in these parts and knew all about the vegetation, birds, aquatic and reptilian animals.  Using a green laser pointer, crazy Felix pointed out where hidden creatures were and facts about the plant life.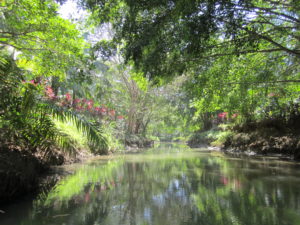 "That tree I call the grandma tree, you know why?"  He then uses his laser pointer to show us that the sap from the tree created two hanging sacks that looked like sagging tits.  He starts cracking up at his joke that I'm sure he's done hundreds of times.  Mitch and I laugh at him and the Brooklyn girls who are still mad at him from the stunt he pulled under the bridge looking very unamused.
How the locals spot the camouflaged animals is insane to me.  He pointed out a baby crocodile (about a foot long), iguanas in trees, tropical birds, and also a sloth.
"It has a BABY!"  He jumped to his feet.  "THERE'S A BABY ON THE MOMMY'S BELLY!  LOOK, LOOK, LOOK AT THE BABY!  A BABY SLOTH AND MOMMY!"
Crazy Felix was more excited than we were and he sees sloths almost every day.  I couldn't see the baby, admittedly, until the return trip when the baby hung on it's own branch.
"LOOK AT THE BABY!  IT'S SO CUTE!  THE MOMMY AND BABY!"
Along the edge of the river, Jesus Lizards blend in.  Jesus Lizards are those lizards that can run on water.  We'd already seen a bunch of Jesus Lizards in the other park.  They almost look like that dinosaur in the first Jurassic Park that can projectile spray ink in your face.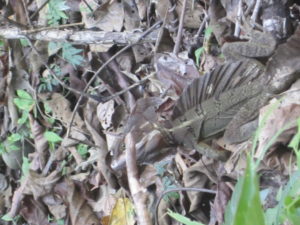 [Jesus Lizard]
Here, in the mangrove, a bird sweeps down, looking to make the lizard lunch.  The Jesus Lizard jumps up and them sprints on the water, the bird trailing just inches behind it.  The lizard runs for it's life and then dives into the water, as the birds returns to a branch, defeated.
"Oh wow!"  I exclaim, "THAT was so cool."
It was cool.  Like the nature documentaries that I binge watch, I'd seen so much footage of the gravity defying Jesus Lizard, and now I got to see one in action.  Later, I would consider how fucked up that was, however.  That moment that I reveled in was one of the worst moments of that lizards life.  Think about it.  He was literally running for his life, on water, no less, as a giant winged predator with talons as big as his face is so close to ending the poor things life.  I know I'm kind of a sicko, but loving that moment almost seems sadistic.  Nature is scary as fuck if you think about it.
The mangrove is beautiful.  Palm trees loom over, brilliant colored flowers boarder the river, fish swim along the boat.  It's a dream.  And we hadn't even made it to the main event: Monkeys.
We hear them before we see them.  Calling to each other.  One by one, we see them closing in.  If these had been bigger monkeys, it would have been terrifying, a group of 15-20 monkeys following an alpha.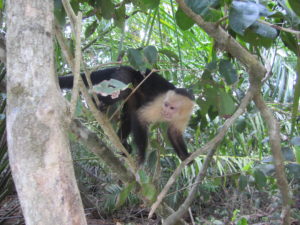 Crazy Felix ties a rope around a palm tree.  He can do all sorts of animal calls spot on, from monkeys to birds, and he loved showing off this skill.  He calls the monkeys out by names.  For some reason, he named them all American names:  Mikey, Charlie, Nicky, Reggie, Bobby, etc.
The monkeys gather in nearby branches, studying us.  They are the cutest. I love them.  Mushing a banana in his hand, Crazy Felix does his monkey calls, a skill I envied.
When placed in the hot seat, Crazy Felix rubs the banana paste on your hand.  A monkey hops down a branch, then onto your shoulder and head, reaching for your hand to lick the banana off it.  Feeling their little hands on your head and body is so cool, as well as the feeling of it's soft tail, gently curling around your neck for further balance.  Tails really come in handy.  Evolution failed us by not developing tails.
The monkey licks my hand, grabbing my ring finger with one hand and my pinky with the other so it can lick between my fingers.  We make eye contact, me and the monkey, and he makes a this look like, "you love this, you sick fuck, don't you?  I have no desire for a human to lick my hand, weirdo."  And I'm like, "I do LOVE this!  I do!  I love the feeling of your tiny hands holding my hand and your gentle licking (you're right that does sound weird)."  Coincidentally, the monkey licking me shared the same name as my ex which seemed a little cruel, but it didn't make me want to hug that monkey any less.
All the while, Crazy Felix is laughing and having a hell of time.  These monkeys are his friends.  I wish I had more monkey friends than human friends.  They do respond to him.
"Do you like me now?" Crazy Felix asks the Brooklynites.  "They don't like me, but I am not just crazy, I am also sweet.  Crazy and sweet," he insists.
Then, Crazy Felix starts telling us about his deceased mother who died almost a year to date.  He said that 20 hours before she died, she requested he sing her favorite song.  And then he sang us the song.
Geez, I thought, I'm sorry about your mom but we're on vacation, we don't exactly want to hear about your dead mom.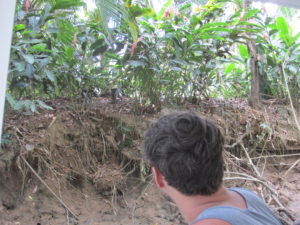 [Mitch admiring a Costa Rican racoon, can you spot him?]
Coasting steadily down the river, we listen to Crazy Felix sing his moms favorite songs between mimicking bird calls.  He tells us stories about his childhood, "those are my favorite memories."
On the way back, we wave to the monkeys and then we stop under the bridge.  Crazy Felix shows us these tiny bats, sleeping under the bridge.  They're smaller than your palm and almost looks like insects.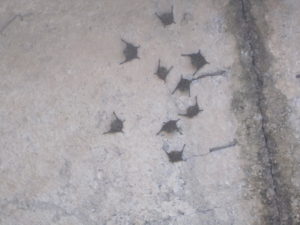 "Sometimes they have babies, let me see," crazy Felix examines the bats, "but they are really really small, like a penny."
Man, this guy really loves baby animals.
"What was your favorite part," he inquires as we near the end.
"The monkeys," the Brooklynites say.
"Definitely the monkeys," my brother says.
The comedian in me is tempted to say, "I really loved the part where you told us about your dead mom," but I refrain.
When we return to Jaco, we go surfing.  The waves are not great.  Still, a monkey licked my hand and I got to surf in the same day.  Living my dream.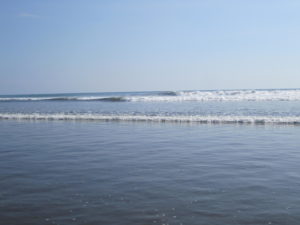 Go To Top