Computer Confusion
Lori Palminteri
January 18, 2023
Surely, you've heard of muscle confusion. If you haven't, you're probably in dire need of a work out. Let me enlighten you. The internet defines muscle confusion as: "this theory claims that confused muscles, exposed to changing workouts, gain more size and strength than complacent muscles cycling through the same routines, even if people are lifting equivalent amounts of weight."
In lamest terms, mix up your work out for more noticeable results. While this is technically a theory, if you ask anyone who trains a lot or is a gym rat, they will likely tell you that they notice a difference when they confuse their muscles.
This, however, is not a blog about fitness. It's a blog about internet algorithms.
What you should already know is the internet is constantly gathering information about us (if you have not seen the documentary "The Social Dilemma" it should be required viewing). The computer's motives are to understand and predict our behavior. Which people have harnessed to sell us products. And evil governments like China have harnessed to control them… going as far as "predicting" who will do well in college or become criminals from adolescence. Now, I'd like to think that in America we'd never become "Minority Report" but I remain extremely dubious.
This is what is happening though. The internet, specifically social media platforms, plays to your emotions and wallet to make you spend more time on your phone and increase your consumerism. Think about this. So… politically I'm a libertarian. But mostly, I hate all bureaucrats— I'm on the front lines of media and I can tell you they are all the of the same self serving machine. There are no heroes in politics. Zero. Not a one.
Now, my left leaning friends always talk about how on Twitter the right is constantly being owned. And then, conversely, my right leaning friends talk about how frequently the left is called out on their hypocrisy. Both things can't be true, can it?
So I did a little experiment. I mostly follow comedians and some libertarians, but I made it a point to follow both liberal and conservative twitter personalities. And then, I would like posts on both sides. My goal? To trick the algorithm. I wanted to see when I confused Twitter on where I stood politically, what the results would be. You may not be shocked to find, that my on twitter, I get a pretty equal amount of very angry democrats and very angry republicans (what they have in common is their unchecked rage). And so, I found both my liberal and conservative friends to be right and wrong. Twitter has figured them out, and turned their feeds into an echo chamber. If you truly want to see the world from the internet from a neutral lens, you have to convince (or trick) the internet into believing you are neutral. It is an interesting experiment and if you don't believe me, I challenge you to try it yourself.
Now, let's take another experiment that has nothing to do with politics: Instagram.
Instagram is far less contentious than Twitter but just because it's pictures of puppies and butterflies doesn't mean it's without it's dark side. Social media is also notorious for making people feel bad because they compare their lives to someone else's "best of reel" and then people also plaster up a fake plastic version of their own lives, doubling down on what will lead to depression and anxiety.
My experiment with Instagram was a bit different. When I post a picture without me in it, I get only a handful of likes. If I'm in the picture, I get way more likes (I joked about this when I was in Paris and smiling in front of a Monet painting… "here's the most beautiful thing you'll see in your life and my stupid face"). But more interesting to me, was when I post Insta stories that I'm in, I get far more views than if I post of landscape picture.
I took my experiment a step further. I will occasionally post a "thirst trap" (for my older readers, a thirst trap is a sexy picture). To be fair, I do look pretty great without a shirt and that won't be the way forever, so why the hell not. But without digressing, when I post a thirst trap, suddenly the amount of views I gets doubles.
What does this mean? Since an Insta story post you can't see till you click on it, this means that when I post "thirst traps" the algorithm moves me up in other people's feeds when I'm being "sexy." And that means, the algorithm can detect nudity/boobs. And the algorithm knows that people like to view that type of thing, and remember the algorithms goal isn't to coax my ego, it's to get you to stay on the app longer, so it gives me preferential treatment when I act like a beach model. The thirst traps actually increase my viewership. And once someone has seem my really great abs/boobs combination, they visit my feed more often.
Once again, if you don't believe me, I encourage you to test this yourself. Of course, it works best if you're a woman and look really good in underwear. Just take my word for it.
Yes, sometimes when I post a teasing type picture it's because I'm glad, "damn I look good and other people should see this." But sometimes I am confusing the algorithm for personal gain.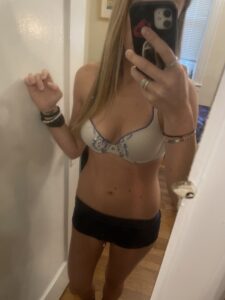 [thirst trappin! thirst trappin! algorithm manipulation! manipulation!]
You should always be aware that we are products in the eyes of the algorithm, our government and corporations. Just be aware. Big brother is always watching. And sometimes… I am watching back.
Go To Top