Chester Copperpot
Lori Palminteri
June 26, 2017
Any 90's kid (who's cool) is undoubtedly a "Goonies" fan.  What's not to like?  Adventure!  Comedy!  Yet to be found pirates treasure!  My siblings and I watched this movie so many times, we'd quote the jokes endlessly on our own little adventures.  Especially being south shore Long Island kids, we always deemed ourselves somewhat mischievous pirates who sought adventure and danger, even if there wasn't treasure.  And there was never treasure, just the reward of surviving danger.  Who cares?!  The homes of good stories are found getting to the X on the map, not what is at the X.
So, if you haven't seen the Spielberg classic, it's about a group of kids who pursue lost gold after discovering an old Spanish map that leads to "One Eyed Willy's" treasure in attempts to save their own homes (in a town called Astoria, by the way) from demolition.  They end up being tailed by felons on an underground chase filled with booby traps (that's what I said, "booby traps!").  Anyway, along the way, they come across a skeleton.  Upon searching the corpse that fell victim to a booby trap, they find out it's the remains of Chester Copperpot.  Copperpot was an expert treasure hunter who went missing years ago.
Now, as they continue to face near death experiences and hunted by three goons, they have an opportunity to bail and contact the police.  There's debate, but the lead, Mikey (Sean Aston), brings up that they made it further than Chester Copperpot.  Copperpot was an expert.  The best of the best!  And they made it further than him.  And so they keep going.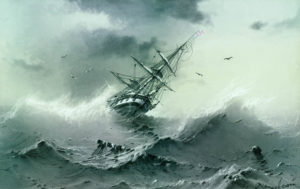 I'll call this ship, "Career," and she looks like she's in trouble!
________________________________________________________________
It seems apropos that I return home from Los Angeles for pitching sitcoms right before my comedy anniversary, a day that will go down in history as the day Michael Jackson died.  Yes, whenever I hear on the radio that it's been X amount of years since Michael Jackson died, however he died, I am reminded that I've actually committed to another year to my self assigned life's purpose as a humorist, and I think, "wow, you know, I think I actually like Alien Ant Farm's Smooth Criminal better than the original."  What was I talking about?  Oh yeah, my career.
Sorry if I get off point.  My brain likes to off tangents that often lead no where.
"Are you an overachiever?"
This is what my writing partner asks me before our last pitch meeting.  My writing partner and I are both pensive introverts, we go such exceedingly long periods of time without saying a word to one another that would make most so uncomfortable, they would continuously talk utter nonsense to fill the void.
"What?" I say, half laughing.
"Like growing up, did your parents consider you an overachiever?"
"Nah… I never really achieved anything, if anything, I'm an underachiever."
My parents were never really very strict academically.  My Dad's dyslexic, my Mom didn't go to college, it seemed more important to them that we worked hard and did our best than be whatever society deemed a great student.  Granted, I was a great student, but that is besides the point.
What is the point?  I keep forgetting.  Oh yes, I'm very easily side tracked these days, my brain is… fuck it, back to the point.
The point is this.  I wasn't an overachiever because I was just doing what I was supposed to be doing, which was doing well in school.  I hated most of it, but did well anyway, and even when I found booze and drugs, I still did well in school, for reasons I can no longer remember.  I think it's because I believed I had a future in something and thought it wise not to wreck that.  I didn't know what, because everything bored me so much, I'd become melancholy and death obsessed, but surely, I had a future in something to make existence worth it.  I knew from a young age I was capable enough to have many respectable jobs and earn a honest living, but I also knew that would never be enough for me.  Life would be so disappointing.  If life ceased to be an adventure, I feared I would lose the ability to laugh at it.  So whatever I actually achieved in school meant nothing to me.
Eight years ago, this painfully shy, closeted smart ass decided to go on stage at Stand Up NY.  For whatever reason, in my 20 year old brain, I thought, stand up is the fastest, most direct, artistically brutal way to find out if there's any talent in me at all, I'm gonna do that!  Let's drop in on that wave, and see how long it takes till I drown!
Sure, I could write a story, and was good for a sarcastic comment mumbled under my breath, but I worshiped the very likes of stand up comedy so much, I thought it was untouchable to me.  I mean, to me, stand-up comics were geniuses because they are modern day philosophers — but better, because they were fucking funny.  Life, at it's core, was absurd to me, always.   Naturally, I was drawn to comedy.  I knew I was nothing more than a scrappy college student with a pipe dream to be a sitcom writer, but I had already written sitcom pilots I thought were better than most the shit on television.  To be fair, the first couple pilots I wrote sucked, but they were still better than half the shit that gets put on television.  I had stories in me to be told… that could best be told in half hour form, with tightly written jokes.
I didn't think I could be a stand up until I did it.  By some half a miracle (drunk audience), I had a good first set.  A set that would be celebrated doing sake bombs down in the village after (we were all underaged, and my one buddy who went to NYU knew where we could get bombed), and we got hammered and laughed about the other comics, and made our own definitely too soon Michael Jackson being dead jokes (my friends by the way, are way funnier than me, always have been), and they were already drawing up what kind of a future I could have as a comedian.  It's such a funny night to think back on.  It all seemed so impossible to me, doing literally any of it.  I don't mean doing TV, getting a writing manager, pitching sitcoms, road work, club work, opening for guys I looked up to, becoming friends and peers with guys I looked up to… none if it seemed remotely plausible to me, I was just thinking, "wow, I wonder if I could write a really solid 10 minutes."
God, I would love to have a drink with that version of myself.  High on what would become my life for the first time.  I must have known, even then, it would destroy me.  I was a smart kid.  Smarter then than I am now.  I was looking for something that would destroy me.  I would settle for no less.  Too boring a life otherwise.  I wanted to be brought up just to be let down, and I sure as hell would get my fill (and then some).  But I could have used a warning.  Not the warnings in what is the disappointment of the industry.  No, that's too obvious.  I saw all that coming.  C'mon.  I didn't foresee the amount of times I would disappoint myself (which I sometimes, if not often, project on disappointing others).  How I should have worked harder.  How I could have done this that way.  Spent more time writing and working on this project or these jokes.  I'll do better next time.  But even then, in all the next times, falling short of really feeling like you've achieved anything at all.
It's sad, really.  It's not a good way to be.  It's a way to work hard, and then feel tired and achy after.  It's a life damned to diminish whatever's inside that shakes to capture a great story.
It's unfair. I treat myself very unfairly.  The irony is my biggest fear is that I am a disappointment to my former self, but 20 year old me would laugh.  She would laugh, and she would sign up for all of it.  The highs and lows.  That kid who stayed up late watching Comedy Central, SNL, and sitcoms would be stoked I made it this far, and that in itself, would be more than enough reason to keep going, and to keep going with a giant fucking smile on my face.
I already stepped over Chester.
Go To Top