A Big Thank You (for the Jeff Sesh)
Lori Palminteri
August 18, 2022
I just want to take a moment to thank any family, friends and fans who donated money to the GoFundMe for the Miller family to have a surfing day at the Skudin Surf pool at American Dream. The Miller family, as many of you know, is the family I used to nanny for and they have grown to be family to me. The father/husband, Jeff, passed suddenly and tragically last year from cancer. Jeff was an exceptional family man and friend. He was also an avid surfer. Jeff's love of life was contagious. Four kids and a wife were robbed of their dad.
The family carries a great weight in the wake of the Jeff. It was more than wonderful to see the family laughing, splashing and having fun together. Everyone caught waves. While there is no place Jeff would have wanted to be more than catching waves with his family, it was a great celebration of his life, one I know he would have wanted them to have. With your donations, you helped bring smiles to people who truly deserve it. And they got to experience the sensation only surfers know, a feeling their dad was so fond of.
On my way home from the pool, Andrea had called me to say how much fun they had. As soon as we hung up, a Jack Johnson song started playing on the radio. Jack Johnson was one of Jeff's favorite musicians. He even gave me two albums of his long ago. Whether or not this is a cosmic coincidence or not, is for you to decide.
Thanks to anyone who contributed. Remember life is short and precious. Don't miss your chance to catch waves and have fun, whatever that means to you.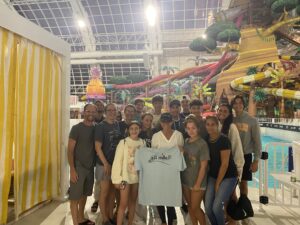 Go To Top