While You Were Sleeping
Lori Palminteri
August 3, 2020
While you were sleeping, with your long lashes closed over your wonder filled brown eyes, I kissed you on the cheek, then stroked your bleach blond hair. You were perfect. Peaceful. 'Cozy-warm,' as your sister says, when she pulls her Minnie Mouse blanket around her.
And, you, baby niece, sweaty in your crib from the heat of day during your nap, insisted on using the blanket anyway. I scoop you up to bring you downstairs, where it's cooler, tired and confused you look around your Princess decor room and then rest your head into my breast. Even though you are still tiny, you're so much bigger from when we first met, over two years ago, when you slept in the crease of my armpit and boob, such a tiny little thing, and your Mom, my sister, said it was the longest you'd ever slept up until then.
Little boy nephew, you're almost six now, a fleeting age. You're still all cuddles and hugs, after fighting bad guys to save the universe. Sometimes you even call me "Mom." You said I look just like her but my skin is darker (haha).
When I sleep over, I stay on the couch, where you sleep next me. Tomorrow, you will ask your Mom if I can sleep over again. While adorable, I pine to be home in my own bed. If you saw my little apartment, you'd go, "this is it? I think Lori needs a bigger house."
My sister and I switched cars so I could take you and your sister to a pool. You ask me why I'm driving your Mom's car.
"Because I don't have kid seats in my car."
"Why not?"
"Because I don't have kids."
"You don't?"
"No, I don't have kids. And if I did, don't you think you would have met them? You think I just left my own kids to watch you two?"
You think on this. It's the first you've ever thought on it. Though you know I'm not married. In fact, you've been proposing to me all year. You asked me if I had ever been married before. When I told you no, you said, "not even to Mitch?" [Mitch being my brother.] No, I haven't been married, especially not to Mitch.
While you're sleeping, I watch you and I'm convinced no one will ever love you more than I do. I wonder if anyone's every loved me that much, save for my Mom and how her heart beats for us both. It scares me how much I love you. It scares me that while you're sleeping the world beyond the house with the big tree in the backyard where you laugh at the imagery of your imagination of squirrels doing karate, the world is tearing at the seams. As for me, my future is spent, I gambled it and I could leave at any time— I could disappear, I set it up that way, I set it up so I could leave but now there's you. Now there's you. And your dolphin cackle. And your sister, and how she runs right up to you and hugs you and how she laughs and says, "Wori, you scared me," when we play hide and seek.
While you're sleeping, I'm awake. I keep unusual hours, not a symptom of the quarantine, but an inherited insomnia (hopefully this is one you'll avoid) and a lifestyle in nightlife, though truth be told I haven't been exercising healthy habits in the worlds end of 2020. In the middle of the night, I look at apartments in Costa Rica, farm jobs in Hawaii, escape plans to Australia… I have an itch to run. Run for what's left of my life. And yet, I'm still over here editing treatments for screenplays. A closeted romantic.
I wish in years time, you could brag about how cool your Aunt Lori was, how she chased her dreams and it didn't come crumbling down. That I could be some sort of beacon for you to dare to jump, instead of a warning sign. I think about all this while you sleep.
Even when I sleep, you're there, running around in my dreams.  And when I see you next, you'll show me your Pokemon cards yet again. I could care less. But I like to see you happy.
While you sleep, you have your little book at Pokemon cards next to you and Bumpy (a stuffed dinosaur) and a glow stick. You're a afraid of the dark, but that's okay, I'm 31 and still afraid of the dark.
But that doesn't stop me from walking in the dark. And when the shadows grow, lights seem brighter and more colorful. And that's what you are. A light in this dark world. At least, to me. When you're awake or when you're sleeping.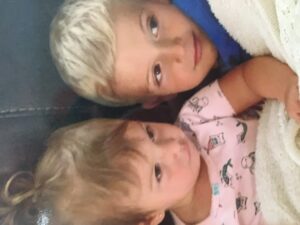 [Niece Charlotte, Nephew Anthony]
Go To Top