What Condition My Condition Was In
Lori Palminteri
August 21, 2018
The forecast predicted clouds for most of the northeast, much to my dismay.  It was the weekend of the Perseids meteor shower, something most people don't give a shit about, but it always excites me.  Plus, it's been three years since we've had clear skies for Perseids.  But when we did, I went to the beach out east on Long Island with my brother and a couple friends to star gaze where we saw a meteor every few minutes.  Which is wild because Long Island still has a lot of light pollution.  Every time we saw one, there was no less excitement than seeing the one before.  "Whoa!  Did you see that one!"  Some were small and faint, others streaked across the sky with blazing tails of blue or yellow.  It's really something special.
The original plan was to go to Cherry Springs State Park in middle of nowhere Pennsylvania, which is super dark, and has a stellar view of the Milky Way when it's clear.  I've never been (yet).  But I can guarantee you I will.  Likely, it will be an impromptu decision.  If I have a night off and the forecast is clear (I track it on my phone), I will drive out there, with or without company.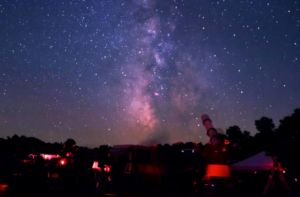 [Above Picture is from Cherry Springs, how cool!]
For Perseids this year, it was supposed to be extra special because it was also a new moon; the sky a promised dark canvas.  So I kept that weekend open; no gigs for me.  But as the week progressed, it seemed Cherry Springs would not be clear at all. My cousin, his girlfriend and I started staking out other places to go.
It wasn't looking good.  Cloud coverage was predicted for everywhere within a 5 hour driving distance.  Clouds hiding the best damn sky of the year.  They decided on Lewey Lake in the Adirondacks, about a 4.5 hour drive, where the weather seemed it could hold out.  It was our best shot.
My cousin Brian and his girlfriend are avid campers, where as I'm more of a floating gypsy.  They have a tent, blow up mattress (plus an extra one for me), a portable grill, cooler filled with food options, another filled with booze, fire wood, s'mores, flashlights and folding chairs.  I had a backpack stuffed with old clothes (my cousin's girlfriend, thank goodness, warned me how cold it would get at night), a bag full of snacks, club soda to mix with vodka, a blanket and pot.  Clearly a rookie.
My cousin didn't think I'd show up.  But, alas, he underestimated that while I both need and love routine, I also need and love spontaneity.  One is necessary to keep me sane, the other is necessary to keep life interesting and insane (my preferred state).  Plus, long drives don't bother me.  As a comic, I'm very much used to long drives, and for the most part, I enjoy listening to music and zoning out and thinking about script ideas.
When I arrived, phone service was nonexistent.  Anxiety that I wouldn't find my cousin started to sink in, but I decided that was unnecessary at this point.  Anxiety could start being accepted if I couldn't find them in an hour.  With good timing, my cousin and his girlfriend (and my cousin's dog, Forest) found me and we headed (literally) to camp.  They already had everything set up.
We still had hours of daylight, so we went for a short hike.  Being a third wheel is almost the norm for me, especially with cousins and their partners.  Brian's girlfriends' first (and only, really) introduction to me until now was when I was doing stand-up, which I think is always a weird way for someone to "meet" me.  It's like someone has seen me naked while wearing a mask (metaphorically speaking), if that makes any sense whatsoever.  When on stage, there's a level of confidence and exaggeration of someone I want to be with an exposed vulnerability of my weird (and dark) core.  If you're not a comic and you can relate to that, I'd be surprised.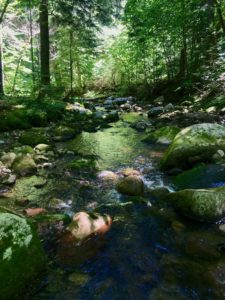 [From the hike]
His girlfriend couldn't be sweeter, a relentless optimist with a contagious smile; an almost startling juxtaposition from my negative leaning disposition.  It created a comical "odd couple" dynamic that we'd all laugh when I'd debunk some beautiful idea she had of the world.  While she's a "half glass full" girl and I'm a "I don't care what the glass is, I'll break it and slit my wrists with the shards" girl, she matched me when it came to sense of adventure and she's an artist so we got along well from the start.
To pass time, we drank (of course!).  It was an almost haunting realization for me at how much I reached for my phone to check it, which was pointless, since we were off the grid.
At some point, I felt a little bad for Brian's girlfriend as we were talking much about our family, a club we've been a part of our whole lives.  The good and bad.  The weird and funny.  The family secrets that weren't secrets at all.
That's what baffles me about families and suburban culture in general.  Secrets are most prominent in family circles, not friends.  The town we grew up in was very much a "keeping up with the Joneses" environment.  Which I couldn't stand.  I loved my family, loved my friends, but I was always a bit of a misfit for reasons I wouldn't understand until years later.
The thing about my family, and all the families in the town I grew up in (typical suburbs) is that families didn't want any bad information leaking out.  Anything YOU did that was considered poor behavior or embarrassing was not necessarily to be ashamed of, but was to be kept with in the confines of the place we called home, because it made THEM look bad.  And the thing about big families, like ours (both parents are one of six, so it's a big family on both sides), is people confide in each other, and then someone confides in another, and a game of telephone ensues and then people are mad at each other for what is basically miscommunication.  This is something I noticed from an early age.  My composure to let the defendant speak about how they  perceived a situation earned me a reputation of being an "old soul."  This would later lead me to a life of being blunt.  Honesty can come at a high price, but ultimately, it avoids chaos.
While the "we don't talk about/act like this outside home" attitude annoyed me, my brother actively defied it.  He could not give a shit.  Mentally, I was on board with his disposition, but I still didn't want to either disappoint nor make my parents life harder.  They are good people.  I love them.
But the layers started to peel off.  In college, I wasn't rebellious, per say (I mean, I maintained a perfect GPA), but I was still a stoner, with a growing hatred for religion and conformity.  I was playing the game but a rebel at heart.  The seams were starting  to come undone, however.  Comedy, later, would become a form of expression that was unhinged, demented and wonderful that would free me (and then also cage me).  Laughter is a universal language of truth.  And there was always a lot of laughter in our house and Brian's (it's his parents home that I frequently crash at, where both my Aunt and Uncle are as entertaining as a sitcom, my Aunt (and Godmother) is one of the most goldhearted people I've ever known and my Uncle cooks the best food I've ever tasted).
We grew up in ideal households, Brian and myself, which we realize and appreciate.  Still, we had/have our secrets.  The stuff we were told to not speak about.  Bury in the backyard.  My brother hated this mentality, always, found it to be negative judgement and fake.  Hypocrisy is something we are all guilty of, but is only tolerable to a point.  The, "what would the neighbors say" was a demeanor our family, like most families, were guilty of.
Because of this very blog I've gotten flack from family (regarding drug use and depression, mostly).  "What will people think?"  First of all, the best and the worst about me is yet to come out.  Second, I truly do not give a fuck.
Here's the thing: no one cares.  No one will judge you more than your family because they care about you. No one else gives a shit.  Truly and really.  No one cares.  Not even a little.  People who gossip have given their minds to banality.  People do not give a shit.  It's equal parts depressing and freeing when you realize how little you matter to anyone (let alone the world).  Your family tries to protect your identity by keeping the ugly parts behind closed doors, but it's only the people behind those doors with you who actually think anything of it.  Our family is flawed with problems and insanity.  Who's family isn't?  And who gives a shit?
You know how I know this?  Because I don't give a shit about your family drama.  I'm not belittling it or saying it's not warranted, serious if not tragic, and real to you.  Nor do I want your family to be hurting in any way.  But it's wholly not my problem and there's nothing I can do about it and it's probably part of a bigger problem because of a history of piled problems that weren't addressed or solved.  To be honest, I don't care about a lot of family drama in my family. Trust me on this, I've told many a family member that they were being petty and to let go of dumb shit because we're all going to die soon.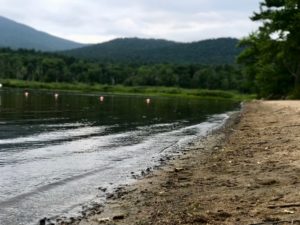 [The lake in the daytime]
By the time it was dark, we were all properly buzzed and we walked to the lake for open skies.  Walking over there was promising, it was dark to the point of scary and the sky was looking clear.  Upon setting up blankets at the little beach area near the lake, clouds rolled in, preventing our view.  I was bummed if not devastated.  How I looked forward to this moment!  And knowing that there were meteors happening right then and we just couldn't see them!
Brian voiced his mirrored disappointment.  And his girlfriend said we had plenty of night, hours from the peak, that the sky still had time to clear up (of course she said this).  One could only hope, I thought.
Hope and worry are rather wasteful emotions, though only one is toxic.  You don't have to guess which one I'm better at.  We put on some music and looked up.  Alas, slowly but surely, more stars started to appear.  At first, I thought, maybe my eyes were playing tricks on me (I wasn't sober) until they exclaimed with relief, "look at how many stars you could see now!"  Moments after, our first meteor sighting.
It wasn't any less exciting when we saw the next one.  And then we felt slightly betrayed when the sky became cloudy again.  But just as before, the sky cleared.  It did this all night.  Coverage followed by a clearing, followed by coverage and clear again.  When it cleared up, we would see one or two.  One in particular that streaked with a giant blue tail right over us.  Both my cousin and his girlfriend said it was the best shooting star they'd ever seen, and I burst their bubble exclaiming I'd seen many of those when viewing Perseids years ago (hahaha).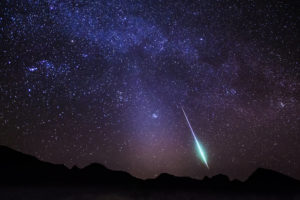 [The sky was not as dark and star filled as this picture, but the meteor of the night looked much like that one]
It dawned on me then that most people have never seen a meteor that brilliant, with such a long radiant tail, and thought, how lucky I am, only to realize luck is just part of it.  After all, I track meter showers and weather.  Also, drove 4.5 hours to away from clouds.  Yes, luck is factor, but also, I put myself in a scenario to get lucky.
The same could be said for my career that I fret is failing on a daily basis.  Show-business breaks are often luck based: right time, right place.  But you still have to show up.  You still have to be prepared if opportunity arises.  When lamenting about the hardships of my current situation, between struggling with comedy and having a boss at a day job who is condescending to me, my Aunt Cathy said, "well, who defines success anyway?  You're playing the Borgata.  You'll make hundreds of people laugh.  Most people will never do that, can never do that."  And they'll never know what that feels like, I thought.  What it feels like to make a room laugh like that, it's tremendous.  Enthralling.  Addicting.  It was an optimistic point my Aunt made, but not untrue.  The things I've accomplished don't make me special, but they are special to me.
While watching the stars, my cousin and his girlfriend fell asleep, but I stayed awake.  I only knew they were asleep because I'd go, "oh there's another!" but they stopped responding.
The music kept me company;
"I woke up this mornin' with the  sundown shinin' in,
I found my mind in a brown paper bag within,
I tripped on a cloud and fell-a eight miles high,
I tore my mind on a jagged sky,
I just dropped in to see what condition my condition was in"
The temperature dropped and I remembered (and dreaded) how much I hate being cold.  Also, I was starting to come down which made me feel both lonely and happy to have such good company, which is not a contradiction if you allow me to explain.  I felt lonely in the sense that I thought how nice it was to be in love and to be in the arms of that person, keeping you warm while watching the stars, as vomit-worthy-romantic as that sounds.  Then on the other hand, I would have trekked somewhere to watch the shower by myself if it weren't for my fellow adventurous cousin, and I knew I'd be terrified if I were somewhere, alone, in the dark, without cell phone service.  So I was grateful for fun company.  Grateful for family.
On our way back to camp (where we briefly got lost because, again, it was frighteningly dark), Brian's charming girlfriend said, "see, it's good there were some clouds, because it made us appreciate what we saw more."  It was kind of an annoying point, but she was right.
In the morning, I was ready to leave.  They encouraged me to stay for a day of hiking and kayaking, which is my kind of day, since I drove all the way up here.  But for two reasons I needed to get back.  The first being that even though I'm an outdoors person, I don't like camping.  I love my bed.  The night before I dreamed about dreaming in my bed.  The second was that I owed my writing partner our script.  It had been in my hands for nearly a week, which is a long time for me to complete a pass.  I usually have it back to him in a few days.  The delay was impart because earlier that week my brother was hospitalized for being struck on his motorcycle and that put all things on hold.  But I couldn't delay any longer.
So I thanked and bid a farewell to my cousin and his new love. Even though they didn't make me feel uncomfortable as their third wheel, I still thought it best they have a night without me there.
On the long ride home, I thought a lot about the script and where to take it next.  My writing partner is exceedingly kind but also challenging to impress, which I like.  It makes me a better writer to try to match him.
But an anxiety kicks in that our time as a writing team is coming to an end.  The scripts we've written and pitched already didn't sell.  We're the only ones who care about our screenplays.  Discouragement waters a growing insecurity for us both, and he's more depressed than myself.  When he (half) jests about his suicide, I tell him if he can stick it out for a couple more years, I'll join him.
Jealousy is usually a rare emotion for me.  Though sometimes when he speaks about previous writing partners, I get a twinge in my stomach like a crazy girlfriend.  Were they better at weaving A & B story lines?  Developing characters?  Or writing dialogue?  Does he miss them?  I'm not at all this way when dating, which makes this feeling in a platonic duo (despite rumors) odd.  So, I'm not a crazy girlfriend but I'm a crazy writing partner?  Well, that's just crazy.  But just imagine how hard it is to find people you're compatible with.  Imagine how hard it is to write.  Then try to combine the two.  Previously, I always preferred to write alone, but something happened to me that I hate: I depend on someone other than myself.  And I fucking care.
But worrying about an artistic "break-up" is completely futile.  Like worrying in general.  We're still writing and working, which, like a 4.5 hour drive to the mountains, is not a guarantee for clear skies.  You might not see anything at all.  But if you show up, and you try, you might just get something special.  We may not be winners but we're not losers.
When I got home I wrote for hours.  And when I went to sleep that night, I was so happy I wasn't in a tent.
Go To Top