Weekend Warrior
Lori Palminteri
August 4, 2018
It's not even 8am on a Friday morning, and like a homeless crack head, I'm curled on a blanket at Gilgo beach trying to make up for not sleeping at all the night before.  My hands and feet are blue from my Raynuad's disease and just getting out of the ocean, as I lay fetal position, facing the sun.  Rest is interrupted by green flies that bite my flesh.
"Motherfuckinggreenflies," I mumble as I slap myself.
The waves that morning would be disappointing, if not draining, from getting caught in the inside and just paddling while sloppy waves crash on me.  Of course, lack of sleep probably didn't help, though I didn't feel tired.  It was surprising to me that I was the only surfer out there, at first light.  Conditions were less than ideal, but the waves were still rideable.  The sun was big, and red in a haze, rising.  It was simply stunning, although, since I had just smoked a joint before jumping in the water, and my brother had seen a seven foot great white shark last week at the same beach, I felt a little unnerved.  When schools of fish were jumping out of the water, maybe 10 feet away from me, I became paranoid about what was chasing them.
Why am I out here alone?  Or an even more humbling thought… I am not out here in the ocean alone.
I caught a wave in, and walked down the beach to find other surfers to be near.  Even though there wouldn't be much another surfer could do if a shark took a limb, there's still a comfort in having another human nearby in the water.  In my life, I've known surfers to be good people, from Long Island to California, to Florida and Hawaii.  If someone is in trouble in the water, we're going to help out.
Another surfer is walking down the beach and I trail him.  He asks me where I'm going in and tell him wherever he's going in (haha).  He's also surprised there's no one else out there.  I complain about the paddle out, hoping he's not the Gilgo beach serial killer.  He's older, more experienced, but likely thinks I'm younger than I am and less experienced, so he starts talking about the different channels and best spots to paddle out.
"The riptide is your friend," he says.  Though I disagree.  My friends have never dragged me underwater, indifferent if I live or die.
We paddle out together, though he makes it to the outside before me.  The white water locks me in the inside, and I'm riding a retro fish which I can't duck dive much, so my arms are quickly becoming shot.
At about 9am, after maybe an hours rest, I gave up on sleeping and surveyed the water again.  Conditions hadn't improved but I figured I'd go in anyway to wake myself up.  Also, I had no where to be.  For the next 72 hours, I'd basically be living out of my car, beach going, and crashing on someone's couch on Long Island.  For when I don't have gigs on a Friday or Saturday, I quickly regress into a drunken and/or drugged degenerate.  But I'm a professional when it comes to benders.  So I know to slow my pace.  Today was a chill day, beach lounging, reading, writing, and floating.
A former comedy club employee and all around cool guy opened a place called, "Floatopia," on Long Island, one of those sensory deprivation float places.  Having done sensory deprivation once before, I was excited to do it again, especially at Floatopia, which was a much nicer set-up than the place I had gone to (check it out, Long Islanders, click here).  This, I thought, was a good easy going start to what would be a wash of a weekend.  Here, I could clear my mind by shutting off my senses.  Let go of all the bullshit I carry around with me constantly.  There's so much of it.  There's so many played out thoughts that just keep looping and looping and looping and dragging me down and bringing me up.  It's fucking exhausting.  90 minutes in a sensory deprivation tank isn't a cure, but it's like getting a really good massage for your brain.  And you don't have to do anything.  In fact, that's the point.  To not do anything.  To let your mind unwind.
At some point, I did fall asleep while floating, which I thought best.  Having been awake for so long worries me that I'll go into some sort of mania, even if I had been somewhat welcoming and evoking a mania.  Toying with such moods a slippery slope, however.  What goes up must come down.  If you go way up, you're going to go way down.  Lessons have been learned (over and over).
Friday night I remained low key.  Even though I wasn't booked, I went out to Governor's Comedy Club where friends were performing, knowing there would be a for sure good time in a green room where I'd be drinking and laughing, joking and mocking.  Actually, quite a few comics stopped in, and I made fun of us all, "wow, none of us have work or friends.  We're winners."  Self deprecation aside, this is where we want to be.  A bunch of mental misfits.
From there I crashed on the couch of my Aunts house, where I watched Jaws and had dreams of shark infested waters while surfing.  In the morning, I returned to the beach to go for a six mile beach run where, I'd break to watch a fisherman attempt to reel in a sting ray with the wing span of about four feet.  I felt bad for the ray.  The ray was putting up a hell of a fight, and I wanted to go in the water to cut the line to free him, but its' stinger was thrashing, and it just didn't seem like the best idea.
In just hours after this, I'd be on a ferry with a group friends I've known for 20 years to Cherry Grove for one of my best friends birthday for a drag show, and getting our groove on.  Drugs and alcohol were had by most.  We were a large crew, over a dozen people, including my brother (like when we were kids, people mistook us for twins).  I showed up with psychedelics to microdose and share, but only with certain people who've done them before.  I didn't need to be chaperoning anyone.  Already, chaperoning Lori Palminteri is a full time job.  When it comes to benders, I'm a professional.  I've done this before. Cherry Grove, if you don't know, is a famous gay town of Fire Island.  I felt safe in the company of not only a dozen people whom I've known since childhood, but also knowing that my drinks would be bought by women who would be curious as to just how curious I would be.
I don't much care for Drag Shows.  It has nothing to do with gay or transgender people.  Ha, my sexuality is mildly fluid anyways.  It really has to do with their jokes.  They have hack jokes and they kill and I hate that.  I'm a comedy snob and I start seething if an obvious joke gets a big response.
However, I wasn't seething at this drag show because I was one high motherfucker.  My brother and I were laughing the whole time.  At what, I don't really remember.  But we were giggling to ourselves from just a glance at each other, reading each other's minds.  A couple times my brother and I made very dark jokes (I made some sort of rape joke that I'm pissed I don't remember because it was probably gold) and it made my friends cringe and my brother laugh.
Sometimes I forget I'm not in a green room with comics where the most offensive jokes are revered.  But I'm glad my brother's sense of humor is as sick as mine.  At some point in the evening, my friend Brittany said, "whenever I look over and see you and your brother laughing, I know it must be because of something mean."  Had my friends always been so sensitive or have I always been a sick fuck?  Eh, that question doesn't need an answer.  The bond I have with my brother is strong, so if we're hanging out together, he is my prime target audience.
My favorite part of the weekend was upcoming.  My brother is extremely handsome.  He's both the funny one and the good looking one, which is infuriating because I always want to be the funny one (I'm the smart one).  All eyes were on him in the gay bar.  And because he was also half out of his face, I watched his body language grow uncomfortable to socially awkward and closed, which is not really his MO.  That's my MO.  And in a drunken/high stupor, I started laughing watching him, because I thought, "that's how I look all time.  That's how uncomfortable I look."
It wasn't a homophobia thing for my brother.  It's more that, if you're a guy, you're not used to what it's like having eyes objectify you all around when you don't want to be.  At some point in the night, he turned to me and goes, "man, it's complicated being a girl all the time, isn't it?"
I nearly fell to the floor laughing.
"You have no fucking idea," I said, and then I did a Morty Smith twerking move, which was our signature dance move of the night every time something ridiculous happened (which was a lot).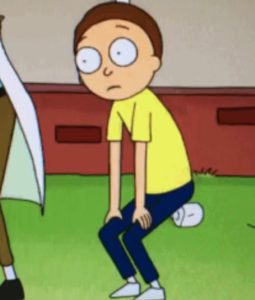 [The running inside joke is that my brother's personality is Rick: A self-centered cynical asshole, and I am a Morty: insecure, neurotic, sarcastic]
While I consider my brother one of the closest people in my life, I remain somewhat enigmatic to him.  I don't much discuss my love life, and he doesn't ask.  My brother is even more cynical than I am when it comes to people.  He's professed he is not sure romantic love even exists.  The love he feels is mostly from kin.  Our parents, me, cousins, a couple of very loyal friends.  He feels the battle of the sexes is very black and white, a discussion I've argued with my dad and former boyfriends as well.  My brother thinks I don't understand because I'm an alien.  You'll fall in love, I think, when debating matters of the heart with my brother.  He's still young and shallow for now.  But he will.  And then he'll end up like his sister, on bender, trying to forget all about it.
Dance yourself clean.
It was a near full moon, shimmering amber over the great south bay.  A happy heart grew in my chest like The Grinch, with deep sense of feeling blessed.  Much to do with substances, of course, but my gut was sore from belly laughing all night and the horizon looked like a painting.  There's still an intrinsic truth in the contentment of being fucked up.  Surrounded by old friends, great people whom I love and admire even if we've all forked to our weird individual lives (well, I'll speak for myself when I say "weird").  There was no doubt I was floating deeper into outer space with every year.  One day, I'll be lightyears away.  All the way out there with the moon.  But for now, I'm here, looking at Mars, the shining red planet.
It's a good night.  It's a great night.
I slept for four hours on my friends couch and was up at first light heading to Gilgo beach to surf.
It's Sunday morning now, in case you lost track.  It was worth it.  Unlike Friday which was sloppy and exhausting, Sunday was small and clean.  The paddle out wasn't hard, and there were enough waves to go around for the increasing weekend crowd.  My quiet disposition fits in with surfers.  Surfers can enjoy each others company seldom speaking.  There isn't much to say.  We're all feeling the same: the sun is shining, the waves are clean, I've been waiting for this moment.  I fucking live for this moment.
That night I gigged on Long Island.  Much needed stage time.  Stand-up is tethering me down to (a very, very fucked up) reality.  I need it.  Just two nights of not doing stand-up and I start questioning everything about my ability as a performer and the quality of my writing.  A spiral is too easy to fall into.  But just as easy is falling in love with it again.  Usually a new joke that is doing well– or several new jokes, and you stop worrying about the politics and bull shit and you remember why you're doing this in the first place.  Because you really love writing jokes.  The passion still exists somewhere, even though it goes into hiding sometimes.
For a third night, I wouldn't sleep home.  Like a gypsy, I crashed on a different friends couch, my best friend (birthday boy), but I frequently crash at his place on Sundays.
In the morning, I woke for my long run on the beach before heading back west for work.  I ran about three miles to Democrat Point and as fate would have it, see an old friend, Kyle, riding a jetski.  Kyle was my childhood neighbor, my brother's childhood best. He's a brother to me.  His brother is my age, and growing up, the four of us were inseparable for years.  We grew up exploring every inch of the dunes at the these beaches.
So, now, I'm jetskiing in the ocean, jumping waves with one of my oldest friends.  It's hard not to laugh as I gun it to 45mph, getting high on a rush.  Life is so strange.  One moment you're dying on the inside at work, and getting way too much in your own way about your craft.  The next you're killing on stage, and forget that feeling. Another moment you feel sadness… longing.  Followed by summer breeze and a brilliant sky.  A bender.  And now I'm on a motherfucking jetski.  Sometimes the universe refuses to let you believe that it's not awesome.
After cruising around for a fun time, I had to run back to Field 2, shower, and go to work.  This life is adventurous, but not glamorous.  The showers are cold and then I blow dry my hair under a hand dryer in the bathroom and get ready for work.  On the run back, I pass a middle-aged woman beach walking.  She looks so familiar to me.  And in a rather, not-at-all-like Lori Palminteri move, I said to her, "is your name Victoria?"
Confused, she smiled and nodded, "yes."
"You probably don't remember me," I said — keep in mind, I've been running miles in a bikini, face beat red with sweat, "but we took an honors creative writing class together at Suffolk like nine years ago.  I remember you, cause you wrote really well."  This was true.  I did always remember Victoria.  In fact, I think I even wrote about her in one of my blogs.  Not simply because she was a good writer, but more than that… her writing was so optimistically honest.  Which I thought rare.  I pride my writing in being honest, but it's certainly cynical and dark.  Victoria did not share my disposition in life.  She always wrote about life as though it was some sort of beautiful gift.  My work was always sarcastic, if not mean.
She said she remembered the class, but I'm certain she didn't remember me.
"I want to write about him," she said, pointing to a seagull, "his name is Danny."
Danny was eating a baby shark.  The decaying shark  was about nine inches.  A sandshark.  He was cute and I felt bad for him.
She asked me what I was doing (besides running) and I usually withhold that I'm a comic but I didn't see any reason to.  I told her about stand-up, and the screenwriting, but also the shitty office job.  Something that always takes me by surprise are how impressed people are that you are a stand-up, or pursuing writing, without even knowing if you're good.
Our conversation was brief, "well… it's cool our paths crossed again."  Which was kind of a hack thing to say, but I did mean it.  It was cool literally running into her.
She wished me luck and then I ran back to my car and did my ghetto bathing.  At work I could feel that sense of vitality start to drain.  A mania toning down a little.
It was a good weekend.  Though when I finally snuggled into my perfect tempurpedic bed Monday night, I thought, thank God I'm booked next weekend.
Go To Top