Turkey Hearts
Lori Palminteri
November 27, 2021
"You know what you should do," I suggest with a weed pen in one hand and a stout in the other while two of my closest friends from home make a tray of mashed potatoes, "you should put cellophane over the mashed potatoes and imprint your hand on it and make a turkey."
"That's a great idea!" They responded with excite.
I, however, was a little confused. I meant it as a joke. I thought people would be rather horrified to see their mashed potatoes had a hand print in it. But my half baked idea from my half baked brain came to fruition. And they decorated the turkey hand with rosemary leaves as feathers, a carrot beak, tomato gobbler and the body was filled in with the leftover butter/rosemary/garlic that was simmered and strained into the potatoes.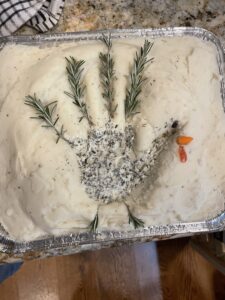 How far we'd come from our days of partying irresponsibly. None of us cared to go out to a bar on Thanksgiving Eve, a known party night for amateurs. Once upon a time we stood in lines to get into bars and would drink until we puked. Now we listened to Christmas music and made Thanksgiving sides. We'll drink to that.
Thanksgiving never was a holiday I was amped up for. I didn't dislike it either, it was just the thing that happened before Christmas which was superior in every way. Back in the days I worked in a nursing home, a decade ago now, I'd request to work Thanksgiving. I worked per diem as a dietary aide. Don't think I did this out of being a good person, I did this so I never had to work Christmas and you got paid a time and a half. Four years was too long a time for me to work within those walls without a part of my existential self permanently gnawed at. While it wasn't all bad, I don't look upon those years working there as much more than a temporary hell. For a college kid, however, I was making good money. Putting myself through college, I grit my teeth walking into that building, time after time.
I filled in various positions in the kitchen and proved a valuable per diem worker because they could fill me in just about anywhere and I'd do a good job. This wasn't because I was especially brilliant and more than not it was difficult to raise my ability of caring above apathy. But at least half the staff was incredibly lazy. Like they would go out of their way to be lazy, thus actually doing more work to dodge work, kind of lazy. The thing is, that type of disposition is highly contagious in certain work environments. Because once someone sees someone getting away with being lazy, and the work falling on the people actually doing a good job, they're like "why the fuck am I going to work hard to be rewarded with more work and no extra pay?" So a pettiness ensues, and once you've unlocked someone's thirst for spite, that's a hard thing to get suppressed, because usually it's also about multiple people, not just you.
And you're 19, standing there, watching this spectacle, this absolutely shitty play and you're like, "I think I'd rather be that woman in the wheelchair who refuses help and it takes her 42 minutes to get down the hall."
This was a place where wishing death upon people was the most compassionate wish you could possibly have for them. For whatever it's worth, they did do a really good job on Thanksgiving. For the people who weren't taken out by loved ones (or are just unable to leave). For once they "spared no expense" (usually they spared a lot of expenses, making you wonder who the fuck was getting rich from all these Catholic Health Services). The auditorium was transformed into a fine feast. The chefs actually took a lot of pride in this meal. Volunteers turned up to decorate. It was enough to ignite a warm feeling in even the closest to death residents, the ones who when they talked to themselves you're sure the Grim Reaper is in the room right there with you. Such an unnerving feeling…
But I digress. It's circa 2009? A young and likely hungover, college-aged Lori Palminteri is just trying to avoid the difficult people in the auditorium turned dining hall. Everyone knows who the annoying people are, and the straight up rude. Half of the residents who know my name don't even know my real name. They call me Laura or Lauren, which I probably never bothered to correct. Not even once. Sure. I'll be whomever you call me. I am adored by a number of patients. Usually it's because I remind them of someone. It's also usually because I sneak them extra desserts when I'm not supposed to because I truly could not give a fuck.
A table of a four old ladies, all in wheelchairs, each one tinier than the last like you could place each of them in a tea cup, smile—satisfied with their meal, company and environment. Sometimes we do good here, I think to myself. It looks like they are finished so I ask them if they need anything else or if I could clear some stuff away from their table.
"I have to ask you something," one of them says, suddenly seeming very concerned. "We were wondering, what with all the turkeys eaten on Thanksgiving, what do you do with the hearts?"
"The…. errr… turkey hearts?"
"Yes. What do you do with the turkey hearts?" She questions me, specifically, as if I'm the one that caught the bird, chopped off it's head and de-feathered it.
"It seems like such a waste if nothing is done with the turkey hearts. Especially when there are so many people who need hearts. Maybe they can give the hearts to people."
"Wait, you're suggesting we take the hearts out of turkeys and put them in humans."
"Isn't that a good idea?"
"Errr….mmmm… You can't put a turkey heart in a human body. A turkey heart is small, like, I don't know, actually. But it's small. The human heart is a lot bigger. And you can't just put other animal hearts into humans. It's complicated. You can't even put just any human heart into another person, there's blood types and DNA. Sure, they use pig parts sometimes…"
As I'm explaining this, her face is more glazed over than a Kripsy Kreme holiday doughnut, and I'm thinking to myself, why are you explaining this to her? There's like a 50% chance she's going to ask you the same question tomorrow.
"Anyway. It can't be done. Who wants apple pie?"
The good thing about old people is they are usually like children in the sense that you can divert their attention with sweets.
I suspect any of the residents I knew, or even befriended, have long since passed. Hopefully. For their sakes. But my mind is still haunted by that place. Every so often I'll have a nightmare about working there again. Still. I'm always reminded of those years I worked there at Thanksgiving. How thankful I am that I don't have to go there anymore. And when I get a little preachy to family or friends about working out and eating nutritional food, I know I come off as snobby. I know it's annoying because my body type is fit. But I have seen everything that can and will go wrong with you if you don't take care of yourself. Chances are if I'm nudging you to exercise or eat better, it's because I never, ever, want to see you end up in a place like that.
Go To Top