The Pencil
Lori Palminteri
January 5, 2019
In middle school, the school would host these "holiday fairs" before our big Christmas break.  These fairs basically sold a bunch of crap that kids spent money buying their parents the worst gifts with money that their parents gave them.  It's kind of an insidious plan when you think about it.  Kids want to buy their parents a gift because they love them, but when too young, they don't have any money of their own.  Parents know whatever their kids buy at the school fair is going to be useless at best.  So they're throwing away their money so their kids will feel good buying them a gift they will have to pretend to like.  In my parents defense, they rarely pretended to like a gift they didn't like from us.
Our Christmas tradition was this: Christmas Eve was a big family party with the Palminteri's.  There's a lot of us, so it was always a big to-do, very much looked forward to my myself and my siblings— and not just because it was Christmas Eve and we would get presents, but because we loved hanging out with our cousins.  We would go to mass on Christmas Eve as well, and then on Christmas Day, we'd do nothing but hang out in our pajamas, never leaving the house.  Mom made cinnamon buns in the morning.  We'd open presents. Inevitably, we'd get at least one board game.  And then we'd spend the day watching TV, playing board games and we'd order in a sushi feast.  To this day, I think it the perfect way to spend Christmas.
In the middle school years, when we were still in the "I can only buy you gifts from this awful Christmas Fair at school that doesn't sell anything good" stage, I opened a gift from my brother.  It was poorly wrapped (just this last Christmas, my brother used duct tape to wrap his gifts).
What was it?  It was an oversized pencil.  With, like, groovy colors, man.  These awful smiley faces.  An eraser that surely wouldn't work and it wasn't a size to be sharpened with a regular pencil sharpener.  In short, it was a stupid gift.  Like the sick fucks we are, all but my brother burst into laughter.
Because here's the thing: even at that age, I already liked to write, so my brother thought a writing utensil a proper gift for his nerdy sister (and he was right, to this day, I love a good pen).  In fact, he was so excited that I would love the gift, even though it was clearly terrible.  That's why it's so funny.  My brother is not the sentimental type, and he's not especially sweet either, but when he is it feels rare and special (people say this about me now as well).  When I opened the gift, my brothers eyes were filled with the hope that I would be blown away, write my first great novel with it, but when I opened it, my facial expression was more like, "da fuck is this?!"
At first, you could tell my brother was hurt that his entire family was now mockingly laughing at him… on Christmas no less (but it wouldn't be Christmas, or any day, really, if we weren't mocking someone), but like when the Grinch realizes the warmth of Christmas, my brother quickly joined us in our hysterical laughing.  It was a hideous pencil.  He tried and failed so epically this it couldn't be anything but hilarious.
The pencil was saved in my drawer for 364 days, until the next Christmas, when I wrapped it up in a large box and regifted it to him.  Again, a lot of laughs because of my call back.  And this has been going on for years, ever since.  We have been sneaking it into gifts to one another (all five of us at this point, not just me and Mitch), for holidays or birthdays.  Sometimes it will go unheard of for years only to pop up again.
This past Christmas, I woke up alone, which was the first Christmas I hadn't woken up among family (since my parents have moved, I usually stay over my Aunts on Christmas Eve).  It was both sadder and not as sad as you might think, to wake up alone on Christmas.  Though I suspect I should get used to it.  My parents and my Aunt sent a lot of little wrapped goodies which were daintily placed under my little tree which I opened in the morning enjoying a breakfast of coffee and cookies (okay, okay, now it does sounds even sadder that I opened gifts alone in my apartment but I'm not trying to sound pitiful).
That's when I got a text from my brother.  It said, "u bitch."
Because he was also sent a box of wrapped goodies from our parents.  And it was this: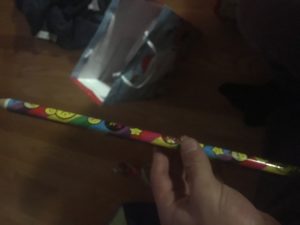 An awful pencil.  THE awful pencil.  Briefly forgotten because my folks have been hanging onto it.  Allowing enough time for it to slip our minds, and them, wham!  Back in the game.  I laughed so hard at that picture.  I laughed so hard.  It made my whole day, that stupid pencil.  They made my whole day, my funny family.
Go To Top