The Ghost In The Hall
Lori Palminteri
January 8, 2023
It's November 2022, Paris. I'm staying in a quaint small hotel in the eclectic 2nd arrondissement. An old building… like everything in this city.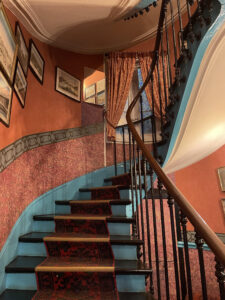 [Going up the stairs of Hotel de Nice]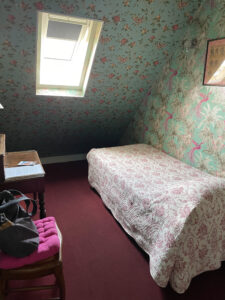 [My room]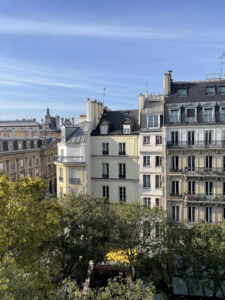 [The view out the skylight]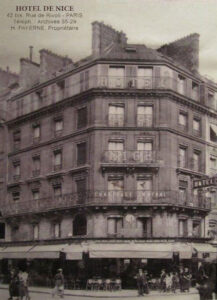 [An old photo of the hotel]
If you recall, I had traveled to France solo. Since I work remotely at least half the time, I brought my work with me. Given the six hour time difference, I had to intermittent work/sleep/play, keeping weird hours, which is normal for me anyway.
On the third night in Paris, the electricity went out on the sixth floor, my floor, and only on the sixth floor. There are four rooms up there including mine. They had their handyman examine the building, including the rooms, and could not find a reason why the electricity wasn't working.
"Probably ghosts," I said under my breath.
That night, I had to shower by the light of my book light (thank goodness for that book light). If this was in America, I would have demanded all sorts of free stuff, but I decided against my American entitlement even though I was paying to be here. Mostly, I was just happy I didn't have to work that night otherwise I'd be in the lounge to charge my computer at like 2 in the morning.
When I woke, my floor was still without electricity. I started my work in the lounge and I was told an electrician was coming and electricity should be restored when I returned from my adventures of the day. I pressed them that I had to work that night and it really was important I had power. Another young woman who was staying on my floor was in a similar situation.
So, I went about my day, and when I returned, much to my relief, the power had returned.
Now, a couple nights go by. It's about one in the morning and I'm sitting on my little bed, writing and working. Then, I hear a faint but quick knocking at the door. I look up. Perturbed. It was windy that night so my first guess was that the wind was rattling something. The second guess is someone is drunk and lost. And finally, the third option is a ghost.
It has to be one of these three options. As aforementioned, it's an old building so there's no peep hole on the door. Furthermore, I'm a woman traveling alone. I'm not opening the door. It stops as quick as it starts. I finish working and then fall asleep.
In the morning, I'm having breakfast in the lounge while researching news stories for work. I'm eavesdropping on these three middle aged women talking (American). When you travel alone, especially if you're a writer, you do a lot of eavesdropping. Part of what makes me a good writer is I can be a very good listener. I'm as much of a wallflower as the Victorian wallpaper in these halls.
Suddenly, one of the women says, "I heard a strange light knocking on my door around one in the morning."
My head turned slowly and my jaw dropped like, "wwhhhhaaaaa…."
When there was a lull in their conversation, I apologized for interrupting but confessed I also heard strange knocking at the same time. We weren't even on the same floor.
Deduce what you must from my tale. My own friend said she would have packed her bag and went to a different hotel. We operate on seriously different budgets. I couldn't do that if I wanted to. Though freaked out, I wasn't scared. In fact, I would like to see a ghost. I do believe in ghosts but I don't necessarily think they are the deceased of this realm. Ghosts can come in many forms. Some ghosts are living people from your past, unwelcome. Some ghosts are a memory triggered by a smell. Some ghosts are a dream. This ghost, in the hall, was not there to haunt me. I just happened to be in the way.
Go To Top