A Spirit Animal & Karate
Lori Palminteri
November 16, 2020
A few weeks ago, I went for a jog between working for my two jobs along the water on the East River in Astoria. Music was blasting in my headphones, getting my groove on, feeling productive. Then, I was literally stopped in my tracks… right there, perched on the railing, was a Hawk!
"Holy shit," I said, as I jumped back. There was a man, leaning against the rail, about 12 feet away from the bird of prey watching the beautiful beast in it's glory. "That's a hawk," I said to him. (I have a habit of pointing out very obvious things when I'm excited, like when I saw Humpback whales at Gilgo a few years back, I turned to the surfers and exclaimed, "THAT'S A WHALE!" and they were like, "yes.")
He smirked at me, giving me this, "I know it," look. I looked at the hawk then returned my look to him, my look something like, "holy fucking shit." He smirked again, without speaking a word, "I know."
Slowly, I removed my phone from my arm strap to snap a couple pictures. I couldn't believe it!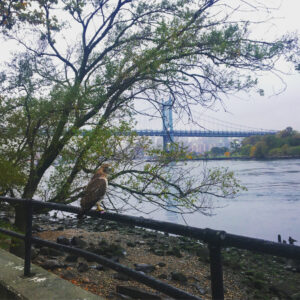 "Do you think it's hurt?" I asked the guy. Not that he knows anything, but other people were passing by and we seemed to be the only ones noticing this bird that was at least a foot tall.
"No," he said, "just checking everything out."
"It's just that," I replied, "I've never seen one around here, let alone this low."
That much is true. In fact, the only time I've ever seen a hawk this close is when my buddy Dean, who works at some sort of injured bird conservatory on LI, was holding an injured one that he was training.
In the six years I've lived off Astoria Park, I've never even seen a hawk flying above. You see them on the Hudson side of Manhattan, between New York and New Jersey, but never off the East River. It made my day as I was quite taken back. I wondered if it was hunting fish in the river (I have seen plenty people fishing there but never witnessed a catch). Or maybe it was eating the baby squirrels. I'm not sure I've ever seen a wild baby squirrel that wasn't dead. And there are so many squirrels! I think I would like to hold a baby squirrel, even when they are hairless and kind of weird looking.
But I digress… I promptly shared the picture of the hawk with a bunch of people, as I was very thrilled about the whole encounter. More than one person suggested it was some kind of sign. Even my dad, who, despite being religious, isn't a superstitious man and doesn't buy into "signs" so much. "What do you think it means?" "I don't know. But nothing good. You should get out of New York and come to Florida."
I'm not sure if he actually took this as a bad omen, or he's just trying to get me to visit. I had promised to visit this month, but life was interrupted since I'm still waiting to get Baby Boob aborted. My best friend told me to stop referring to my benign breast cyst as "Baby Boob" and the surgery to get it removed as "an abortion," but it's funny to me. Baby Boob's abortion is an inconvenience, but not bad news. So I no longer hate it. It's fine. Sometimes I squish it in my fingers.
But again, I digress… years ago, I did have a couple of weird bird things happen to me that preceded what would be a very hard time in my life. In fact, I had been in Florida. This was some 3+ years ago when I had comedy heat… I was pitching sitcoms with my writing partner, I was getting a lot of gigs both in New York City and on the road, I got passed at the Comedy Cellar, I was being courted by late night shows. Yup, it really seemed like my career was about to shoot off. That I would have made it. Additionally, I was still in my mid-twenties. Things were looking good for me. And I felt good. I knew not everything would come to fruition, but I had enough going on that something had to come through (spoiler alert, it would all go to shit!). In Florida, I had been jogging on the beach when I was approaching a bunch of seagulls. I had expected them to fly away, but they didn't, and I stepped directly on a seagull. We were both surprised. The seagull was like, "what the fuck is wrong with you asshole?" And I was like, "you have wings! Wings! Fly!" Then, that same trip, I was on the elliptical at the gym in my parent's club house in their community, and this dumb ass bird kept flying into the window in front of me. I know birds do this sometimes, but it just flying head first into the glass. (Weird these bird things keep happening to me while I'm exercising?)
Even then, I remember thinking this had some Poe or Shakespearian overtones. I was about to get involved in what would be a turmoilous and passionate relationship, as  much as that heated up it would burn me over and over, and the heat of my career was about to go cold. I went from being an "it kid" to struggling again. Everything became hard. My heart was breaking in all sorts of ways. I was becoming broke again. The couple years to follow had ups and downs, but a lot of downs. A lot of boozing. A lot of losing weight. A lot of sleepless nights. And then I thought things were going to get better and SLAM, 2020!
It was one of my cousins to steered me into looking into the symbolism of hawks. Turns out, there is a lot of symbolism around the hawk. Good and bad. But universally, through different countries, cultures and times, it is widely known as a messenger of the spirit world. Often, it is seen as clarity and leadership.
One of the mythologies surrounding the hawk is that if it's facing you, that's a good omen, if it has it's back to you, that's a bad omen (mine had it's back to me, of course). But overall, the hawk's message seems to be this: "You need a perspective. Don't try to change people or situations. Fly away for a while and take a break. Take some time to just be. Sit up high on a rock or walk through the mountains- do whatever you can to maintain your spiritual perspective. That is when you are at your best".
I like that.
Now, I'm going to change gears here.
Despite multiple recommendations, I was late to watch the Netflix show, "Cobra Kai," a follow up to the 80's classic, "The Karate Kid," where a grown up Danny and Johnny are still rivals. It's great. Hug fan. It's toxic masculinity at it's finest, and how revenge gets cycled and recycled (often in misunderstanding), and how good hearted people are still dicks. The female characters, including the moms/wife/daughter are fantastic because they are so much more level headed and constant mediators. I love this (as a person who heavily suffers from middle child syndrome) because there was a point where every sitcom had a nagging wife, and I know there are plenty of nagging women/wives but it sure felt like sitcoms lacked female writers/perspectives. But most importantly to me, the show is joke heavy. I belly laugh at moments in every episode. It's so funny. I love both Danny and Johnny, but Johnny kills me because I just love damaged people.
Anyway, karate holds a weird place in my life. Because my Dad got really into karate in later years of his life (I may be wrong here, but I think he was already in his 40s, or close to it). Like a kid, he was really into karate. My brother had briefly taken karate but I don't recall him taking to it. Karate was too delicate and my brother just wanted to punch things. My cousin, Brittany, and one of the closest people in my life took karate because her dad forced her into it. And I remember when Brittany came over, I'd always be like, "sorry my dad is going to fight you with karate." Which was hilarious because Brittany was as much of a runt as I was. She was a skinny little kid and then here comes my dad, a grown man, being like, "show me what you got, Brittany."
Often times, people would come over and say… "um… what is your dad doing?" I'd look out the window, and there would be my dad, practicing his karate moves on carpenter bees out on the deck. "Yeah, he's just doing karate with the bees. He always does that."
Very little about my childhood was normal. But then again, who does have a normal childhood?
Back in his day, my dad was a champion wrestler. My brother would follow him in these steps. Mitch would be a very good wrestler. My dad would be his coach for years until he was on the varsity team in High School. Mitch usually won, but he had a temper like a mother fucker. If he lost, his face would go firetruck red and he'd be punching the mat. You knew to avoid Mitch when he lost.
As a spectator, I liked watching the wrestling matches. Because to the untrained eye, it just looks like dudes are aggressively hugging, but with my Dad knowing everything about the sport, he explained to me the nuances and the rules. Most of all, I liked watching Mitch kick ass.
But I also have a sore spot about wrestling. Because Mitch told me all the gross things the boys/wrestlers did in the locker rooms, on the mats, in the school pool. This came to be a point of contention for me. I even got in trouble once in gym class because I didn't want to participate in yoga because we were to use the same mats the wrestlers used and they were disgusting.
Additionally, ring worm was a common among the wrestlers. Ring worm, is not an actual worm, but a fungus that appears in the shape of a ring, red and skin dried. Mitch got ring worm on his shoulder. I must have used one of his towels or laid on a pillow he used because I also got ring worm. But I got it on my face.
Now, I'm 15 or 16, an underdeveloped nerd who no one wanted to date with ring worm on my face. I was furious. I wore my hair covering my face, trying to avoid that conversation that there wasn't actually a worm living in my face.
Even though Mitch is younger, I was such a late bloomer, we were the same size and weight for many years. Because of this, I made a perfect practicing buddy. I'd come downstairs, just trying to watch Comedy Central or read a book and my dad would make me practice moves with my brother. I spent a lot of times in headlocks, as per my dad's instructions, just mad about the whole thing.
These were my tomboy years (which I'm not sure ever ended, in truth). And I guess one of the (many) things that makes me kind of a weird girl, is I was way more into being badass than being pretty. Because I was definitely cute, a true Morty, people just wanted to pick me up. And they did. People seemed to have this desire to pick me up and I hated it. I guess it was both a control thing and a personal space thing. But people just had an urge to pick me up. And I weighed next to nothing. Light as a bird.
But I wanted to be tough. I wanted to be able to fight and shred and for people to not want to fuck with me. Alas, the only defense mechanism I had was speed.
This runt syndrome ran deep. I've done enough psychedelics to question the fact that one of my inner voices is the equivalent to a testosterone filled male. In fact, it served me well as a comedian. "What are you a pussy? You're not going to try that dark joke? I though you were badass?"
One time, I was a the Fat Black Pussy Cat in the West Village opening for Colin Quinn. After the show, we were in the bar area and one of the TV screens was playing an old Bruce Lee movie. We were both watching, and Colin turns to me and goes, "this is what you don't understand about men, all men want to be able to that and think about it all the time." "This is what you don't understand about me, Colin, I want to be able to that and think about it all the time." This made Colin laugh. It was a sweet moment, remembering who he was talking to.
To be tough, but free. To be able to jump off a cliff and soar. For your spirit to be able to fly, with or without fear. It's led me to some interesting places in my life. And maybe there is some clarity in my near future. If for no other reason than I feel like I'm in it right now— the present. And that, my friends, is always the answer. To be here right now.
Go To Top