Snobby, Bitch. Quiet, Weirdo.
Lori Palminteri
March 18, 2018
One of my closest friends in comedy confessed that when he first met me he thought I was a snob and kind of a bitch.  We first met at a sort of comic gathering at the Beer Garden in Astoria.  He is a super friendly guy and no one would ever describe me as super friendly.  He introduced himself, and perhaps came on a little too strong.  He says I did sort of a half smirk/half nod and then I turned away from him and never looked at him the rest of the night even though we sat at the same table together.  Hahahaha!  I do not recall being so cold but I do not deny that is exactly what happened.  Luckily for me, another comic vouched for me, saying that I was a bit shy and it could take some time for me to come around.
We've laughed about this many times because since then we've become very good friends.  Also, this isn't the first time someone told me that their first impression of me was that I was "snobby and/or a bitch" and then they later concluded I was simply "quiet and weird."  I guess the latter is better, though I don't think either are something to be really proud of.
It is certainly not my intention to come off as snobby or bitchy and it does bother me a little bit that this is the impression I give upon an introduction.  This is something I could work on, I suppose.  Maybe it should bother me more than it does, but ultimately, I value the opinions of very few.  I have been told that my personality doesn't match my looks and I'm still trying to figure out exactly what that means.
I guess, if you're quiet and super guarded, people fill in the blanks.  So, from what I gather, if you're an unusually stand-offish girl who is kind of cute people assume you're a bitch and/or a snob for not wanting to speak.  And I wouldn't contest this entirely!  I can't say I've never been bitchy or snobby.
Here is a list of things I am snobby about:
Booze (I can't believe anyone drinks Budlight)
Public Pools (they're disgusting chemical filled water with human sweat and skin cells— yuk!)
Films (you will not meet a screenwriter that isn't snobby about films)
Comedy (self-explanatory)
Toilet Paper (this one may seem odd, but I love a soft toilet paper)
Music (more on this later)
Mattresses (if you've been reading my blogs you already know that my tempurpedic mattress is one of my favorite things in life)
Fast Food (insert throwing up emoji here)
I would consider myself more of an asshole than a bitch, but I could just be arguing semantics here (though, generally, I think "asshole" is more synonymous with men and "bitch" is more synonymous with women, which would also make sense why more people think I'm kind of an asshole than a bitch because I have a lot of masculine personality traits [these masculine traits, I've been told, add to why I'm "weird."]).  A lot of my "asshole" comments are HILARIOUS and that's how I justify them, which is kind of bitchy, but whatever, if you want to be in my inner circle you're not only going to have to accept this, you're going to have to laugh at this and ALSO be a funny asshole.
Let's be clear, I'm not defending myself as the greatest person in the world.  God, no!  There are times I have been a real piece of shit.  The world is already a pretty shitty place, so I try to avoid making it shittier for people.  I don't really try to make it better, mostly I just try to stay out of the way.  Some people unjustifiably hate me.  Like this one time this guy who never met me messaged me on Facebook asking me out and I never responded and then he wrote to me later, "FUCK YOU BITCH," which was confusing to me for a few reasons but I let it be.
There are less than five people who have really legitimate reasons to hate me.  That's nothing to brag about but I don't think it's a terrible track record either (I could fuck that all up though, I'm still young!).  There are one or two in that group that are debatable as well.  The woman who tops that list has a 100% legitimate reason to hate me.  That being said, being the villain in someone else's story is truly awful.  Especially knowing that person didn't deserve it.  Honestly, I think it would be healthy for us both if we met in a parking lot and she punched me in the face.  The offer stands.
Avoiding eye contact and mumbling when meeting people causes people to think I'm rude.  Which is fair, I suppose.  Though it's an unfortunate side effect of being an introvert.  I am genuinely sorry if I have ever made you feel bad (most of you, some of you are more shitty than the average piece of shit).  Forgive me, for I know not what I do.
The funny thing is, I never thought of myself as an introvert until my early 20s when I had some sort of revelation that I had some self-esteem issues and some sort of social anxiety disorder.  One is a symptom of the other, though figuring out which is the cause is a game of the chicken or the egg.
When I was a junior in high school, I had an English teacher I really liked.  I usually liked my English teachers because I loved writing and reading and my English teachers usually took a liking to me because I loved reading and writing.  I don't remember how it came up, but we were discussing characters in some novel and going over extroverts and introverts.  She asked the class to raise their hands if they thought they were extroverts.  Most of the class raised their hands.  Then she asked who identified as introverts.  Less students raised their hands.  I didn't raise my hand for either.  And then my teacher said, "a true introvert wouldn't raise their hand at all," looking directly at me.  I remember that moment so well because I felt so uncomfortable.  Even though most of my teachers and peers said I was "unusually quiet" or "shy" and on all of my report cards many of my teachers told me I needed to "raise my hand more" and "participate," I just considered myself the type of person who just likes to watch and not actively participate which, spoiler alert teen Lori, is a fucking introvert.
Probably the main reason I didn't think I was introverted is because with my family and group of close friends, I was comfortable; quick to make a sarcastic comment and also rather silly at times: especially around my cousins and good friends who I knew I could make laugh.  It wasn't really until I started doing stand-up when I realized just how quiet I was most of the time, because the general response was, "You?!  A comedian?!  I'm not even sure what your voice sounds like because you never talk!"  Trust me on this, I'm doing you a favor, my voice is terribly annoying.  Then I started putting together the evidence and thinking back on my adolescent years and I was like, "wow, not only am I introverted to the point where people think I'm mildly autistic, I am also delusional!  Lucky me!  With adulthood comes clarity and anti-anxiety meds!"
Even those who know me well have a hard time cracking me.  The guards of my emotional walls are consistently paid overtime.  I once dated a guy who said I was an enigma to him and I was an enigma to myself.  That gave me pause.  Enigma to myself?  That sounds like a groovy Tame Impala song.  He was then probably wondering what I was thinking.  People often ask me what I'm thinking because I've a tendency to zone out.  I was thinking about the potential music video of the nonexistent Tame Impala song, "Enigma to Myself" that would be equal parts weird and sexual.  Tame Impala has some really great and trippy music videos, especially if you're high.
Once, on a six hour drive to a gig with my writing partner we chatted for less than half the time, and sat for hours in silence.  He told me he "never met anyone who does less to keep a conversation going," which I took as a compliment even though he did not mean it as a compliment.
Despite the fact that my personality type is the definition of an introvert came as to a surprise to me, being weird never shocked me.  There could be nothing I was more proud of!  I'm not even really sure what makes me weird, to be honest (okay, I have a few leads), but people always say that, so I wear it as a badge of honor.  Normal is boring.  So I want to be the opposite of boring.  If that's weird then so be it then.  Reclusive people are often misunderstood and considered odd, and supposedly, sometimes snobby.
That's alright.
In December of 2016, I went to Lincoln Center to see the New York Philharmonic perform Handel's Messiah.  Alone.  Tripping on LSD.
Hahahahahaha.
I know, I know…
That is both a snobby thing to do AND an extremely weird thing to do.  I started getting into going to see the New York Philharmonic play famous classical music when I realized how cheap tickets are.  Now, I'm no classical music expert, but I often play classical music when I write, sometimes in traffic because it's calming, sometimes because it's very quiet in my apartment and I like the background music because it feels like a score for my life.  I can't differentiate classical music songs.  Mostly because the names are like, "Piano Concerto No. 21," and it's like, "Jesus, Mozart, couldn't you name some of your songs something memorable, maybe something like, "The Gracious Sea Turtle?"  Just a SUGGESTION.  The only composer I can pick out just by hearing it is Vivaldi.  His pieces have sharp violins with a sort of intense rhythmic quality that literally gives me anxiety.  I've been doing something in apartment and suddenly I'm anxious and I Shazam! the classical song playing on the radio and it's a Vivaldi piece.  WHAT THE FUCK VIVALDI.
Why would I drop acid going to the New York Philharmonic?  Most of you probably think that's a TERRIBLE idea, and for most people it would be.  But after attending multiple concerts at the Lincoln Center enjoying classical music like a snobby twenty-something elitist, alone, amongst people at least twenty-five years older than me, I thought, "I bet a classical concert while tripping would be amazing."  Most people who drop acid and see a concert would be attending a festival or a Tame Impala concert (weird and sexual!).  Not me. I was like, "I really want to push my conscious to it's extreme and experience this."
Handel's Messiah is a two and a half hour long concert.  You probably know some of the more famous versus, "and His name shall be called, Wonderful, Counselor, the mighty God, the everlasting Father, the Prince of Peace."  For a Catholic turned agnostic, turned atheist, turned agnatheist (I made this up, it's a mostly atheist person who admits there might be some sort of energy that we cannot possibly understand), I love old churches and hymns.  They're beautiful and a little creepy.
The key to this whole experience was timing.  Having tripped in the past, I aimed to time it out so that the trip would get going when the concert started and not so much when I was checking in.  I hate conversing sober let alone during a trip.  You can't tell people, "I'm not being a bitch for averting eye contact, I'm just tripping on acid.  Ignore me!"
If you've never been to Lincoln Center, you're missing out.  It's massive and the ceiling is a geometric pattern to enhance acoustics which doubled as an amazing show while tripping.  You don't have to be high to enjoy the New York Philharmonic, to be clear.  These are some of the best musicians IN THE WORLD, and it's truly stunning to hear them play.  Truth be told, there were moments that were extremely overwhelming during that Messiah performance for me.  But overall it was a moving experience.  I fucking love violins.  I like to think that I'm the only person ever to have gone to Lincoln Center, alone, to see Handel's Messiah while tripping on acid.
Pretty sure that makes me a snobby weirdo.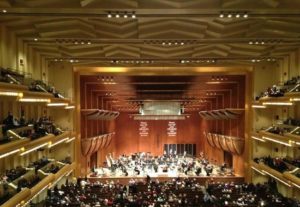 (Lincoln Center: Dope AF)
However, those who have been able to get a little close to me have pondered, "Lori, why do you hide yourself behind this, 'I'm an ice queen' thing.  You're actually quite sweet and one of the most hilarious people in the universe."  (Okay, I may have thrown in the part about being the most hilarious person in the universe.)
But, sweet?!  Sweet?!  Ugh!  I can't have people thinking I'm sweet!  Then, they might want to talk to me.
I'm no enigma.
I'm a misanthrope.
Misanthrope Ingredients:
2 parts Snob
1 part Bitch
3 parts Quiet
4 parts Weird
Go To Top