Secret Spy
Lori Palminteri
December 3, 2017
Many times as a kid, and I won't lie, as an adult as well, I've daydreamed the scenario where I'm a spy.  Incognito and unnoticed, a simple patron of a bar or cafe, gathering information on someone.  An ass kicking spy who "only works alone" because everyone she gets close to dies and makes sarcastic remakes mostly to herself.  Wow, that sounds like a great movie I should write.
Maybe I can write it in one of the many places I write.  Which is everywhere.  Like a cliche novice writer, back when I lived at home with my parents, I almost always wrote in a Starbucks. Actually, I wrote there so frequently I became one of the "regulars" there and then the other "regulars" found this proper reason to strike up conversation with me, which was annoying as I was going there to avoid talking to anyone in my house, so I then had to switch up my writing cafes.  But I didn't frequent coffee shops with notebooks for any other reason than that I couldn't write at home.  As much as I love my family, they are loud, and often unaware of their interrupting.  Even when there was peace and quiet from the other members of the household, there was still the distraction of the TV, baking cookies (I used to do a lot of baking), cleaning the bathroom, shooting hoops in the backyard for "physical and thought exercise."  Too many distractions at home stole sweet time away from me writing since I was clearly destined to be a great novelist.
Starbucks was the office.  A good office it was (until people started talking to me).  There, I got much work done from free writing to jokes to short stories to scripts, all whilst enjoying a caffeine beverage, maybe eating a cookie, and listening to music of film scores.
Since a coffee shop is a cliched writing hot spot, no one is surprised or curious why you're there.  They may think, "oh a college kid working on a paper."  Or, "what pathetic losers that think they're gonna be published authors one day."  Or, "is that girl talking to herself or someone through the headphones?"  But no one is caught off guard by someone working in a cafe.
Once I moved to Queens, I started doing most of my writing at home.  I eliminated the former distractions.  I no longer lived with anyone to interrupt me.  I didn't have cable.  I seldom had food (and definitely no cookie dough mix) in my apartment, so besides cleaning (which doesn't take long because it's a small apartment and I always keep it clean) there is little distraction to keep me from working on my work that probably isn't destined to be a great publication, if a publication at all.
Still, sometimes, a change of setting and/or energy can kick the mind into a different gear.  So I'll still occasionally go to a coffee shop, bar, or restaurant in my neighborhood to work.  No matter where you go in NYC, no thinks twice if you pull out a lap top and start working.  Though, sometimes even New Yorkers find it weird when you're scribbling in a marble notebook.  People comment on it all the time.  One time a guy said, "wow, I can't remember the last time I saw someone writing in a marble notebook."  Really?  It's not 2048, it's not that  weird if I'm writing long hand in a notebook.  I swear people would be less surprised if I pulled out an actual typewriter and placed it on the bar.
I like writing in bars.  I like to drink, but even that's not the main reason.  Bars are often filled with chaos.  And I don't mean bar fights, that's a different level.  All bars, even the tame ones, are chaos if you're listening.  People are either celebrating or venting or drowning sorrows or complaining or praising or trying to impress a date.  It's simmering chaos, and it's fun for me to eavesdrop on them.  Quiet, in the corner, writing in a notebook, I'm a spy looking for no one in particular, just looking for the right words, and puzzle pieces to make characters whole.
New Yorkers may be curious as to what you're working on, as I've been asked many times.  The go-to answer is "my thoughts," and that rarely leads to a follow up question which is best, at least for me.  Outside of New York, people are made really uncomfortable if you take out a notebook, occasionally stare, dead eyed into space, then fervently write in a notebook for several minutes, then go back to staring, back to writing, and you get it.  It's weird.  Even if I saw someone vacillate from zoning out to writing I'd find it off putting behavior.  When on the road, or traveling, and if I'm in a bar or restaurant writing long hand people are actually watching me like they know I'm a spy.  They're not as curious as they are worried.  Why is that girl by herself?  And what is she writing and why?  Is that a marble notebook? Is she writing a review of the venue?  Could she be writing about me?  How come we've never seen her before?  Is she dim or smart?  As a person who's default state is uncomfortable, it's entertaining when I can tell I'm making everyone else uncomfortable by just being.
Writing on trains is hard because my already poor handwriting becomes completely illegible if there's cause for my hand to shake other than it's regular tremor.  Writing on planes is easier, but you can't help having a noisy neighbor.  We all do this though, so I can't even be mad.  If someone is reading or working on a laptop next to me of course I'm going to check it out.  Once, I was sitting next to a guy on the plane who was playing some sort of outbreak/apocalypse game and the idea of the game was to spread diseases and kill people through airplane travel.  Hmm… my spy senses are telling me I should put on a surgical mask to prevent disease. Lucky for me, my handwriting is so atrocious no one can read it!  Including me sometimes!  My handwriting is almost like a code in itself.  And it's only getting worse.  I came across a notebook from a few years back and thought, "wow, my handwriting was good (legible at best)!"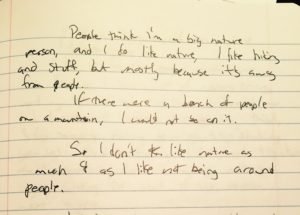 (Handwriting Sample From November's Notebook)
Recently, I took all the little notes and set lists I had laying around and put them all in one envelope.  I was quite proud of this for reasons I think are stupid.  Though, this way, if someone comes over they won't see numerous lists like this: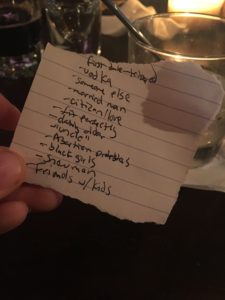 (This, for example, is a new joke set list.  If you can't read it the "premise" words are:
"First Date – Tripped, Vodka, Someone Else, Married Man, Citizen/Love, Fit Perfectly, Dating Older, Uncle, Abortion Protestors, Black Girls, Snowman, Friends w/Kids."
These words mean nothing to you but they all have jokes attached to them in my mind, and yes, I totally understand that that list is bizarre if you are reading it, made worse by my serial killer handwriting.)
A lot of the times I have no idea why I'm writing.  Like this blog for example.  For almost four years now I've been putting out a blog a week.  Half the time I hate what I've written.  What is the point?  But it becomes a matter of self discipline, I guess (and sometimes venting).  For fucks sake, even writing this goddamn blog about writing is keeping me from editing projects I should be working on right now.
Recently, I was at my cousins apartment and we were just bullshitting back and forth.  He's a nurse, and I love talking to people in the medical field because I'm fascinated by biology and terrified of disease as I am a raging hypochondriac.  He's telling me stories of scenarios where I would maybe faint and probably throw up.  There are times I think I went into the wrong field given my interest and love of reading about nutrition, organ function, and rare diseases (I am utterly convinced the apocalypse starts with a super flu and it could happen at any time).  I couldn't work in medicine.  I don't have the stomach for it.  I doubt I'd even be able to take someone's blood.
So, my cousins job is impossible to me.  His skills and knowledge are infinitely more important than my skills and knowledge.  Like a student, I always have questions regarding treatments, drugs, and medical procedures.  What a useless career I've chosen, I think to myself.  A career I probably won't even succeed in.  Few jobs are more respect worthy than working in an ER.  I don't know how he does it.  Comedy is my passion, but science is my religion.  Science/medicine/surgery has already saved my life more than once, and it probably has saved yours too.  Doctors and nurses are super heroes.  They are saving our lives all the time.  Not God.
Flipping through the channels, we talk about our favorite shows.  He's a big stand-up fan, so it's pretty cool when he names a comic's special he watched or a podcast he listened to and I actually know the guy.  "I don't know how you do it," he says, "I don't know how you come up with stories out of nothing and write them and turn them into shows."  I can't give someone stitches but I can develop A and B story lines and cleverly intertwine them with witty banter.  It didn't occur to me that someone who saves lives would be impressed by making up stories and writing jokes.  I guess we all have our place.
Back from doing some tour dates with Colin Quinn, I am sorely disappointed in myself for not working harder.  And I do work hard!  I'm restless and headstrong, determined.  But even I think I can/should step up my game. There is a reason Colin is highly respected and regarded as one of the best stand-ups.  He's always writing.  He doesn't fucking stop.  On the train.  In the car.  In the lobby.  Constantly writing and researching.  Not too many people make me feel lazy.  Colin Quinn does, and I respect him even more for it.  Maybe I should spend more time isolated in my apartment writing.
You know that movie "Misery" (based on Stephen King novel) where Kathy Bates captures James Caan and makes him write a book?  That is actually my fantasy.  If someone locked me in a cabin and said "you can't leave until you write and finish this goddamn book" I would be thrilled!  Minus the part where she breaks his ankles with a sledgehammer though.  I could skip that part.  I wouldn't even put up a fight.  I'd be like, you're right this is a great idea!  Don't tell anyone I'm here!  Don't give me internet access! 
However, perhaps it is better to be the hidden wallflower than the in the middle of woods captured by a psychotic nurse who's obsessed with you.  Every year as I grow a little older, the idea of being a true hermit, marooned from society, becomes a little more appealing to me.  But for now, I still like being a spy.  I still like hiding in the shadows collecting fodder for my jokes, my stories, my characters.  Because, while every work of fiction is a self portrait, it's a little bit of you too.  I need you.  Inspiration maybe, but it's also theft.  Theft of parts of you, combined with parts of me.
I spy with my little eye an idea.
Go To Top