Pirate Not Princess
Lori Palminteri
November 3, 2018
It had been a month since my good friend Katrina moved to my neighborhood and we'd yet to really hang out and still I haven't seen her new apartment.  On Halloween, I was bent on nothing else besides getting out of Manhattan.  Too many drunk amateurs.
"I would go out in our neighborhood," I suggested to Katrina, "I have a pirate costume I could throw on."
"Okay, but what am I going to be?!"
"You could also be a pirate.  I have two pirate costumes."
"Wait, what?  Why?"
Good questions.  These pirate costumes have been stowed in my closets since I moved to Queens over four years ago, taking up space in what is a very small closet.  But I knew they'd come in handy one day.  If you ever listen to me about anything, heed this advice:  a pirate costume will always come in handy.
After work, we met at my place where we drank and bullshitted and planned a route.  By the time we even left my apartment, we were already properly pissed pirates.
We first went to the Bohemian Beer Garden, which turned out to be deader than my soul.  A handful of people, none of them in costume!  So we moved on.  I set our destination to the Break Room, which is a Billiard Bar with other games where I always had a fun time.
Half of the fun of Halloween is walking around, toasted, dressed ridiculously; so on foot, we continued our journey.  I dictated the route with my sword, wielding it like a lunatic.  Even a fake sword increases your confidence.  Although, no passerby's seemed remotely threatened by me. Even carrying a fake sword, I'm approachable.
In our travels, we passed a rather lively pub and decided  to pop in to quench our thirsts.  After ordering drinks, a young man wearing nothing unusual save for an Indian Chief Headdress said, "are you supposed to be some sort of a princess with a sword."
Never had I been so offended in my entire life.
"I'm a pirate.  A pirate with a sword.  I'm badass not dainty, goddamnit."
It would turn out that he was right.  The general consensus was that we did not look like pirates, much to my dismay.  This threw me into an identity crisis and therefore I threatened to stab people to prove that I was intimidating, not cute!  
The Headdress dude continued to hit on us despite the fact that we weren't interested.
"What's your name?"
"Katrina."
"Oh cool.  Katrina.  That's my cousins daughters name."
"I. Don't. Care."
Hahahaha!  Katrina had just established the tone of the evening.  We might've not looked like pirates but we were daft enough to be pirates at heart.  We would just start laughing at glance, this guy clueless as to how much we were mocking him right to his face.  Pity the dimwit who dare thinks he will impress us.
He then started questioning us about where we lived, and we told him we lived here, in Astoria.  He said we must be transplants.  I told him I'm from Long Island: 50% Italian Guinea Mobster, 50% Sea-faring English/Irish Pirate, which makes me 100% White Trash, and I said this proudly, raising my sword.  "100% Long Island White Trash!"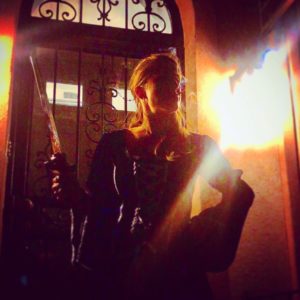 Katrina and I were laughing so hard.  He was confused.  Since he took a shot at our costumes, I said, "well what the hell are you supposed to be, a pot grower in Oregon?"  Again, my hilarious remarks were lost on him.  Fool!  I guess he thought we were fishing for weed, so he said something along the lines that he could get some for us.  As if this would impress us.
"You guys smoke weed?"
"We're dressed as pirates.  On a Wednesday.  We're high now. It would be disarming if we weren't high." 
It was time for us to get out of there before I stabbed that guy with my fake sword.  I'd had enough.  We quickly swashed back our drinks, ready to continue our quest for a better bar!  A bar without idiots like this guy!  A bar where people saw us as pirates!
He kept asking us "what our deal was," and to be honest, I didn't understand the question.  So, as we were literally turning to leave the bar I said to him, "our deal?  Oh, we both fuck women.  Not each other though."  And just like that we left.  You can't say we didn't leave that guy with a good story.
Onward!  To Break Bar!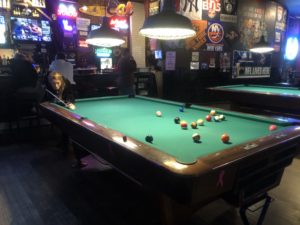 Even if it wasn't Halloween, people in Queens would hardly bat an eye at two young women dressed as some sort of wench/princess/pirate.  At this point, I was pretty sloshed and saying all sorts of ridiculous things, mostly how I was going to slit the throats of any man who dare call me a princess.  I'm a pirate, motherfucker.  I want to be sexy in an intimidating way, not adorable.  Yuk!  It's rare I'm tripped up on insults but someone once told me I was too pretty to be a comedian but not pretty enough to be an actress and that still annoys me from time to time, if not especially this time, when I wanted to look like a pirate.  
Break Bar was perfect.  A good mix of some people in costume and others hanging out.  Not at all crowded.  Chill.  Alternative rock music.  No guy in a headdress trying way too hard to be cool around us.  We're not the cool kids.  We've never been the cool kids.  The not-so-pirate-like pirate costumes should do the speaking for us when it comes to how not cool we are.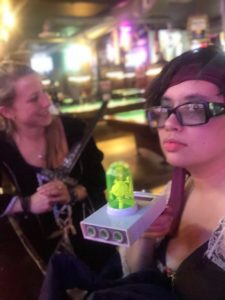 [Katrina befriended some Rick's from another dimension while I'm still admiring how cool I think my sword is.]
We ordered drinks and got a pool table.  Neither of us are very good pool players either.  There were some Rick Sanchez's, a Han Solo, other people out being silly that we joked with, and when someone said, "you do kind of look like a princess," I was drunk enough to reply with, "I'm going to slit your throat!  Leave the bottle!"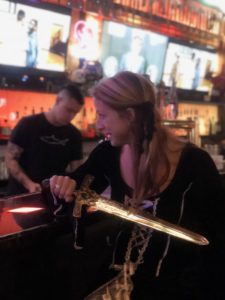 "Go ahead. Call me a Princess one more time and see what happens fucker."
On the way back home, I "showed off" my sword kills and vowed to protect Katrina.
All in all, it was a fun night and I learned an extremely valuable lesson.  Having left my glasses behind, because they weren't very "pirate like," I learned that I really can't see well without them.  Which isn't really pirate or princess like.  Just a nerdy weirdo.  And I'm more than okay with that.
Go To Top