This Is Not About You. Also, This Is Definitely About You.
Lori Palminteri
March 22, 2019
Upon returning from Costa Rica with my badly bruised yet bronze tanned body, I stood in line at La Guardia airport for a taxi, a quick ride to my home in Astoria.  It was Valentine's Day.  Not that it being Valentine's Day ever meant anything to me besides a landmark that there was still a significant amount of winter to go.
I had three plans/goals for the day: get my car, unpack my bag, get pizza and then sleep for twelve hours.  My whole body ached, my back especially.  It was impossible to lament being home given the level of my exhaustion.  I just wanted to sleep in my bed.  If my sore body were to write my brain a letter after that trip, it would be short and sweet: "you're an asshole, Palminteri."  Indeed.
The following day, Friday, I'd be working one of my favorite clubs (McGuires in Bohemia), opening for one of my favorite comedians, Mike Vecchione.  Vecchione is one of the best comedians in the country right now.  This is fact, not my opinion.  His joke writing is top notch and he turns over material faster than most comics I know.  There's no fat on his jokes.  Don't take my word for it.  He is highly respected in the comedy community.  Colin Quinn told me it bothers him that Vecchione is not famous, and his lack of fame is proof that comedy is over. Quinn's word is gospel in the comedy world.
Anyway, that's my pitch for Vecchione.  Link below.  You should go see him when he plays your town.  He doesn't pay me to write this.  In fact, I'm sure he will never read this.  Trust me, this is not some "ass-kissing" ploy.  Most of the people/comics I praise and plug don't visit here, including (if not especially) my own writing partner.
Link to Mike here.
I was excited for the weekend, albeit, a little nervous, since I hadn't been on stage for two weeks.  It's amazing how quickly you feel the rust plaque your skills, or at least, your confidence to summon those skills.  They're not so quickly lost.
That Friday show, even though I was choppy in my delivery, I still had a good set.  Sometimes it's only when you step away from something that you realize you might've been a little burnt on it.  Stepping back, it's refreshing again.  The rush returns.
The following night, Mike and I would again drive out to the eastern most comedy club on Long Island for two shows.  One of my cousins was in town from out of state, so I had a bunch of family coming, and then also their friends and family from the other side, so what I'm saying is I'm a draw to people related to me, and people who are related to people who are related to me.  A giant group was coming out to see me.  Though I was most excited they were going to get to see Vecchione.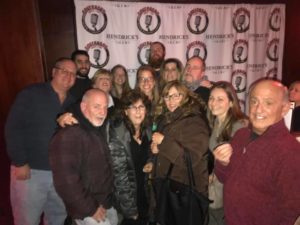 [Post show family pic. BEST!]
Many comics do not have supportive families when it comes to their art/chosen career path.  This is not so surprising, since the likelihood that they will fail is so high.  Families want to see you succeed.  But my family, and their extended families, have always been supportive of my dreams, however based in reality or delusion they are.  Part of the reason they believe in me, I think/hope, is because when they see me, I'm better than the last time they saw me.  I suppose this is why I get nervous when they come.  I have to figure out what material they've seen me do a bunch of times and mix in my new stuff, even if it's not material I necessarily want to do in front of them.  For the tried and true hits, I want to deliver them better than last time.  My jokes are good.  They stand on their own.  But I'm still insecure when it comes to my performance.
I know I can be better.  I stand accused of being too snobby when it comes to dating.  That no one is ever good enough for me.  That's untrue.  I am never good enough for me.  Though I suspect that has caused wear and tear on relationships just as well.
Last year, I was in a turbulent on and off intense romance that would for sure not be described as healthy.  In the midst of the crash and burn, in my heartache and insanity, I took to hooking up with a woman because it just seemed like a better option than another man at the time.  Forthright first, I told her my deal, being bent about my former lover and all that.  She told me that straight girls who occasionally play with gay girls are the craziest girls.  This made me smile.
ANYWAY.  I have a whole bit about this hookup.  It's a very funny bit, and part of the reason why I really like it (besides the fact that it has a twist punchline and kills) is that it establishes something about my stage (eh, off stage too) personality.  I have a lot of dating/being single material, but I DO NOT want to be one of those female comedians who are like "woe is me, dating is so hard, men are the worst and stuff.  Period joke."  I want to clearly (and hilariously) establish that my relationship history (or lack thereof) is the fault of my own, not the universe.  That no one should feel bad for me.  Ever.  The liability is mine.  I'll own it.  Laugh at it.  Please.  I do.  Pity disgusts me, and furthermore, I'm not going to sit around man-hating having dated really good guys.  It would be unjust for me to say otherwise.  In my life, I have known good men.
At this show, on Saturday, I was debating whether or not I should do that bit in front of my family.  It's weird doing any sex based material in front of your family… But then I remembered something else… I don't give fuck.  Oh yeah.  I mean, geez, I have plenty of suicide jokes that really should be more alarming than sex jokes anyway (I like the suicide jokes better, but the saying isn't "suicide sells," otherwise I'd be rich by now).  In fairness, I'll confess, if there's anything about me people find enigmatic, I lean into the mystery, teasing you readers.  You shouldn't trust everything I write (hint, hint; I'm not nearly as assertive as my FB posts would have you believe).  Sometimes I'm just fucking with you guys but you like it that way or you wouldn't be reading my blog to begin with.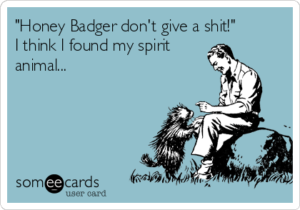 That first show on Saturday, I murder.  A fine feeling, not only from being loose on stage, but also that I had my family cracking up.  If I'm not perpetually getting better at comedy, I don't want to do it any more.
I come off stage a hero (hahaha, what an asshole I am, truly).
I'm standing in the back watching Mike take the stage.  And then, shock.  Dun, dun, DUN.  As the girl who that gay bit is about is walking up to me.  She had no idea I was going to be performing.  I had no idea she was here.  And there's no way in fuck I would have done that bit about her if I knew she was going to be here.
I'm kind of afraid of this girl because she's tough: very fit and stronger than me.  As she approached, I wasn't sure if I was going to get smacked or kissed.  To be honest, I'd take whatever was coming.  Kiss me or kill me.  Either way, I deserve it.  Probably.
She says hello and we both laugh at the coincidence.  Apparently, I'm a legend amongst her group of friends (hahahaha, Lori the Legend, it has such a nice ring to it because of alliteration).  When I started doing that bit, they all turned to her, "is this about you?"
She told them it wasn't.  And I mumbled some half ass answer, "oh, you know, comedy is a collection of half truths, not exclusively based on any particular person or specific happening."  That is true.  But also, that bit is based on her.
I tell her she really should watch Mike, because he's hilarious.  And then I find the manager of the club to tell him who is here, knowing this was more exciting to him than any celebrity that could possibly be attending a show.  He had been hoping this moment would come to fruition since the first time he heard me do that joke on stage.  Oh how we laughed and laughed.  We have fun.
Thank god I fucking killed, or this night would have been horrific rather than hilarious on multiple levels at this point.  When I'm at the bar (outside the showroom), she abandons her friends and Mike (I kept telling her she was really missing out on not watching Mike, one of the best comedians in the country) where we talk for the remainder of the show.  Even though she's a man-hater, she's as dirty as any guy I've ever met.  In fact, she's remarkably similar to my ex in a lot of ways.  For a long time, I thought there must be something about me that is a magnet for crazy people, until I realized, oh I just love crazy people.  I invite them into my life.
When anyone compliments me, it makes me exceedingly uncomfortable.  Sing my praises and I squirm.  I'd like to take those rose colored glasses off and break them.  Though I've found that if you tell someone your sins, they just like you more.  Thus defeating the purpose.
While my playfulness with this woman was a direct result from a damaged heart of a lost passion, I can only turn down so many vacations she wants to take me on.  It's fiscally irresponsible at this point.  I am never going to date a woman, however.  That's not where it's at for me.  But, dudes, the other team is making some good offers.  SHOW ME.  SHOW ME WHAT YOU GOT.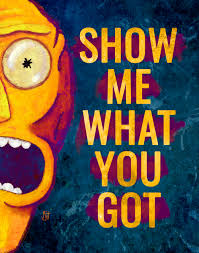 When asked why she would waste her time with me, an obviously mostly straight woman who occasionally hooks up with girls in the wake of break ups (making me the craziest type of woman, according to her), she says, "I cannot look away from that smile."
Well, I'll just keep frowning then.
The show ended and my family came to hug and congratulate me, as well as Mike.  "You're always getting better," they say.  And they're not just saying that.  No, seriously, they're not just saying that, my family can be real upfront and judgemental pricks about stuff sometimes.  Of course, I come from a place of bias, but I truly believe that families with a strong sense of humor will have a steel bond because you'll always want to see people who make you laugh.  It means a lot they continue to be excited to come to shows (often pestering me to come to more, while I like to space it out so I can hone new material before they see me next), and I appreciate it when I come to their homes and do laundry and eat their left over foods.
My girl returns with her group of friends, they're hugging me, more adorning then my own family… for different reasons, obviously.  Meanwhile, the staff at McGuire's is taking much delight in this unfolding: this is more of a show to them than anything else.  There is no place I've been made fun of more viciously than the green room at McGuire's, by staff and comics alike.  One of their favorite things to do is watch how awkward it is (and they never help save me) when someone tries to hit on me and how strangely I'll fall from the person who just got off stage to a mumbling, timid, arguably on the spectrum (the comics say no one argues it, they all agree) girl.  You would almost feel bad for me based on the verbal beatings and insults I take until you learned the verbal beatings and insults I give and then you'd just be like, "you comedians are all batshit insane."
I love it.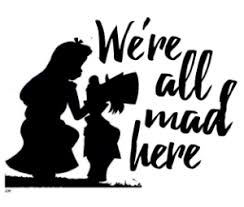 At the end of the night, after we've collected our checks and had our last laughs, Mike and I drive back to Queens, where we both live.  I press Mike to think up a tag for a new bit I've been working on.  I enjoy this as much as anything.  Coming up with tags for my fellow comedian brethren, challenging them to come up with a better one for mine.
It's strange to me that— all we ever want is to be special.  Maybe not necessarily in the sense of the universe, but at minimum to people we love and respect.  Every epic story; from Jesus to Luke Skywalker, Katniss Everdeen to Harry Potter, any Game of Thrones character to Hamlet/Simba: the classic tale of the heroes journey.  And yet, when someone else thinks it, when they bestow to you how you are special to them, we so often deny it.  How wrong they are in their hero worshiping.

As for me, well, I know I'm odd.  The gig I've just come off of, (a week at the Borgata) one of the other comics asked me if I was always uncomfortable or if he was making me uncomfortable.   Laughing, I confessed it was my default state.  He was relieved and then asked a question I didn't have an answer to regarding why I was that way.  I texted one of my best friends about that transaction and he said, "yes, you are definitely that awkward."
Oof.  Seemingly, I'm incapable of having normal conversation and yet command on audience from a theater stage.  I'm practically void of expressing myself verbally and yet an articulate writer.  Lacking any sort of first impression charm, if I thaw out of my cold exterior and reach a level of comfort, I am overtly silly.  My relations with women are consequences from a heart overthrown by men.  These are contradicting qualities on the surface, but in reality they are not.  It's just balance.  Different, yes.  I would agree with the others when they say I'm not like most girls.  And this smile I own should not belong to me, I think, sometimes.  
Killing your heroes is not a cliche I subscribe to nor one I would recommend.  I've met, known, and befriended people I deify.  Though you ought to be careful.  Your heroes one day will not get back up.  They're not giving up on you, they're giving up on themselves.  In many ways that's worse.  It's no fault of yours whatsoever.  The complete lack of your impact will sting.  And, now, that I've had time to think about it… I think it hurts so much because we already know one day we will also be guilty of this crime.  One day, someone will look to us— glorify us, love us, be so special to them and we'll let them down in the same way.  We will.  And that's the worst of it.  Knowing how it feels not only to be let down but to let someone down as well.
You shouldn't have looked at me that way.
But this is not about you.  This is about me.  This is definitely about me.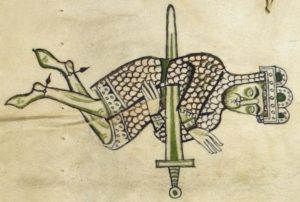 [It's just a metaphorical flesh wound, he'll be alright.]
When I went to bed that Saturday night, I was still reeling from all of it: the killer set, new material landing, my family and their continued support, the girl from the joke and reality, the incredible trip in Costa Rica that resulted in the reminder that my body is, in fact, very mortal.  I'm not so sure I am a brave person, but I'd like to be.  Sometimes I feel that I am.  It's a fine feeling.  A personal hero of mine once said to me, "the best thing to do is the brave thing to do.  The problem is figuring out what the brave thing to do is."  These words ring in my ears at all times.  Gospel.
The following day, it would be easy to get up and try again.  In fact, I'd look forward to it.  Greet the world with the smile that seems to brighten some people's day.  But it isn't always that way.  There are many days I don't have a remote desire to do anything, be anyone.  Be nothing instead.  How can I despise my heroes who are worn, too tired to go again, when I already understand how they feel and why.
Yes, this is about me.  But it's also about you.  And the way you look at me sometimes.  Or perhaps more in the way you look away.  Careful not of who you look up to, but of you become.  Because someday someone may look to you with those same adoring eyes.  Perhaps you'll love it.  Perhaps it will scare the shit out of you.  Both are a proper response.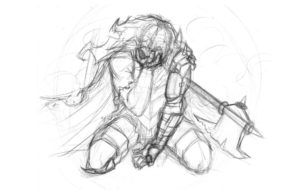 Go To Top