No Ice Caves For The Ice Queen
Lori Palminteri
May 27, 2018
Half of the point of coming to Sam's Point was to see the Ice Caves.  The name sounds cool in itself.  It stays cool enough there so the ice remains well into spring/early summer.  But the ice caves were closed off.  Of course, I planned to go to them anyway.  I'm no thief, but I'm a known trespasser.
The sign said the ice caves were closed, but I started walking down the path anyway.  "Rules are more like guidelines anyways."  Though I didn't make it far.  A guy, around my age, blond hair, looked like he could be my cousin, was driving a quad and told me the ice caves were closed.  Information I knew.
"Oh…" I say, "there's no checking them out without going in them?"  I had every intention of going in them.
"No, they're closed off."
"Okay," I shrug my shoulders.  I guess I would have to skip the ice caves this time.  It made me miss Iceland and Hawaii, where there was no place you couldn't explore.  Where the oceans and mountains belonged to no one.  Sure, there'd be signs of forewarning dangerous conditions, but nothing more.
That was somewhat of a bummer, but I continued on.  It was a beautiful day, and even though it was the Friday of memorial day weekend, the park had few other hikers.  This both surprised and pleased me.  I hesitated pulling the trigger on a relatively impromptu decision to come here on this day fearing it might be crowded.  But days where I'm off both day and night are rare, and there are all these not-so-hidden gems up here in the mountains just two hours away from my home in Queens.
Yes, I went alone.  At this point, even I wouldn't be surprised if I was murdered and/or died trying to get a dumb extreme selfie.  I'll try to live stream my bleeding out for your viewing pleasure.
But it's you, reader, who is really my companion.  Whether you read this because you love me, you're bored, or you're spite reading this because you don't care for me at all… you are still my company.  Welcome.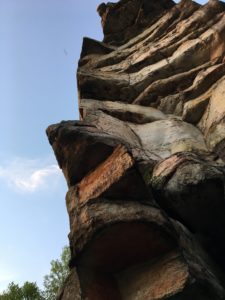 It's an estimated four hours to do the entire loop, which I intended to do.  I also knew that since I was going alone, I could easily do it faster, but then again, I was in no rush.  It was Friday memorial day weekend, so I had no intentions of driving back before dark.  I had all day.
The hike is an attempt to lift my damped spirits, and it works.  The sun is shining, I'm walking in a fairy tale environment and no matter how dejected I feel it's impossible to want to be anywhere else or be anyone else when up here in the mountains, my youthful spirit yet to have surrendered.
Verkeerder Kill Falls is the highest waterfall in Sam's Point Preserve in the Shawgunk Mountains (187ft tall).  It's quite stunning, and already the the trip was worth it.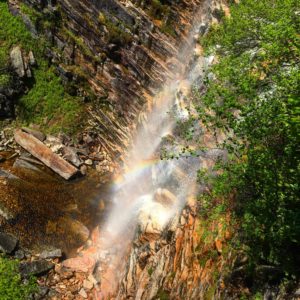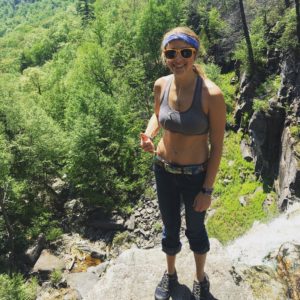 [What's the point of climbing to the top of a waterfall if you're not going to show off your abs?]
There were a group of three guys debating on whether or not they should go to the edge.
"You should," I told them.
"Is it dangerous?"  One of the guys asked me.  All three are bigger and in better shape than myself, and it's almost funny to me that they're scared and looking to me for advice.
"Not really.  I mean, your feet will get wet and it may be slippery in spots but it's no more dangerous than where you're standing now."  Besides the fact that he's not at the ledge of a 187 foot waterfall.
"I dunno, man," one guy says to the other, "I don't wanna fall."
Chicken shit, I think, but I say, "well, you're not falling now."
I wanted to go down to the foot of the waterfall, but it didn't appear there to be a path.  You could climb down which didn't seem especially dangerous, but I didn't take the time to plan a route, instead I stayed course, but I kept thinking about how I wanted to bathe in the waterfall.  As sweat dripped down my face, I wanted it more and more.
On the ride up, my writing partner had called with a new idea for a sitcom.  We had both been in creative ruts and seemed to be falling short of stories that impressed our manager.  But he called with a good one this morning, and I'm glad to have characters to think about developing on this solitary day.  My writing partner mocks me for hiking alone and suggests I think hard on A/B story lines and character stakes on my retreat.  He frequently credits me as the smart one, though that is false.  He is the smart one, but sometimes he forgets it because I'm the more productive one.
A new idea.  A new story.  New characters to whittle, adding traits of yourself and borrowing traits of others.  The creative process turns on, and even if those spools collected a little dust, once you're dreaming, you're dreaming and it's magical: a little push to your passion.
It's a dreadful feeling as an artist to feel as though you've plateaued.  And it's normal.  Just as on a hike, you'll climb, descent, and plateau.  There are boring parts of hikes.
Finding silver linings is something I'm only good at when pointing it out to someone else.  I'm quick to vanish in my own self defeat, giving insecurities the reigns. This weekend I'm a bit nervous and excited by a sort of "homework" assignment, which I love.  I love homework and deadlines.
I'm one of a many fortunate young comedians to consider Colin Quinn a mentor.  Quinn is one of the greatest comedians, and if you challenge that statement, watch "New York Story," on Netflix, and if you still challenge that statement, rest assured, you are an idiot.  Additionally, Colin is easily one of the most down to earth, good people you'll ever meet.  I've been fortunate to open for Colin a bunch of times, and he perpetually bugs me about not doing my twitter jokes on stage.
"Every once in a while I think about how you're not doing your twitter jokes on stage and it's infuriating to me," Quinn says.  The fact that Colin ever thinks about my jokes is flattering, and the fact that he is so irked by the fact that my twitter jokes are being "wasted" is weirdly satisfying to me.
Truth is, and I told him this, some of those jokes have been stage tested, and failed.  I lamented that they're not stage quality jokes which Colin shut down.  "You have an hour of gold on your twitter and you won't do them on stage because you have a mental block," he says, and while I think his compliment is wildly generous, I agree on the mental block part.  Colin threatened to sell my jokes to other comics if I didn't use them, and then, in his frustration, asked me to send him a list of twitter jokes so he can tell me which ones I had to do on stage.
It's not an offer I would ever feel comfortable asking, ever, but also one I can't turn down.  "How many are you going to send," Colin presses.  "I dunno, I guess it depends on how far I go back."  "Send me like 100," he says.  100 jokes?  This is daunting to me, even though I have already written the jokes.  It already has me a bit insecure, the thought of doing this, though I graciously accept the assignment.
It's one of those, "wow, this is really awesome," moments of doing comedy that's as easy as enjoying as just looking up and going "holy shit, this is so cool, where I am right now."
Such moments happen all the time on good hikes.
Because hikes can be long and tiring, and it's easy to get caught in your head, thinking over things, your life, looking down to ensure you don't trip over rocks, and then you look up and you're like, "holy shit, look at where I am right now, those fucking mountains over there… this is fucking amazing."  These are the moments that make hikes worthwhile.  This happened several times on this hike, as I'd find myself on cliff tops, watching hawks swoop in and out of the valley.  Gorgeous.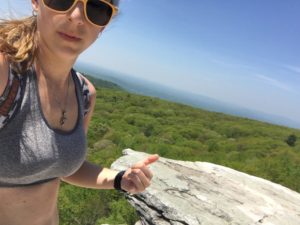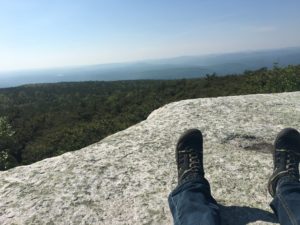 Most people didn't continue beyond the waterfall.  I too was dubious that anything could surpass the falls beauty, but the hike did not disappoint.  Up there, all alone on the peaks, I would dance to some songs near the cliffs edge.  My white girl dance moves are so poor, I have to take them to mountaintops where no one is around for miles to showcase them.  If you can't get your groove on up there, you don't know how to have fun.
I reach a crossroads with a sign that says it's 2.8 miles on the continued loop back to the visitor center and it's 2.8 miles back to the waterfall.  The completed loop looks rather boring, and I think it may be worth doing the trip back, hike over the cliff tops, through the trees, and back to the waterfall.  It's 4:45pm, and I figure I have enough time to find a route to the base of the waterfall and then catch the sunset back on top of Sam's Point.
The plan is in place.
It's quicker getting back to the waterfall, because I'm not breaking to enjoy the scenery or dance, I'm just on the move.  Fit people who do a lot of aerobics are known to sweat more because their bodies are more effective at cooling themselves. When exercising, I not only sweat a lot but my face gets completely flushed.  Dehydrated, I'm looking forward to drinking from the waterfall because I already finished all the water I was carrying.
I make it back to the falls and look for a way down.  There's no sign saying you're not allowed to climb down, but I take it most people don't need a sign to not do it.  It's too dangerous near the waterfall to climb down, but alas, it's always harder going down than up, so if I could find a way down that isn't terrifying, going up will be a breeze.
Cutting through some brush, I think I've found a path that others have used before.  Careful, I descend.  It's not as daunting as it looks, and once I'm near the bottom, the rock piled base looks like nothing but fun for me.  A playground and I'm the only person in world playing on it.
The water is cold and quenches my thirst.  I take off my pants and shower in the falls.  The temperature of the water shocks my system.  There's no one above.  I cry out little yells of joy, rinsing myself in the glacier water.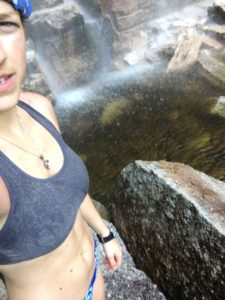 [Swimming in my delicates… ooh la, la]
Finding my way back up wasn't scary or hard.  And I made my way back to the point to watch the sunset.  Who says I'm not romantic?  I take myself to the best places.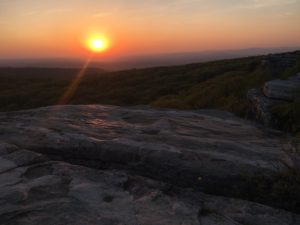 In the morning, my body would feel the consequences of a near 13 mile hike.  That afternoon I would talk to my brother on the phone, one of a few people whom I wished was with me on my Sam's Point adventure.  We talked about surfing and the ocean.  Mother Ocean doesn't care if I stray to the mountains or the concrete jungle, because I'll always return to the sea.  My number one love.  And we talk about people who've no passions at all.  Perhaps life is such a relief without such a zestful yearning, or at least simpler.  But there's tragedy in a life without a serious affection.
How wonderful it is to be close enough to touch something so exquisite, and how even more so awe inspiring to look up and realize you are part of it.
Go To Top