Legacy
Lori Palminteri
March 5, 2021
Long before she was pregnant, Mitch said she'd be a great mom. From where I'm standing, Mitch always wanted kids. I always knew he'd be a dad someday. Then came a call in the middle of a summer night. I was awake, stoned and watching television. If I were to guess, he wasn't sober when he called either. "I'm gonna be a dad," he said. And I cried. I just started crying. Because I was happy. Elated, even. What was going through his mind, I could only guess— as a person without kids— I assume it's a washing machine tangling the excitement and fears with suds.
I was then told I couldn't tell anyone.
I immediately called my best friend Jimmy, crying.
"Are you okay?"
"Yes, I'm very happy. Mitch is so good with kids. He's gonna be such a good dad."
"Yeah, he will be."
"Okay, don't tell anyone because I wasn't supposed to tell anyone."
And then I had to contain the secret. Though my mom had called me after a suspicious text Mitch sent her, "is Dayna pregnant?" "Errrr….ummm…. call your son."
It's months later now. We're at the baby shower. "I thought I specifically told you not to wear jeans," says Christine, my cousin's fiancé and new addition to my tribe.
"You said I had to dress up, you didn't say not to wear jeans."
"Well I'm not sure I'd call your outfit dressing up."
My god, she is going to get along with my mom.
My new nephew's due date is actually on my sister's birthday. Which is also Christine's birthday. It's funny how coincidental life can be sometimes. It almost makes you think it's not a coincidence. But the due date is just a guess. Just as well, the kid could be born on March 30th, the birthday of my dad and his twin, my godmother.
The baby shower is delightful. The food is scrumptious and savory. There's no dumb games. There is booze. And there's no gift opening ceremony. Just how I like it. Everyone is just hanging out. Everyone is talking. Bonding. For a little while you forget that the virus exists. In the now, things feel like they did before. It feels like how it will be again. It feels good.
Index cards are passed around. Guests are invited to write advice to the mother to be. Dayna. She glows. Even with her belly filled with my nephew she looks so beautiful. Our lives are intertwined forever now, and I don't mind. Her mom reminds me of my own in many ways. In the sense that her kids are her dream. She's standing next to her dream, who's carrying her first grandchild. We joke about we're all going to be fighting over who gets to babysit the child. It's my turn now!
Mitch seems at ease now. I think he was in and out of anxiety, as anyone would be bringing a human into the world. But he seems at ease today. His kid has so many maternal and paternal figures. Life is easier for the loved.
I scribble with my atrocious handwriting on the index card. Truly, my handwriting is awful. A friend once looked at my handwriting and said, "this is either the tell of genius or mental illness." I said, "thank you."
Christine is an art teacher. She brought her own colorful pens. She's my cousin's soul mate. This is not a term I use lightly. In the not too distant future, we'll be at her bridal shower and then her baby shower. I promised her I'd be drunk at both.
"What did you write?" Christine inquires.
"I wrote that the only true currency is time. Money is a man made measurement that isn't real. And time is best spent with loved ones and adventures. The only true legacy is your kids— that they learn to be kind, passionate and laugh because life is absurd."
"Okay, so I didn't know you were going to write something really deep. I thought we were doing a witty thing. I wish I didn't ask you."
I don't miss opportunities to show off pictures of Lisa's kids, my sister, who is also at the table with us– because they are adorable. My new nephew will not only be a Long Island Surf legend like his old man (weird to call my little brother that) but he will be so cute it will almost be unfair. Just look at them. Mitch and Dayna. It's not even fair to all the hearts their kid is going to break.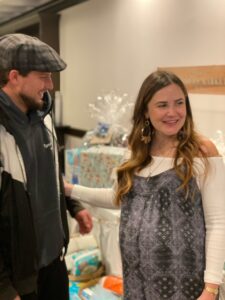 It's still a shock to some when I say Mitch is having a kid. He has a reputation. Wild boy. Surf bum. Rascal. Peter Pan. "I can't believe Mitch is going to be a dad," they say. But I can. I can believe it. Truly, I couldn't be happier that my "twin" was going to be a dad. "But Mitch is like a big kid himself," they say. Well… my parents are like big kids too. And that… that made them great parents.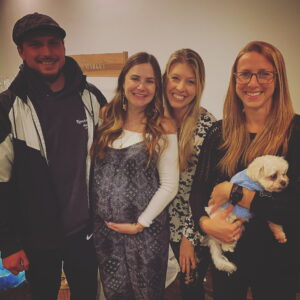 [Mitch, Dayna ((Blaise in belly)), Lisa, Lori & Crumb]
Go To Top