Enjoy.
Lori Palminteri
May 2, 2019
"Who's sunglasses are those?"
"They're mine," my brother, Mitch, replied as we meet outside the airport in Florida, waiting for our parents to pick us up, "I just bought them."
"They're girl sunglasses."
"No they're not.  I just bought them."
"Yeah.  But they're definitely girl sunglasses."
"How can you tell?"
"The way they go up on the top.  They're girl glasses."
"I don't believe you."
"Fine.  Ask Mom and Dad."
Mom and Dad pull up with their new car.  A Volvo.  Fun facts about my parents: since moving to Florida almost four years ago, they have only had one car.  By choice.  They do everything together that they don't even see a feasible reason to have two cars, which is INSANE to me, and I grew up under their roof.  Perhaps it is because I grew up with them that I can't understand it.
We won't even resist getting a detailed breakdown of the cars features because we will anyway.  It's alright.  It's the nicest car they've ever owned.  The seats give you massages.
"Does it also give you a blow job?" This joke comes from my brother, often crude bordering rude, but I'll say this about my brother, he says some of the funniest shit that I could never repeat it on stage because it is too offensive.  And I have a suicide bit that kills (this was not meant to be word play… I have a suicide bit that's so good it consistently gets a big laugh— a proud gem of mine).  
"Do you guys think Mitch's sunglasses are girl sunglasses."
The verdict is unanimous.  Mitch cannot tell the different between girl and guy sunglasses.  
"I just paid $150 for these!"
"You paid $150 for girl sunglasses?"
"I'm gonna do an Instagram vote," my brother says, taking a selfie.  If he trusts the world of social media follows over us, he's insane.  Our family is so honest sometimes, it makes you think that being dishonest is actually far more compassionate.  
The Instagram poll confirms two things.  A. They're girl sunglasses.  B. About 27% of my brother's followers are as stupid as my brother.  Though, as one of my good friends put it, "first off totally lady glasses.  Secondly doesn't matter he still looks good."
Let's cut to the following evening at a barbecue.  
"I feel like I said something to make this one not like me," says your picture perfect character of a red neck—beer gut, motorcycle tattoos.  Though there's nothing wrong with that.  What's wrong with him is just moments before he picked up on my evil stare hidden behind my (girl) sunglasses, is he said if his sons girlfriend or friends were cool, they were welcome in his house, but if they weren't, he'd duck tape them and fuck them hard in his garage.  In the following 10 minute conversation, he'd say "nigger" at least three times.  
He's standing across from me, my brother and father by my side.  Mitch starts laughing hysterically, triggering me to crack up and then I think my Dad was laughing out of sheer discomfort.  
Mitch hints to the redneck that I date black guys.  I say, "hey, Mitch… aren't those girl sunglasses?"
The night before, I was in my sister's car with her two kids, my nephew and niece, on our way to our aunt's 70th birthday dinner.  One of the reasons my brother and I were in Florida was to surprise her for her birthday.  Lisa, the eldest sister, is moving back to New York from Florida.  When asked what the intended gender for Mitch's sunglasses were for, she said, "girls.  Obviously."  They looked better on her.
Her son, my nephew, was seated in the back seat of the car while we talk in the front seat on the way to the birthday dinner.  My nephew is going off about something, "enjoy," he's saying, "enjoy!"
"What is he saying?" I inquire with my sister.
"He just says that sometimes.  He comes up to me and tells me to enjoy."
"Enjoy," he parrots in the backseat, "just enjoy."
"Just enjoy.  As if it were simple."
With my aunt, we ask her if Mitch's sunglasses were girl glasses or not.  She's sweeter than us and is more mindful in empathy that they could be unisex glasses.  But we encourage her to try them on.  They look better on her.
A different night.  Mom goes to get her mother, my grandmother.  Grandma is 90.  She also doesn't know Mitch and I are in town.  While Mom goes to pick her up from her assisted living place, we chase the kids around.  Nephew is 4, niece is a little more than 1.  Little boy has giant brown expressive eyes with long eye lashes that he sometimes uses to be a complete skutch and other times when he's about to laugh really hard they grow wide followed by his notorious dolphin laugh.  Little dolly baby girl has a sweeter disposition.  She is reluctant to leave her Mommy or mine (mimi), though she always smiles at my dad.  When she does warm up to you and leans in for a hug or smiles with her new upper teeth, it's melting.  
Grandma arrives greeting Mitch with the enthusiasm that you might greet a gas station worker.  When she sees me she exclaims with joy how surprised and happy she is to see me.  I almost felt bad for Mitch in comparison.  If he wasn't such a dick.
Move forward another two nights.  We're a board game playing people and we're about to play dominoes.  Mitch, baby brother, proclaims "this is a strategy game and you guys don't have a shot at beating me in a strategy game."  Despite this confidence, he lost.  He lost the following night too when he promised he would not only redeem himself, but destroy us.  
Backwards two nights.  
Here's how to piss off your 4 year old godson:
Just jump into the room and make grandiose gestures with your arms and in a deepened voice and say, "I WILL DESTROY YOU WITH THE POWER OF KARATE," and he'll come flying at you.  Fake punches to the face and body are followed with hugs.  Squeezing him tight I tease him that I have to take a nap but I need a teddy bear and he's my teddy bear now.
Squirming and laughing, "I'm not a teddy bear Aunt Wori!!"
"But you're so cute like one!"
During grandma's visit when I also won at Kings in the Corner, I celebrated by jumping up and making it rain invisible money.  Little boy squealed with laughter at my victory dance.  
Grandma tells me I'm prettier every time she sees me.  She asks if I have a special man in my life.  There are a number of hilarious answers I have for this question, the truer the answer, the more bizarre.  When I tell her I don't, she says she's surprised I don't have a lot of gentleman callers because I'm so pretty.  "Oh I got callers," I say, "not a lot of gentlemen, I'm afraid."
Even though my brother has been split with his ex for sometime, our grandmother has not retained that information (she is 90) and presses on about it.  Mitch confesses that he does not have one girlfriend… but several.  Mitch also has a maniacal laugh that is funny unto itself.  "I'm getting girls left and right," he says, "the only person I know who has more girls chasing them is Lori."
"Hey Mitch," I retort, "how much did you pay for those girl sunglasses."
Turns out, the sunglasses look good on grandma too.
It's another night.  It doesn't matter the order, really.  Of course I want to see Marvel's Avengers: End Game, however, I'd yet to see Captain Marvel (and neither had my family) so I voted we do this.
In the car I'm mocked for loving super hero movies.  Which is nonsense.  Not that I'm being mocked, but that they are mocking me.  The first time I'd ever seen my dad cry was during an X-Men movie where Jean Grey died.  My Dad then confessed that after Avengers: Infinity War, it took him days to fully recover from his sadness due to the ending.
Cut leaving the movie theater parking lot from seeing Captain Marvel…
"That movie was so gay," Mitch says.
"It was really gay," Mom agrees.
"The gayest," Dad chimes in.
"I liked it," I say, "but it was a little gay." 
"No girl could ever beat up a guy like that," Dad says.
"It's just ridiculous," Mitch confirms.
"There were goblin aliens in that movie and the part you contest is the part where a girl beats up a guy?!!"
"This is so something Lori would do, tricking us into seeing this stupid movie that she thinks she relates to.  Look at her.  She's thinking about what she would do if she had those powers right now."
"No I'm not!" I deny, but I'm totally thinking about punching my brother in the face with his stupid girl sunglasses.  
Somehow Mitch got Mom to call a smoke shop and ask if they sold bongs.
"Do you, um, sell bongs?" She asks sweetly on the phone.  Mitch and I burst into laughter and our folks seem a little lost on our reaction.  "Do you, um, sell bongs?" We mock again, because it was hilarious.
"It's not easy being me," Dad says, and all of us scold him for it.  My Dad has a tendency to latch to catch phrases and then repeat them to death.
"You don't understand," Mom says, "this is what I have to deal with all the time."
"It's not easy being you," her husband replies.
By the pool, Lisa has to helicopter mom my niece, as little baby dolly girl likes to run straight for the water.  The sun shines, and I take to reading a Chuck Palahnuik book on a lounge chair.
"You think you're better than us because you read books?"  Mitch, who never appreciated the joys of reading because he's dyslexic, mocks.
"I don't.  You think I'm better than you because I read a lot of books."
It's the first time in years all of us were living under the same roof, and the first time ever with baby dolly.  In many ways, we're all more considerate than we used to be, but we haven't changed all that much.  Dad still blurts out complete nonsense.  Mom still tends to our needs before hers.  Lisa still thinks Mitch and I gang up on her.  Mitch still leaves messes wherever he goes.  And I'm forever a "Morty."
The long weekend goes by a little too fast.  It turns out, my nephew is the only person I know who tells people to "enjoy" sincerely, without a sarcastic tone.  Despite the fact that we are all, in fact, sarcastic as hell, we do enjoy ourselves and each others company.  A now too rare reunion with us all together.
"Well," Mitch says, "I know what I'm giving Lori for her 30th birthday."
"Girl sunglasses?"
We laugh. We enjoy.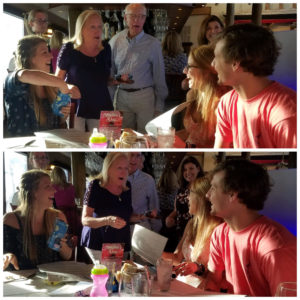 Birthday surprise!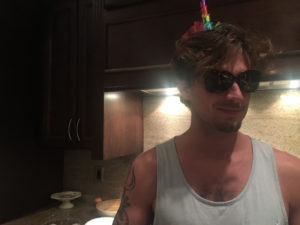 Mitch's 100% girl sunglasses.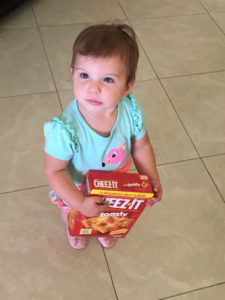 Little Dolly Baby hoarding the goods.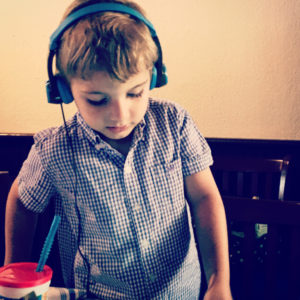 Little boy who does not yet know how to destroy people with the power of karate.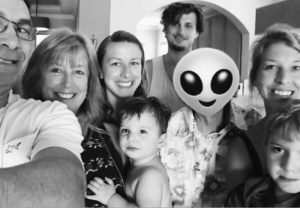 For some reason my Grandma's face is covered with an alien emoji courtesy of Mitch.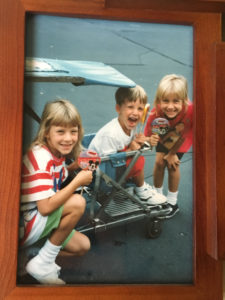 Lisa/Mitch/Lori, from a visit to Floria (Disney World) many suns and moons ago.
Go To Top