Decor
Lori Palminteri
October 10, 2018
"I bought fake spider webs to decorate my windows for Halloween."
"I cannot picture you being the type to decorate for holidays," this is coming from one of my closest friends.
"I actually love decorating."
And thus, in the middle of the night, I made a giant spider out of black card board to accompany my web decorated windows.  One of my other closest friends mocked me when he learned of my Christmas decorations.
"You put up a tree?"
"Yes."
"But you never have anyone over."
"True."
"So you just put up decorations for yourself."
"Yes."
"That's the saddest thing I've ever heard."
It's difficult to have company over when you live in a studio apartment.  Still, I think if I had a one bedroom I wouldn't have much people coming over.  My nest is a private haven.  My best friend in the aforementioned paraphrased conversation has only stopped in my apartment in passing, and while he loves the area I reside in, he finds my apartment "creepy and depressing."  The interior of my home is clean, but stacked with books and half written screenplays I've given up on.  I think it bugs him out because it feels like a Mausoleum that will look exactly as it does now as it will when I kill myself (lolololololol).
Even though my cousin once referred to me as a "closeted homemaker," I'd credit my cleaning habits to OCD, my creative cooking to never having a lot of money to go out to dinner, and my love for Holiday decorations is evidence that my inner child is not yet dead.  Perhaps not my greatest virtue, but I think my favorite, is that sometimes I still get as excited or can laugh at and be happy about something as much as I felt when I was a kid.  Even if such a warming feeling is fleeting, it's momentous, a gut feeling to live for.   It's for this reason that I largely love ice cream.  One time, a friend of mine asked, "how would a guy impress a girl like you?"  To which I responded, "I'm not that complicated.  Show up with a milkshake and I'll be floored."  
My quiet corner of Queens is home to a lot of families.  And people really get into their Halloween decorations.  As the resident of the front windows of my building, I feel a certain pride to my neighborhood to participate.  Maybe not so much to the neighborhood, but to the kids.  As a kid, I admired and adored spooky set ups.  Now, at 29, I'm happy to say I haven't completely outgrown that.
Our house was always a stand-out on the block.  My Mother has always been creative and crafty.  In the windows of our childhood home, my Mom cut out silhouettes for the window and back-lit them.  In the dining room window there was a silhouetted witch flying by the moon.  Upstairs, in the window where my room was, she made a silhouette of Jack and Sally from "The Nightmare Before Christmas" on the spiraled hill.  "The Nightmare Before Christmas" was one of my favorite movies, which I watched last year and found rather disturbing in many ways (but it's still great).
Furthermore, we always had kick-ass costumes that my Mom often handmade for us.  Even if they were store bought, she did alterations to make them look better (or fit us, because we were all quite tiny).  So, my adolescence is filled with magical (if not romanticized) Halloween memories.  When we got older and booze became the treat and the trick, it was just as fun, though more mischievous.  To this day I appreciate a clever costume.  I have two pirate costumes in my closet right now, but those aren't for Halloween, those are for my sex fantasies (hahaha).
Horror movies are fun as well.  For whatever reason, we loved being scared as kids.  Even though I'm an advocate of solo movie going, I'll always prefer company seeing a horror film.
My writing partner is a horror movie fanatic.  He's seen just about every horror movie ever, I think.  Sometimes I think he likes horror more than comedy.  We often pitch ideas to one another for horror features.  More than once we've been in a diner spitballing ideas when my writing partner would say something like, "we just have to figure out good ways to kill these people," and I always thought it would be funny if someone was eavesdropping on our conversation and we're throwing out murder ideas.  In a sort of experimental horror script he sent me, I basically did nothing but add a bunch of jokes instead of increasing the suspense.  Apparently I can't turn off the part of my brain that always wants to write jokes.  That switch is permanently on.
It's been years since I've attended a party or dressed up for Halloween.  I think I've been doing gigs on Halloween for the past few years.  To celebrate, I'll buy a bunch of Reeses peanut butter cups and watch something creepy in the darkness of the holiday, haunted by nothing but the voices in my head.
Finding your "voice" in comedy is something that takes years.  I'm not sure how to explain it to normals (not comedians).  It's like that sweet spot where you're yourself on stage but equipped with bits and punchlines to make your set look effortless even though it's taken years of hard work and lots of metaphorical punches to face (perhaps for some people, literal punches to the face).  And I've been called out on not quite breaking that ceiling yet.  I can write a joke.  See me live, check my twitter, ask any comic who's worked with me: my most consistent review is that I'm a clever joke writer.  This is something I am very proud of and worked hard at.  It was always more important to me to have the respect from comics over the adulation from audiences (however, a horrible career move).  Still, there is something lacking in my performance.  I know what it is, but I can't seem to grow into it for whatever reason (lack of confidence?).  I've been called out on it from comics, bookers, agents.  It's infuriating because I know they're right.  I would say, I'm not where I want to be as an artist, but I would vomit at my use of the cliche. The truth of it is, if any comic felt they reached the "I'm at the point where I could no longer be better than this," they would definitely be hacks.  The hacks are creatively bland, but they do seem to be happier than the rest of us.
A good friend of mine who is a comic, great story teller, and completely loose on stage, whom I was once very slow to warm up to(generally speaking I'm slow to warm up to anyone I haven't known since I was 9) said to me in a green room where we were being quite silly before a show, "I don't understand why you want to be the person you portray on stage.  You're not as cold as you pretend.  If this version of Lori is brought to the stage, you're going to be so much better than you think you can be."  And then I murdered him in his sleep because affection is disgusting.  If you read that and thought, "what the fuck is that supposed to mean?"  I'd say ditto.
For a while I've known the problem lies not in my stage presence, but in my everyday life.  That's why I'm struggling with it.  I'm not wearing a mask, but I hide in the cover of the shadows.  I like it there.  I like it under cover in darkness.  Something about the anonymity in being distant.
There's more tricks than treats in comedy.  Doors are always slamming in your face instead of being handed a full sized candy bar.
It's important to recognize the wins.  Not only recognize them, but accept that you earned them.  That you didn't merely arrive happenstance.  Working harder doesn't mean being harder on yourself.  Actually, it's probably counter intuitive to do so.
In comedy, you'll learn, your wins are often set up by other comics.  Clubs are ruled by unjust politics.  Industry is clueless when it comes to recognizing the ones who are actually special.  It's the good comics who do right by other comics.  Based on all the creepy shit you hear almost exclusively on the news, you might be surprised to hear me say that you would be heart warmed by how often comedians support and pull each other out the mud; be it financial trouble, depression, creative lulls, audition anxiety, having conversations where every sentence starts with, "what about…"  Most comics are assholes, that's true.  But they're assholes who'll have your back, and also, brutally honest in ways that would slice if it didn't make you laugh.
This past weekend, I was honored to open for one of the countries best: Gary Gulman.  If you've never heard of him, or seen his stand-up, check out this Conan set here. [Seriously, watch this.  His bit on state abbreviations is a bit that is constantly brought up by other comics about how great it is.]
Gary is so revered in the comedy community, I received many a "congratulations" from my comedian friends for opening for him on some of his tour.  No reason to congratulate me, I thought, it's really all Gary who's exceedingly kind and probably unaware of his own brilliance.
It is a win and it's not lost on me when a comic I wholly respect also respects me.  Often, I'm kind of perplexed by it, if not ashamed of my material when they watch.  How embarrassing, I'll think, my jokes are so fucking inferior.  I still get embarrassed about half my jokes when opening for Colin Quinn, but if there's ever been a human supportive of trying new material, whether it's weak, has potential, or is rather smart; it's Colin.  Plus, I'd rather he see me bomb trying new shit than perpetually killing doing the same material.  A lot of growth happens in bombing.
"Just keep going, don't quit," Gary says, among other encouraging words.  The theaters in Florida were beautiful.  Comedy is actually way better in a theater than a comedy club.  Comedy clubs are frequently not policed properly, and audiences can be dim.  Opening for a comedian who's audience is comedy savvy is about as good as gets.  Jokes that I love that don't always get the reaction I hope do so much better when the crowd is ready for not only comedy, but smart comedy, where they have to listen and pick up on subtle sarcasm and tags.
When I was a kid, and I dressed as princesses for Halloween, and visited Disney World with my family, I dreamed of performing in Disney World.  Performing stand-up in the smaller, but no less beautiful Dr. Philips Center, adjacent to the Walt Disney Theater in Orlando is something I couldn't even have fathomed when I was younger, or even in those early years when I started as a comic.  Now that I'm older, doing stand-up in beautiful theaters is the dream.  On occasion, I get to live it.  
After the shows, Gary does a meet and greet and his fans line up and clamor to take pictures with him.  It's no mystery why his fans love him so much.  He's so down to earth.  I stand in the corner, out of the limelight, sheepish and feeling somewhat displaced, even though I did well.  Fans who noticed me on the way by also asked to take pictures with me.  "I can't wait to tell people I saw her back when," some people complimented.  "You look like you're having so much fun up there," others would say.  I do, I thought, I do have a lot of fun up there.
In the morning, I'd return to New York, happy in the meantime.  Your ego is almost immediately tripped up when you have to return to a low paying day job after making hundreds laugh, and your mere existence in the comedy scene feels like it dwindles.  Back in my apartment, I'll collect my wins in a spiders web like the ones decorated in my windows.  Save them for later.  Because, inevitably, the mind plays tricks, and the monsters in your head are all too real.
"Just keep going, don't quit," Gary says.  And that advice is enough to stave off the monsters.  At least for a little while, anyway.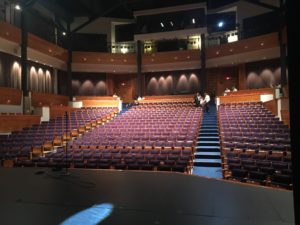 [Theater in Ft. Lauderdale]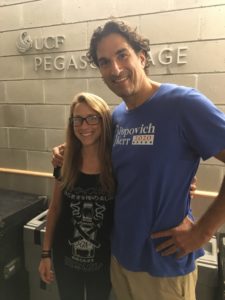 [I'm not that short. Gary is just really tall.]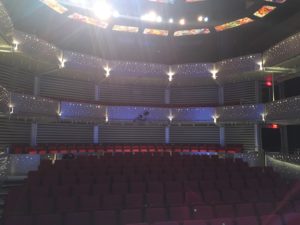 [Theater in Orlando]
Go To Top