Costa Rica: Part IV: The Hook Brings You Back
Lori Palminteri
February 25, 2019
"We need a hook," Nick, my writing partner, has been saying to me for two years, "come up with a good hook."
When I took various writing classes in my college years, no one told me that writing would actually be the easy part.  It's original and good ideas that are the true gems and challenge to come up with.  If you're reading this blog, you already know I'm a good writer.  But light bulb ideas– that's the treasure we seek.
When my brother said, "there are Hooks everywhere," while in Costa Rica, he wasn't talking about ideas.  He was talking about hookers.  Hookers, unlike ideas, were all around.
If you knew both my brother and my writing partner, I'm sure you would like them both.  However, they couldn't be more opposite.  While my brother and I are similar in many ways, in our cadence and adrenaline addiction with the same world view, the parts of me that are unlike my brother mirror my writing partner; distant, introspective, melancholy yet motivated in creativity.  One of my favorite compliments as a comedian has come from other comics who've said, "you're like a female Nick Griffin," which, from a joke writing stand point, is a huge compliment, but our similarities in our depressive disposition is not necessarily the best for either of us.
It's safe to say that there's some ego involved in my admiration of both my brother and writing partner.  There's this desire (if not need) for both of them to be safe and happy.  That if they find fulfillment and happiness, maybe I can too. Though my brother is not known for safety as much as my writing partner is not known for happiness.  Both of them are a continued source of anxiety, as I'm deathly afraid of receiving two phone calls: a phone call regarding my brother being hurt or in danger (which I have lived through at least once already) or a phone call that my writing partner killed himself.  There are plenty of people in my life I want around, but I try to keep the pool of people that I need to be around to a minimum.  In fact, if I find myself needing a person, there's a likely hood I'll push them away.  But when it comes to Mitch and Nick… I need you guys to be okay.
Let's return to the heat of the Central American sun.  On the first day, I had taken a conference call with my writing partner and manager who likes our most recent feature idea.  It's good news.  We need this.  Additionally, one of my favorite shows was looking for writers so I'd have homework on my vacation (this is a mixed bag because OF COURSE I'm going to submit but the likelihood of getting it is extremely improbable and while I didn't particularly want to work on my vacation, I so frequently fantasize about one day getting a phone call from my manager that I land a dream writing job and then I'll be able to afford so many more surf vacations).
And so… Keep the wheels in the head turning.  Not that I really have a choice in the matter of mind madness.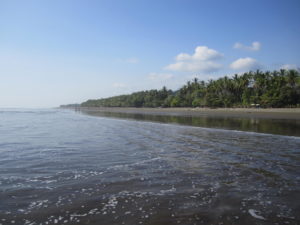 Day 4:
It's Friday, February 8th.  This is where the vacation starts to blur together for me.  In my refusal to get drunk because of stomach issues, we (of course) found (rather quickly) allies to get us weed, so I would spend much the vacation going forward high.  Also, for the most part, our touristy excursions had been done already (and I was near out of money) so we'd be spending most of the rest of our time at the beach, surfing and chilling.
It felt both like time was flying and also like I had been there for a long while, referring to the hotel room as "home."
We had surfed that morning as we did most mornings (because of the tides, the surf was only rideable in the mornings and the evenings).  We were in and out of the ocean, retreating to the hotel at times to get out of the sun, rolling joints, drinking beer (Mitch), drinking water (Lori).  [I spent most of my money on buying cold bottled water.] Some of my day was spent writing down ideas, none of them very good, but that's the thing about writing and ideas… the more you write the more likely you'll come across an idea.
The sunset surf session that evening was stunning.  A beach ball orange sun tucking itself in for the night in a turquoise sea.  Beyond the palm trees on the shore, clouds capture the light rays over the dense forest.  We surf after the sun has gone, with little light left over, the crescent moon growing brighter above until we can't see the waves coming at us any more.  I take one last ride in.  In the shallows, a prostitute is giving a man a blow job.  She is embarrassed when I surf near and pulls away.  Many times in my life I've been a cock block, but I'm proud to have cock blocked someone while surfing.  Who knew guys were so into blow jobs on the beach during sunsets?
Back at the hotel, we sat at the bar with our two favorite Costa Rica locals, Chef and R (he cooks, she makes cocktails at the hotels cafe.  They're both super talented and a cool couple).  Even though the cafe in our hotel is open to the public, the hotel itself is so set back and hidden, it tends to be just residents of our temporary home.  I type up my dumb ideas on my iPad, trying to shape them into something that isn't so dumb.  "Are you writing a novel," this dude from South Africa asked me.  "No," I say, "I wrote a novel and no one gave a shit."  [When people are shocked that I'm not constantly hit on, keep in mind that I make HORRIBLE first impressions with cold and off putting comments like this.]  At that moment, I wasn't working on a novel, but I am always working on a novel.
Chef makes us "the perfect sandwich," his own creation of fresh, raw tuna, seasoned and tossed, placed on tasty bun.  It is, in fact, the perfect sandwich (in taste, it's similar to a poke bowl, but on a dope sandwich).  Mitch is trying to convince me to go out.
"You're on vacation," he says, "live a little."
"But I don't LIKE nightlife.  It's a bunch of fuck boys chasing anything that moves, and women who base their worth on whether or not fuck boys want to fuck them.  How many times can you have the same dumb conversations with people?  I'm not interested in people who are interchangeable with the other person standing at the end of the bar."
Of course, I get accused of being lame (c'mon, I just charged waves, how is that lame?) and called a grandpa (my friends have been calling me "grandpa" since my teens which says a lot about me).  Additionally, my brother alluded to me having a low sex drive.
"Wait a second…" I got defensive, "just because I'm antisocial doesn't mean I have a low sex drive," any lover of mine would grin at that notion, like they know a secret, "I'm a weirdo, I just don't tell YOU that stuff cause you're my brother.  Also, I have no interest in fucking a fuck boy.  Trust me on this, any idiot who's proudest moment is a long keg stand followed by fucking pillow princesses with too much makeup should be given a participation trophy for being just like 25 million other dudes in the country who lack the ability to think for themselves.  Also, fuck boys suck in bed.  I'd get more pleasure humping that tree over there than fucking a fuck boy."   [It is kind of a grandpa rant, but it's also spot on.]
"Besides," I continue, "I really gotta work on this writing packet."
It wouldn't be my brother who would convince me to go out.  We befriended a girl my age from the states who has family from Costa Rica and comes to Jaco for the social scene.  "You get tired of talking to chickens after a while," she said, which made me laugh so she had my attention almost immediately.  "B," as I'll call her, was also a writer and a huge comedy fan (I withheld that I was a stand-up and just tell people I write comedy bits for radio.  I do do that so I'm not lying, because saying you're a stand-up is always followed by a lot of questions).  B and Mitch start ganging up on me to go out.
"I gotta get work done, plus, I'm worried about my stomach and I'm not trying to spend a lot of money."
B started waves her hands in front of my face and body.
"Um… what are you doing??"
"I'm washing the New York off you."
B check mated me by telling me all the bars that serve free alcohol to women.  Alright.  Let's go.
B insisted we check out the casino with an attached bar because of how many hookers there are.  "You just have to see it to believe it."  Mitch warns B that I can get real uncomfortable and awkward in social scenarios.  She's sort of perplexed at this comment, stating how I seem very laid back in the low key bar at our hotel.
"Trust me on this," Mitch says, "she's a little autistic.  She's gonna get real weird on us."  
If something is going to be funny or will make for a good story, I'm usually on board, so we make way for the casino/hooker bar.  Casinos make me cringe.  Casino gigs generally pay very well, but the people there generally make me want to kill myself more than usual.  Upon entering, I nearly go into a tale of working a casino, but I stop myself, remembering that being a stand-up is my secret identity.
Through the casino, to the giant island bar behind it, there is, indeed, more hookers than I've ever seen.  B and myself were probably the only girls in there who weren't hookers.  I'm not kidding you when I say there were at least 60 hookers.  The men were mostly older or annoying bachelor parties, drooling.  I'm not uncomfortable because I'm invisible.  None of the guys are looking at me.  None of the girls are threatened by me because I'm in jean shorts, a tank top with dinosaurs on it, and my hair looked like I had just gotten out of the ocean (which I basically had).  Not once did I put on make up that entire trip.  Like everyone else, I have my insecurities; but body image is not one of mine.  Still, I'm immediately itching to leave.  I'm willing to bet I was 1 of 7 STD free people in that place and I don't want anyone so much as brushing against me.
"I brought my grandma's sister here once," B says, "and she said she never seen so many hookers, not even in a movie about hookers."
This made me belly laugh so hard.  I regret not taking a picture/video of that bar because it actually was worth seeing (though I would have seemed really creepy if I did).  B played some slots while my brother played roulette with two men who were completely dead on the inside, no joy on their face, not even looking at the atmosphere dripping with sex.
Gambling brings me no pleasure so I people watched as my brother placed bets.  It's a grotesque scene of humanity at their shallowest core, proof that sex and money are all that people care about.  Spend enough time in a place like that, love would be nothing more than a word that someone told you in a lie.
It's not prostitution I have a problem with (unless, of course, it's a sex trafficking thing).  It's not a profession I would encourage women to go into, but hey, it's your body and life, so you do you.  Money in exchange for sex is fine, I don't care.  What really bothers me is the fake affection— the canoodling at the bar (I hate both canoodling and the word "canoodling").  If you're going to fuck, then just go fuck.  Stop pretending it's more that that.  That disgusts me.  Fake sincerity makes me want to vomit.  And I had already vomited a lot on this trip.
When they're done losing they're money, I'm quick to shuffle them out.  They follow me, but I take them in the wrong direction, into a corner with no exit.  "Where are you going?"  B asks.
"I am trying to leave."  Both Mitch and B laugh at my rigid body language, B now understanding what Mitch had predicted about my behavior.
We leave and head to a bar where women drink for free.  Normally, I'd be pouring free drinks down my face, but the fragility of my stomach kept me cautious.  My brother and I were both pleased that there was a foosball table.  Having grown up with a foosball table in our basement, my brother, sister and I are amazing at foosball.  I'll take on anyone and probably win (I almost made a guy in Iceland cry by beating him so badly in foosball, hahaha, pussy).  My brother and I vs each other.  He won by one point, but also, one of my offensive players was missing his feet.  I probably would have won if I had all my players.  Our competitive side surfaced and B said, "watching you guys compete makes me glad I didn't have siblings growing up.  Too intense."  Mitch and I laughed, but she was missing the point, that's what's so fun about having siblings.
"I'm gonna go roll a joint," I said, a legitimate excuse to leave the bar.  I retreated to the hotel where, as promised, rolled a joint.  But upon leaving, Chef and R were closing up, so I said, "hey, you guys wanna smoke this?"  They were happy to.  Myself, Chef, and R cracked a couple beers, smoked, listened to tunes and exchanged stories.  I'm terrible at being single.  Truly, I'm a domesticated single person.   This is much more my speed.  Chilling with a couple of good people who I actually enjoy listening to.
I cannot speak highly enough about Chef and R.  Down to earth, crazy hard working, good-hearted spirits.  Often, I've fantasized about the type of life they're living.  Talk to enough travelers, they will have great stories, but they are lonely, lonely people.  That sting is a little too real, having had more than just a taste as a road comic.  But Chef and R, laid back and in love, they were away from their families but they were at home with each other.  Together, they worked, traveled, experienced and explored different corners of the world.  Their romance was pure sincerity, a healthy couple with a gratitude and bond I hope to one day find.
We all exchanged stories and joked.  I told them we checked out the casino and they smiled while rolling their eyes at the same time.  R's English wasn't great, but her facial expressions were a universal language.  They asked me what I thought about it.
I said it was memorable.
"It's just like we always say in America, all anyone under 30 cares about is sex and all anyone over 30 cares about is money," geez, I really do say grandpa shit.
"Is that what people say?"
"No, I just said that right now." They laugh.  I can't tell if I'm actually being funny or they're just an easy audience.
"What do you care about?"
A pause.  I think about my answer.  What does Lori care about?
"The gasp moment," I mimic a short gasp, not sure if R knows the word "gasp" in English.
"Gasp moment?"  They questioned.
"Any moment," I think to explain, remembering there is a slight language barrier, "that wows you, you know.  That makes you actually gasp because it's just amazing.  Sure, an orgasm is a form of a gasp moment, and money can get you to gasp moments, like coming here and feeding a monkey, but sex and money aren't the core of a gasp moment.  It's… it's more pure in that it doesn't necessarily take you by surprise as much as it stops you.  A gasp moment is…" my head scrambles to find the best words to describe what is essentially my whole reason for wanting to continue to exist.  It annoys me I'm coming up short.  I'm a fucking writer.  Also possible, what I wrote above is a paraphrased version of what I actually said/meant to convey, but in reality I may have mumbled some shit that makes even less sense than that.
"…it's life," Chef says.  His girl smiles at him with with her eyes, nodding in agreement and understanding.
"Yeah…," I inhale, "it's feeling alive."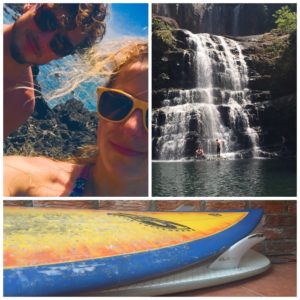 Day 5:
Now, it's Saturday.  We start our day surfing.  Surfing is not something you will get mentally tired of, but my body is starting to feel it.  The waves are small and clean.  There is simply no better way to start your day.
My brother and are sitting on our boards, waiting for swell to come in.  Suddenly, a school of fish (the fish about six inches long) jump out of the water, directly at me.  Fish were flying into me, all over my body, jumping head first.
I squeal as several fish smack into my torso and arms.  It hurt.  Whatever was chasing them they decided it would be safer if they jump their scaly bodies at me.
"Da fuck was that?!" I squeal, "I just got fish slapped by several fish!"
My brother and a couple of local guys are just laughing.  It's not something you see every day.
On this day, I may or may not have dosed LSD that I may or may not have brought with me.  I may or may not have seen all the blues of the sky mix and match with the blue water colors.  I may or may not have seen the greens of trees and the rainforest beyond pop with a golden shimmer.  I may or may not have felt such an overwhelming sense that we are undeniably connected, that love is more than a word, it's an energy.  I may or may not have been utterly grateful and shed some tears at the opportunity to come here, to have come from such a wonderful family, to have felt the rush of standing on a surf board to crushing on stage as a stand up.  I may or may not have seen faces in the rocks, once a liquid spewed from volcanoes, now a solid sculpture.  I may or may not have wasted a day in the best possible way.  A wasted day in reflection of the glint of a central American sun while reflecting in the gratitude of your internal dialogue isn't wasted at all.  And to anyone who may find the use of psychedelics extreme, I'd say you're more afraid of yourself than the drug itself.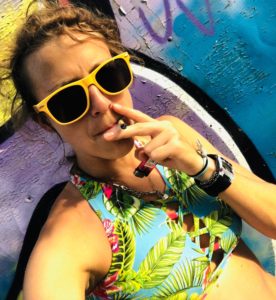 The day wears on and my high wears off.  The tide comes in and the sun is on it's way down.  The waves pick up and I'm ready for session two.  Board under arm, I shuffle across the street, barefoot from the hotel to the ocean.  The calluses have returned to my feet so they don't hurt as much as they did those first few days when I ran along the rocks.
The paddle out is easy.  It's shallow enough to walk half the way.  In the setting sun, the water is a deep sapphire.  When duck diving under waves, I can see silhouettes of fish.  Are these the same fish that slapped me this morning?
While the waves weren't the best on this day, this was probably my best surfing session of the trip.  At first the wind was a little too strong but just under an hour before sunset, the wind dropped and the swell settled into ideal conditions.  Wave after wave, I surfed with ease and a smile on my face.
At this point, I was no longer tripping, but the effects of LSD linger.  When I duck dive and water washes all around me, a moving image dances behind my eyelids.  It would be impossible to explain, even to my fellow pscyhonauts.  But it was something of a moving geometric pattern that nearly resembled the underbelly of an octopus.  Again, I surfed until I couldn't see the waves anymore, and the horizon was only visible because of a glowing pink line, residue from the sun bidding us a farewell for the day.
"My life is the best!"  I both think and feel as I leave the water.  Literally, I'm skipping down the beach in my ecstasy.  I suppose it would be hard for anyone to imagine who came into my life in my adult years that I used to skip all the time.  In middle school, I used to skip down the halls and even teachers made fun of me, but I didn't mind.  After all, I was the one so happy I was skipping.  See, I wasn't always depressive.
As I puddle jump, I hear, "Hola, hola, hola!" the voice of a little grom.  A little kid is skipping next to me, grinning ear to ear.  Bending to one knee, I high five the kid, he screams with laughter and then we skip together like we've just won something and we're celebrating beyond the finish line until he's too far from his mother and returns to her.
Mitch had surfed at Hermosa beach that evening.  A beach not far from Jaco, where the swell was a little bigger, but there weren't a lot of peaks, so it was crowded with better surfers which is why I stayed behind at Jaco.  We'd reunite back at the hotel.  After Chef made us whatever foods of our hearts desire, we went out to some bars.
Again, the scene quickly bores me.  Fuck boys and fake plastic girls.  I was told I would be hit on because I was clearly not a prostitute and guys would try to get laid without paying before settling for a prostitute.  They'd be wasting their time with me.  They're all gross to me, and I joked that any man who covets me pays with their soul, and even though it's a joke, it kind of isn't.  One dude made a feeble attempt to hit on me…
"Where you from?"
"New York."
"Cool.  I'm live on the Big Island in Hawaii."
"Hawaii is my favorite place on the planet."
"You should come visit.  You'll have a place to stay."
"We literally just exchanged four sentences."
"What are you, 23/24?"
"I'm almost 30," I confess.  This trip is my closing of my 20's celebration.
"Well, you're very beautiful for your age."
For my AGE?  I laughed in his face and left him standing there to go talk to my brother who was chatting it up with two hippie chicks.
Zoning in and out of conversation wasn't a side effect of having done drugs that day, I'm just always that way.
"I'm gonna go back to the room and roll a joint," an honest excuse to get the fuck out of there.  Walking back to the room, some local guy was grabbing his junk and speaking in Spanish.  I don't know a lot of Spanish, but I'm 90% sure he was saying, "I WANT YOUR PUSSY.  I WANT YOUR PUSSY."
Geez.
Like the night before, I'd roll a joint and then hang out with Chef and R after they closed up.  Staying at the hotel had many perks, but having their company was perhaps my favorite bonus.  Life does sometimes feel fatalistic.
Chef was telling me about his motorcycles and I shared the story about the time my brother was hit on his motorcycle.  Mitch always says he thinks I would love motorcycles.  That it's the closest thing to that rush of surfing a line.  He's right, I'm sure, which is why I don't even want to try it.  There are some things I'd rather not be addicted to.
"I love it. You just…" Chef says, smiling wide, "let your mind go blank and zoom…"
"That feeling of being alive."
"Yes, yes."
We drink to that.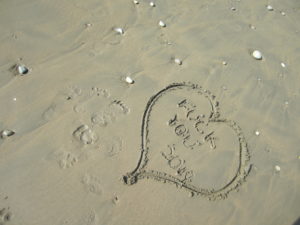 Day 6:
It's a feeble effort to wake my brother for a dawn patrol session.  He's hung over, so I leave him and hit the beach.  When I first got out there, it was just me and one other guy, but as the sun rose so did the other surfers.  In the distance, a manta ray leaps out of the water.  Manta rays are like giant sting rays.  Their wing span can reach up to 22 feet (imagine!), and can jump several feet in the air.
"OH MY GOD!" I exclaim, "DID YOU SEE THAT!"
The other surfers don't seem nearly as stoked about this.  In my life I have been extremely fortunate to have close encounters with all sorts of marine life, though this was a first.  I hadn't even considered I would see a manta ray jump out of the water, ever (I'd see another the following morning while surfing).
Back at fort, Mitch was struggling with his hangover.  Details of his debauchery were revealed… let your imagination run wild.  While Mitch was in recovery from partying, I got to work on my writing.  It was Sunday, and I needed to send over drafts to my manager in the morning who would surely have notes upon notes.  She loves notes.
Later that day, I'd get my brother motivated to go surfing (if you're keeping track, we've been surfing pretty much every morning and every evening.  Both of our stomach's were on the fritz so our calorie intake was low, and as a result we were both getting skinnier and and more shredded every day).  That night, we'd chill, drink and smoke with our Costa Rican besties, Chef and R.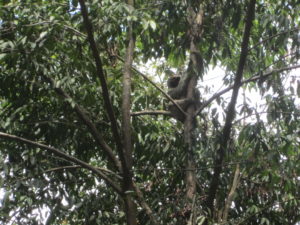 Day 7:
Dawn patrol.  We'd throw our boards in the rental car and drive to Hermosa beach to surf.  As stated before, the waves here are a little bigger.  More ideal conditions for my brother, the superior surfer, while I got knocked around a bit.  We surfed until the tide receded enough to turn the waves into mush.
Upon returning to Jaco, my stomach began to cramp.  Oh no, I thought, not again.  Mitch and I would both end up running to the bathroom with intestinal problems.  I threw up my breakfast.  After Mitch purged, he felt fine, while stomach cramps crippled me to the confines of the bed.  The pain was so much, that I didn't even have the energy to walk several steps to my phone and send my manager the writing document I worked on the night before.
The good news was I knew that once whatever was in me was out I'd be fine.  The bad news was I was going to spend hours in pain, my body cleansing itself of everything inside me (yet again).
What sucks about nausea and stomach sickness is, unlike other pain, I'm unable to read or write.  I can do nothing but hold my stomach in pain and wait for it to be over.  In and out of fever dreams, I dreamt of 823 (the address of our childhood home), being in the care of our sweet mother, getting ready for stand-up gigs, a talk with a now estranged ex-lover, shark infested waters).
Mitch asked me if I wanted to get Chinese food.
"Are you retarded?"  
Mitch looked confused.
"I've been puking and shitting all day and you suggest we get Chinese food?  From Costa Rica no less?"
He laughed, realizing I was right, but he still went to get Chinese food (I had pedialyte and crackers).  When he returned with the Chinese food, I exclaimed, "ew!  That looks exactly what just came out of me from both ends.  That looks terrible."
"It tastes terrible," Mitch says, laughing, not even able to feign liking it.
When evening arrived, I was feeling better.  Mitch asked if I was up to surfing.  I agreed, though the thought of laying on a hard surfboard on my aching stomach nearly made me wince.  Then again, being in the ocean might make me feel better.  If for no other reason than I didn't want the day to be a complete wash, I joined my brother surfing.  Paddling out did hurt my stomach. Though it would be Mitch who would throw up in the water.  The first wave I took, when I dismounted I landed directly on my stomach.  Under the waves, I thought to myself, "do you just enjoy being in pain?  What is wrong with you?"
"I dunno," I thought in reply to myself, "maybe I hate myself, maybe I believe you can only know your true self when you push yourself to your absolute limit…  it's there where you see your true colors."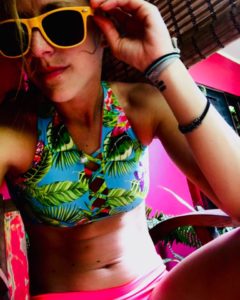 [You too can have abs like this if you surf twice a day, hike every day, and vomit from food poisoning every three days.]
Day 8:
Our time in Costa Rica was closing to an end.  In some ways, I was ready to go home, until I remembered that I wouldn't be returning to New York at it's finest.  I'd be returning to New York in winter.  Dark, depressing, dead.
Both of us were restored to our strength that morning.  We were going to head to Nauyaca Waterfalls, followed by going to Dominical Beach, where the waves were supposed to be very good.
It's about a two hour drive to the falls.  I drive, passing slow drivers along the roads, calling them "pussies" under my breath.  We listen to The Clash, Red Hot Chili Peppers, Tame Impala on our way out, the music and scenery a combination that made the drive feel like only a few passing moments.
The Falls are just under an hour hike.  Normally, an hour hike would be nothing to us.  But an hour hike in 90 degree weather is a challenge.  Notwithstanding the fact that less than 24 hours ago we were shitting our brains out.  Mitch may be the alpha in a trip such as this, but here I am his mother, bugging him to hydrate.  Hydrate, Mitch, and not with soda.  Soda is poison, it is not hydrating you baby brother.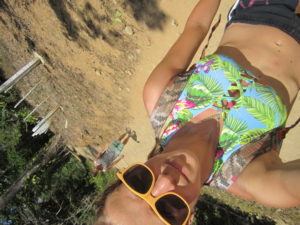 The waterfalls are natural wonder.  Two levels, we're able to climb both.  Climbing is often more about shifting your weight than actual climbing.  On top of the waterfall, we debated if you'd live if you jumped off of it.  We were told, however, that jumping off the waterfall was prohibited.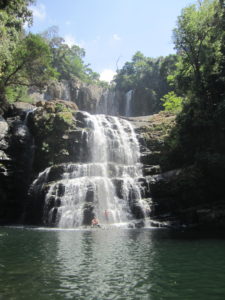 Swimming in the pools at the base of the waterfall was a divine refreshment from the hike.  Along the edges of the stream, the tiniest frogs I have ever seen hopped away from our steps.  So cute!  Here, we'd rest, swim and explore before heading to Dominical beach.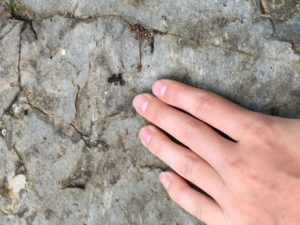 Dominical beach was only about 15 minutes away from the falls.  The tide was still pretty low, but surfers know how to read oceans.  The swell was going to shape up when the tide came up and the wind dropped.  It did.  These would be the best waves we would surf the whole trip.  Mitch would be shredding, showing off his floaters, cut backs, 180's.  As for me, I got two little barrels (the word "little" here is superfluous, as I am terrified of big waves, so any time I have ever been barreled or will be barreled will be small waves).  However, I was also rocked a few times.  From air dropping on two waves, I'd eat shit so hard.  One of those times, my leash got wrapped around my leg, snapping hard.  If I hadn't been under water I would have squealed.  Getting your shit rocked is scary as fuck.  As much fun as surfing is, it is dangerous and it is frightening at times:  Like if you're underwater, tossed, your eyes are open but the pounds of water are pushing you further under, so much so that you can't see light, only dark.  The only way you know which way the surface is is because of the leash tugging your leg.
Surfacing, take a giant breath, because there might be another wave right there, about to hold you under again.  This can happen over and over, each time, depleting your energy more than the last time.  I am scared.  My limits have been tested throughout my life, so I both know what it feels like to get too close to drowning as well as knowing my strength to dismiss the fear.  It's a struggling fight, but I will be okay here.  I got this.
We surf till the sun goes down.  It's a beautiful sunset.  The type of scene that makes your whole existence seem worthwhile.  We are tired as fuck.  Between hiking in the heat and surfing, our bodies are beat.  On the drive home we joke and jest, speaking of our family, friends, the possibility that we both may have intestinal parasites, what we want for our futures versus what will probably happen, the battle of the sexes, conspiracy theories and half truths.
Surfing always makes you starving.  After a hearty meal, we hang with Chef and R.  Tomorrow is my last day (Mitch would be staying a couple extra days).
Don't be sad, I think to myself.  Don't be blue.  
But blue is my favorite color.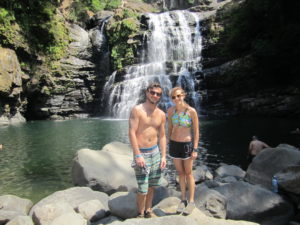 Day 9:
Technically, I'd be leaving on the 10th day, but early in the morning before sunrise.  So really, this was my last day.  I set my alarm for 5:30am for a dawn patrol session.  When the alarm rang, I literally couldn't move my body.  At 7:30am, I'd get up and go to the beach to check out the waves.  The waves were small, clean, ridable, but I knew the conditions weren't ideal enough for Mitch.  From the wipe out the day before, I had a giant bruise on my left leg just above my knee.  My whole body ached.
Returning to the room, I told Mitch I was in too much pain to go out there and that the waves would probably be good again in the evening.  He didn't protest.  The combination hike/surf session the day before leveled us.
My body had:
9 bruises
3 cuts
1 itchy rash from getting stung by something in the water
Numerous bug bites
Two open blisters
My lower left back completely tweaked (it only didn't hurt when I was laying down)
I felt less like I went on vacation and more like I had been in a battle.
It was an easy going day.  Mitch was having bad stomach cramps that day, so I climbed along the rocks of a peninsula around Jaco.  I love climbing on rocks.  It's a dance.  One rock to the other.  Step by step by step.  Let the mind go BLANK.
When I finally turned the corner of the peninsula, I heard the loud cries of creatures that sounded like dinosaurs (birds, of course).  It was two scarlet macaws!  Beautiful, endangered birds, chasing each other.  They're in love!  Or one is trying to rape the other!  I can't tell!  The nature show almost feels like my reward for climbing around this rocky and rigid shore on my own.
Mitch is drinking pedialyte in attempts to feel better.  I need to break from the sun because I'm starting to burn.  On VH1 (the only English channel), there's a Peter Gabriel music video marathon and if you would have told me we would have spent a couple hours watching Peter Gabriel music videos on vacation, I'd be like, "what?"  Those are trippy and not really in  a good way, though it did provide for solid mocking fodder.  Also, all of his songs are the same formula.  I will forever associate any Peter Gabriel song with this trip.
At the end of the day, we'd go surfing, even though the waves weren't very good for my final surf session.  Still, when the sun goes down, it's the perfect ending.
We tell Chef and R it's my last day.  They tell me that when we return, we can stay with them at their house.  When they closed up shop, the four of us would pack a bag of drinks, roll some smokes and head to the beach.  The stars twinkle above, clouds come and go, adjusting the night light that is the moon above us in the sky.
Peaceful.  The sound of the waves rolling in front of us.  But New York is calling me.  Comedy has a hook in me and I want to go back.  I like being a comedian.  My work is my dream.  The family I was born into are supportive.  The friends I've made are funny as hell.  One of my favorite comics is my writing partner.  Hard work has brought me to the orbits of my heroes.  Despite the defeats, I am growing. There's still a possibility I'll change gears, start a new life in a place like this, but not now, not yet.
So what if my bank account lacks funds.  My life is full of gasp moments.  Find places that remind you the world is fantastic.  Find people who make you laugh so hard, you're gasping for air.  Find passions that reward you when you work at them.  Find what makes you feel alive.
Take a deep breath.
Gasp.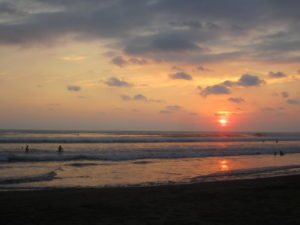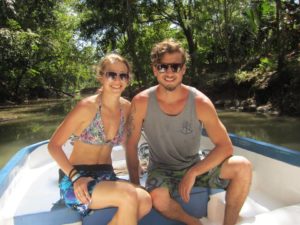 Go To Top