Come Find Me, The Future & The Vortex To Get You There
Lori Palminteri
September 24, 2019
I. Charlotte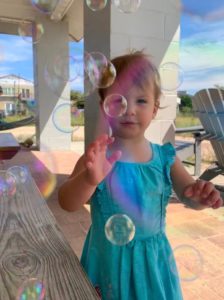 Charlotte.  It's too hard a name for my niece to pronounce, but now that she's got down "wori" she loves to say it, over and over.  And I love hearing it, over and over.  When my sister was pregnant and told me she was naming her baby girl "Charlotte" it was a weird happening.  Because my sister never read the novel I wrote.  She doesn't really know anything about, Lucid, a book I wrote when I was 26, about a troubled young woman who starts hallucinating characters she made up, slowly but surely becoming unable to discern what's happening and what isn't.  The main character/narrator is, of course, somewhat a portrait of the person I was at that time in my life.  In the book, she has a cousin named "Charlotte" (who is actually based on one of my cousins, not named Charlotte) whom she admires so much— because Charlotte is smart, sweet and beautiful— there is something about her that radiates and people are naturally drawn to her glow and outlook on life.  Again, my sister knows nothing of this character or book.  The other strange thing, is one of the main settings in the book is a jazz club.  This is strange because a couple years after writing this book, I'd end up working in a jazz club.  The good news here is, the original ending of the book I had killed off the narrator by suicide, but I changed it, not because I thought it was too dark, because I thought it was too predictable.  Furthermore, the book is a self fulfilling prophecy of how friends can want to be lovers but never at the same time.  The narrator is obsessed with someone from her past who she always wants to return.  The only thing keeping her in her job is her admiration for a co-worker, whom she thrives for his approval.  Though the last time I looked at Lucid, I found myself to be more similar to the narrator's best friend; a foul mouthed alcoholic who is in love with a married man.  Now I can't look at it.  There's some eerie self fulfilling prophecy in that shit.
II. Geocaching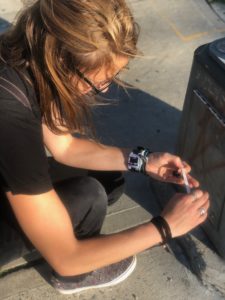 "I don't understand what we are looking for?"
"It's like a little thing.  It's really small."
"We're looking for something we don't know what it is but it is really small?"
"Yes."
Geocaching is a ap for real nerds like myself and one of my best friends.  Cut to us walking around Astoria Park scouring shrubberies looking for some object that we had no idea what it was or looked like.  The ap tells you where there are hidden "geocaches" which are usually little vials with notes or whatever.  Sometimes they can be bigger and have little treasures.
Much to my dismay, we could not find the geocache in Astoria Park.  Like a little kid, I was disappointed.  Failed.  Alas, there was another geocache not in the park but not far away either.  The hunt goes on.  Cut to us scouring Ditmars Blvd, looking like two weirdos, but this is Queens so no one is especially alarmed, plus, neither me nor her are especially intimidating.
At the bottom of a street light, I pulled out a tiny black vial, no bigger than your fingernail.  I unscrewed it and pulled out a paper spool.  No one had signed it yet.  We were the first.  Huzzah!  Nerds!  We placed our stamp on it and returned it.  Time is an adventure when spent with the right people.
III.  Mother Alien & The DMT Elves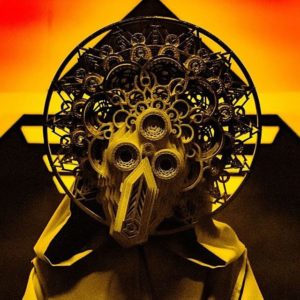 "I was alone with the alien and he left me.  He wanted nothing to do with me," my buddy Mike lamented, and no, he was not hallucinating.  We went to this exhibit in NYC called "Zerospace" which bills itself as a portal to another dimension.  For what it's worth, we had a great time, though I'm not sure I'd recommend it sober?  Yes, that question mark is intentional.
The 'inter-dimensional beings' wore these masks that weren't too far off from the DMT Elves, though impossible to describe.  The creatively of the space was admirable and I very much liked the "light rain forest" where I spent most of my time breathing in and out with the glowing vines, feeling like you're underwater with phosphorescent.
"When you want to meet the real aliens… you know who to talk to."
People often think you're insane if you've tried DMT.  But I think you're insane not to.  You can't tell me there's a way to see God without dying and expect logic to win over curiosity.  Then Mother Alien shows you that there is logic beyond anything we could comprehend.  And you're okay with it.  Because you have no choice.  You have no choice to accept that there is something beyond and to pretend we have any grasp over that is as pretentious as it is asinine.
IV.  A Death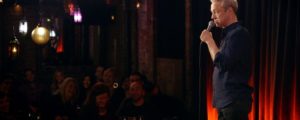 My writing partner calls me to let me know that no one wants to buy our script.  Our third one together.  It took us about nine months to complete it.  A full pregnancy.  Nine months.  Back and forth.  Write.  Meet.  Write.  Meet.  He edits down my long dialogue scenes.  I create a little depth for the characters.  Punch up.  Get notes from the manager.  Re-write.  More jokes.  Edit.  Edit.  Edit.  Done.  The script goes out.  And no one gives a shit.  We write another script together and we bury it together.  It feels like a loss.  It is a loss.  The worst part it— it's a really fucking good script.
Another year goes by and we have nothing.  It feels like my fault.  Wasn't I supposed to get heat?  And not get turned down for late night sets over and over?  Do I suck at this?  Does my writing partner hate me?
We attempt to pitch ideas.  Our manager requests a romantic comedy, considering both of our stand-up routines revolve around dating and awful dating.  He would love to sell a horror script.  As for me, I've always been partial to action comedies.
"Whatever we write— in the million to one chance we actually sell a script, that's the genre we're married to.  That's the genre we'll be writing the rest of our lives."
"I don't care.  I just want to write."
"This is serious, Lori."
"I am being serious."
Listen to our podcast.  Scary Monsters on iTunes.  Listen here.
V.  Lungs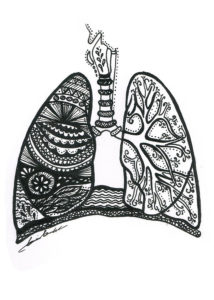 "Oh my god!  This is so sad!"  A co-worker says in the break room as a large flat screen TV broadcasts the recent deaths of vapers, interviewing an 18 year old who allegedly has the lungs of a 70 year old man.
"What did they expect!  Of course it's terrible for you.  These people are idiots."
Whether or not the stare I got was for being insensitive or the fact that I don't usually speak much or perhaps both was a reminder that I should just keep my mouth shut— tight.
It always surprises me when athletes smoke.  Being able to run long distance without getting winded and maintaining that stamina is important to me.  For surfers, lung capacity could mean life or death.
Coincidentally, my boss and I were both on the Jersey Shore at the same time.  He has a second home in one of the nicer areas.  I was doing comedy off the boardwalk at Borgata.
"It was fun!" I said, "not only the shows but I got in some surfing as well."
"I almost drowned on the Jersey Shore many years ago."
We then exchanged almost drowning stories.  For him, he was ocean kayaking with his brother.  You see, when Mother Ocean rocks you, it's easy to go into a panic.  Though my boss had a legitimate almost.  A pretty scary one at that.  The powerlessness that you feel is almost as terrifying as knowing you're almost out of oxygen.  That every second counts.
This is where we differ.  He said he never tried riding waves again.  Pretty sure I was back in the ocean days later after I almost died.  Limits were tested and to this day I have PTSD when it comes to big waves, but that feeling of riding waves is second to none.  I want it.  I need it.  I love it.  It's a similar notion with comedy in the sense that, despite that learning stand-up requires (years of) humiliating yourself over and over, and getting good at stand-up leads to heart break over and over, the feeling of new jokes killing is special.  I want it.  I need it.  I love it.  Side effects may include panic attacks making you feel like your lungs gave up on you all together and you're almost out of oxygen.
I don't want to fulfill the future I have predicted for myself.  I want something more.
Go To Top