Breakneck Ridge
Lori Palminteri
April 21, 2018
It wasn't the plan.  The plan was to hike Bull Hill.  But I couldn't locate the trail.  The first place my gps lead me to was a sketchy gravel road, and I turned back because I drive a Hyundai Accent, and they're not exactly known for their off-roading abilities.  In town (Cold Spring), a security guard was blocking some sort of school event, so I stopped to ask him if he knew where the entrance point was.  He had never heard of Bull Hill.
"It's near Breakneck Ridge," I say.  This, he knows.  This is well known, what with a sexy name like that.  He gives me directions to Breakneck.  Breakneck Ridge was already on my climbing list, but it was one I had hoped to have a climbing buddy for, given it's name.  I tried one other route to attempt to find Bull Hill.  This lead me to some sort of summer camp, now abandoned and desolate in the off season.  The cabins void of any giggling cheers from kids having fun.
There was a main cabin with a "nurses station" sign in the window, with a car parked outside, so I figured, let me go ask this person, because clearly I'm not in the right place, but I know I'm close.  I knock on the door.  Nothing.  I turn the handle.  It opens.  "Hello?"  I say.  Then again, louder this time, "hello?"  No answer.  I take two steps into this little lobby.  Someone has taken off their sneakers and left them here.  Peering into the little rooms in the hallways the hairs on the back of my neck rise a bit, as the doorways reveal tiny-like patients rooms, but in one of the rooms the bed is turned on its side.  And then I got really fucking creeped out, and returned to my car.  My writing partner and I are trying to write a horror feature, but I don't want my ideas to come from life experience.
So, Breakneck Ridge it is.
There's no official parking for Breakneck but you can pull over on the side of the road near this tunnel.  I've a light backpack carrying: a water bottle, two granola bars, my cell phone, a back up charger, mp3/headphones, a knife, my car keys, a map (that I can't read so it's useless), paper towels (you know, in case you have to poop or something), a pen and small notepad, an extra pair of socks; and off we go.
I stop to take this picture.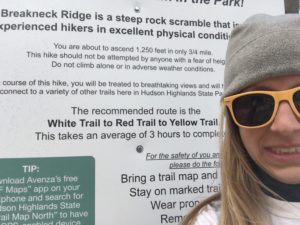 And I mock it.  But it's about time Lori starts listening to these signs because they are there for a reason.  Very quickly, I would learn why that sign is there, and why it's called "Breakneck Ridge."
At first glance, I think, "oh my god, one slip, you will really fucking break your neck."  And then I thought, "awesome."  I climb.  There are a group of three I quickly surpass.  They are not so sure about it.  "Don't think about it," is what I want to say to them, but I say nothing, I'm already not thinking about them. I'm just thinking about where my hands and feet are and where they will go next.  Quickly, I ascend.  Too quickly, because I'm already breathing heavy, and I assure you, I am in good shape.  Yes, there is a vanity level to why I exercise, but more than that, I pride myself in being athletic.  Even though I am small, I am still strong, and for climbing, I am lithe, light on my feet, and have good balance.  I got this.
I approach another group of three.  They let me pass them.  I skimmer right up the creased rock.  "Don't hurt yourself," someone calls to me.  "That's the plan," I say but not loud enough for anyone to hear.
At times, I actually burst into laughter about how difficult and straight up frightening this climb is.  There are a few times I go shaky at the knees.  Probably I should have listened to that sign.  Probably I shouldn't be doing this alone.  But would anyone help?  If my footing was bad and I slipped to my neck breaking death, it would just be a horror show for my not-existing climbing buddy to witness.  Then, I thought, maybe it was better to spare anyone such a scene.  Better off going alone.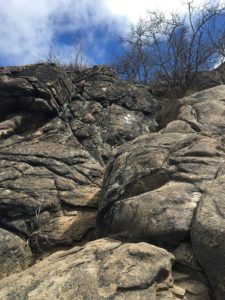 [The above picture is from my point of view going up.  Look closely.  There is a white marker arrow pointing to a way up.  And this isn't even the more intense parts of the climb.]
I reach the first summit, and it's no fucking joke getting there.  Even if I wanted someone with me I couldn't think of that many people I knew that both would and could do it.  I'm not saying just physically.  I mean, mentally.  You have to be half mental to look up a jagged ridge and want to climb it… for fun.  It made me miss my brother.
There are two other guys there.  I take a photo of them.  They take this below picture of me.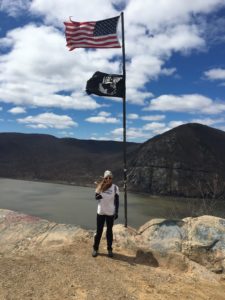 The one guy had gone to this point before but didn't go further because he had come on a particularly windy day.  Which makes sense.  It was windy on this day, and you felt like a little extra gust could be just enough to push you to your death.
We didn't make much talk, which is how I prefer it.  And they didn't murder me, which I also prefer.  Then, I ran ahead of them, moving fast, like a primate who's done this a bunch of times before.  I think for a second how odd I must seem to them.  Not necessarily because I'm a lone hiker, or even a girl, but more that in my baggy hiking gear, I must look like a kid, running up this mountain.  This makes me laugh for some reason.  The vision of me being this feral child climbing a rock ridge.
My folks, adventurers themselves, would think this hike was cool.  But also dangerous.  But also cool.  But just because it is dangerous doesn't mean they would discourage me from doing it, but they'd much prefer I wouldn't go it alone.  "No one's around when I'm off," I've told my mom, "and not everyone likes to do this kind of shit."  "What about one of your comedy friends?"  
My comedy friends?  There's a double meaning my mother is implying here:  the first is that she knows most of my friends are comedians and that in the rare moments I socialize, it's with other comedians.  The second is, that they're all guys.  She sees this as a guy can protect me and also, guys are athletic.  But comedians, generally, are not athletic.  My comedian best friends are either alcoholics or recovering alcoholics.  Not only would they have no desire to hike, let alone climb, it would be me that would have to save them up here on the mountain, and I don't want that either.
I didn't take a lot of pictures because I was both afraid I'd slip and fall or worse, drop my cellphone.  I take a little break on a rock to drink water, eat a granola bar, and enjoy the view.  It's peaceful here.  I'm not sure how long I sat there, but long enough for the climbers who took my picture to catch up.  I startled them.  I didn't mean to.  I was literally just sitting Indian style on a protruding rock, but I guess they just weren't expecting me, or anyone, to just be sitting on the edge of a rock up there.
"Hey guys," I said, and then I threw my backpack back on and scurried up the mountain, leaving them far behind.  For a while after that, it was just me.  Sometimes I thought the hard part was over, only to be proven wrong.  I like it when the mountain proves me wrong.  It makes me smile.
I pass one more couple.  The girl is complaining to her boyfriend that she hates heights and hates him for bringing her here.  She's half kidding, half not.  They both kind of chuckle.  "Seriously…"  she says to him, "I have the worst taste in men." This makes me laugh, to myself.  I think, I got you beat on that.  I think, I got you beat on your poor taste in men and your ability to climb, as I quickly surpass them, avoiding eye contact.
Once I pass them, I'm off to the summit, alone.  After a time, I can't even hear anyone in the distance.  Perhaps they've given up.  The trees are still bare, green wanting to, trying to reach out, but Spring is just not quite Spring yet.  The summit is pretty despite this.  Despite the reminder of Sister Winter.  I'm sad for a moment, if only in knowing that there is a sadness in going through a hardship alone, but it's even sadder to have a win, a victory, a moment of beauty or accomplishment, and have no one to toast it with.  It's a fleeting thought.  And then it's gone. As I am too, now descending.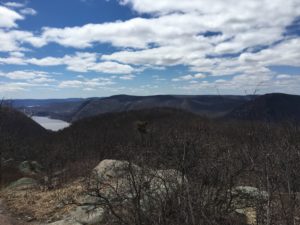 The descent is on the other side which is not nearly as treacherous and thank goodness, because it would be scary as all fucking hell to go down where I climbed up.
On the climb up, there's almost nothing to think about.  It's a rush and your attention must be on the rocks and your feet and your hands.  Distraction could mean serious injury, so it all goes to the side.  All of it.  None of it matters.  Only you and the climb.
The descent is different.  More dangerous in some ways.  The ground is thawing, so it's slippery at parts, so you have to be careful.  You have to pay attention.  But you're able to think now.  Out here.  Where there's no one.  Just you.  Birds chirping.  The larvae casing of some bug I don't recognize on the trees.  Gross.  Bugs.  The faint scent of a skunk somewhere.  Also gross.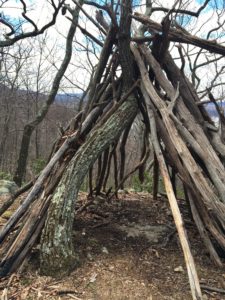 [Someone started building a house for me!  Perhaps I'll live here in solitude away from people.  From now on, you can call me "Lori."  I'm not going to change my name just because I decided to abandon society.  That would be stupid.]
Sometimes, I just listen to the nothingness.  Think about all things.  There's a lot to think about.  Sometimes I play some tunes, and I hop along to the beat, skipping sometimes, and singing along, because it doesn't matter.  I can be silly, I can sing poorly, I use a tree branch for balance and as the hand of a dancing partner, because it doesn't matter.  The trees don't watch with judging eyes.  They don't care if I'm scared trembling or smiling goofing off.  It's just the same to them.
Make no mistake.  I am scared sometimes.  I am scared on the climb up, that if I'm not careful and miss a step, I'll break my ankle and never climb again.  I am scared in the less dangerous part, out in the open, no other human in sight.  All alone.  That humbling feeling.
In truth, I am scared of everything.  I am scared of leaving my apartment.  I am scared of talking to people.  I am scared that I am not a good writer.  I am scared that I will fail.  I am scared that I will lose control of my head.  I am scared the people I love will go away.  I am scared of the ocean when I paddle out to surf waves.  I am scared of the dark.  I am scared a bug will crawl in my ear and lay eggs on my brain.  I am scared.  But fear can make a good companion.  No one tells you that.  Even if they did, it would be hard to learn, or harder even, to accept it.  To recognize that it's going to be with you all the time, so just hold it's hand.  Don't let it lead.
There's a waterfall ahead.  Nothing major.  But I can hear it before I can see it.  And I can see two people meditating on rocks where you're to get across the stream.  From a distance, I thought one of the men was shirtless.  Which would be weird.  Because it's cold out.  I approach slowly, not trusting.    I see, then, the man is not shirtless, but his shirt is a nude color (those douchebag sunglasses I was wearing are not prescriptions so my eye sight is not great with distance).
I snap this picture.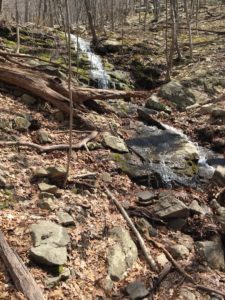 The two men are just outside this picture to the lower right hand corner, but I don't like to take pictures of strangers out of respect for their privacy because I don't want people taking my picture without permission either.  The older man, a shaman of some sorts, is doing some sort of guided meditation for the younger man (40s?).  They don't acknowledge my presence.  They don't even look up at me.  I don't linger.  I move on.  Passing on the rocks so close to the shaman that my pants almost brush his shirt and still, he doesn't move his gaze and neither does the other guy.  As if they were ghosts.  Or I was.  It was eerie and tranquil at the same time.  While passing, I thought to say something like, "excuse me" or "pardon me" or "I'm sorry," but instead I said nothing, careful not to disturb whatever peace they were trying to obtain.  Perhaps the shamans silence was the same notion for my peace.  As though he knew I would continue on without brushing into him at all, even though for a spit second we were just a centimeter apart.
I hiked on, and once far enough away, I turned to watch them for a little while.  Half to ensure I hadn't gone completely insane and hallucinated a shaman and a student at the foot of a waterfall.  I stood there for just a moment, watching them.  Then I felt my curiosity was invading their privacy, so I moved on, and I wondered how often a curiosity leads to something else.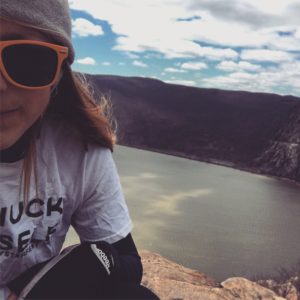 Go To Top