Are You Happy?
Lori Palminteri
October 15, 2018
Like most kids nowadays, my nephew is spoiled.  When small toys or pieces of candy are used in what's supposed to be a rewards system, I'm unsure who is actually in control; his mother (my sister) or him.  The game is appeasement is a tricky one.  Who's bribing who?
Tantrums are to be expected.  In that regard, he's not unique for a four year old.  But he is sweet.  Sometimes, in ways that take me by surprise.
When down in Florida visiting between gigs, I had the day with my sister and my niece (9 months) Charlotte and little Anthony. They're both mommy's kids.  Shy to leave their mothers side.  It worried me at first that Charlotte (Anthony knows me well) wouldn't warm up to me, since she's barely seen me, but then I remembered that I had something going for me… I look so much like her mom.  In fact, there's no one in the world who looks more like my sister than me, with the exception of, now, baby Charlotte.
After a day of going to a "circus" (this was what Florida called it, though I would have called it, "ghetto fair stuff set up in a parking lot"), we were back at the house.  Charlotte is making faces at me while glued to her mothers hip, and Anthony runs around with a blow up Brachiosaurus I brought from New York.  He stops running around, my nephew, and looks at floor and walks in a circle, and then he turns to my sister and says, "mommy, are you happy?"
"Yes, sweetie," my sister answers, "I'm happy."
Satisfied with this response, little Anthony goes back to his dinosaur.  I remarked how cute that little moment was, and my sister confessed that he does that from time to time, and she's not quite sure where he picked it up from.  What a remarkable display of empathy for a four year old.
Charlotte is very happy.  She'll smile at you if you so much as squint your eyes and give a little grin.  Even though she'd rather give you a toothy smile from the comfort of her mothers arms, when she's comfortable with you, she'll rest her head and snuggle into your chest like a little mush.  So precious.
"She looks just like Lisa," I keep saying, Lisa's baby pictures indisputable evidence of this.
"Yeah, but her disposition reminds me of you," my Mom says.  "I'd never seen a happier baby than you."  
"Good Lord, what happened?"  I half jest.  Though despite depression, or even during it, I have a knack for finding humor and laughing, a much needed tension release before recurring thoughts of horror peddle back in.  A strong sense of humor, an inherited trait, is my absolute favorite.
When I left Florida, it wasn't a sad departure, as my family would be coming up North the following weekend. Saturday, it was one of my cousins wedding.  The following day, we had my nieces baptism, followed by another family gathering of over eating because we're Italian (and for some (me), over drinking).
And then half way through this celebration for baby Charlotte, my Uncle gets a phone call that our grandfather died.  It wasn't any such surprising news.  He was 95, suffering in hospice.  It was something we were all expecting.  Still.  Endings are sad when you know they're coming.  Goodbyes hurt even when you've prepared for them.  A certain energy fell flat in that room, and my family all looked around at each other, all forlorn, some eyes red holding back tears as if to say to one another, "yah, I know.  I feel it too.  It sucks, but it'll be okay."
A wedding. A baptism.  A funeral.
The circle of life.  Rinse and repeat.
A close comedian friend of mine texted me that Sunday evening, "you have spots anywhere tonight?"
"No.  I had my cousins wedding yesterday.  My nieces baptism today.  And this afternoon my grandpa died."
"I'm sorry to hear that."
"Thanks."
"To be clear, I was talking about your cousin getting married."
That may sound insensitive, but it actually made me belly laugh.  It was the perfect response (especially and specifically from him coming to me).  There possibly no such thing as "too soon" among the inner circles of comedians.  Hit me with a left hook and I'll go down cracking up.
95 is a long life.  He was smart too, my grandfather.  Just months ago he could still recite whole verses from Shakespeare's MacBeth.  His memory was incredible.
He was also an overzealous Catholic.  And I cannot emphasize the word overzealous enough.  His lecturing was sometimes hard to be around.  I've been warned throughout my life that most people go to hell because of "sins of the flesh."  Pretty much everyone I know (including myself) would burn in hell for what my grandpa considers "sins of the flesh," which is really quite crazy.  But not a day went by that my grandfather didn't pray on his rosary and prayed for all six of his kids, and all his grandchildren, and my grandmother, who passed away from Alzheimer's.  If there's any chance I'm wrong about this no afterlife business, my best ally with God would be my grandfather praying so much for his family.  All he ever wanted in his life was for his family to be safe, healthy, and happy.  Are you happy?
People say I'm pessimistic.  Which is true, I guess.  Believe me when I say, I'd rather be happy than right.  I wish that was the case more often.
In this case, we had our chance to say goodbye to our grandfather, and he was ready for his time here to be a thing of the past, rosary still in hand.  So there's closure and peace of mind having listened to jazz on a record player, having a laugh, and telling him how well and happy you are, even during the times it wasn't true, right up until the end.  "I pray for you everyday," he said every time I left his house, "would you pray for me too."
"Of course, grandpa, of course."
Though I don't pray in the traditional Catholic sense my grandfather spoke of, the people in my family are always in my thoughts.  They are thought loops that I'm glad exist.
You don't want to miss your chance to tell people you really care about that they're more than just a passerby, more than just some person who came and went; that they left an imprint of some sort.  You don't know if or when someone will end up in the rear-view mirror, so don't miss the opportunity to tell them you love them when you can.  That they mean a great deal to you.
It's a cold truth, but it's still a truth: most people do not care if you're happy or not.  Most people don't want you to be unhappy, I think more humans are apathetic than malicious.  But out of the millions of people in the world, most will never ask, think about, or give a shit if you are happy.  And so, I think it should be a more common question we not only ask ourselves but each other.  Are you happy?  It's with those people who care enough, who just want to see you smile, that you are home.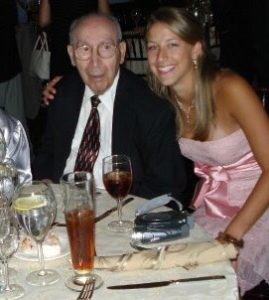 [Grandpa & me, some years ago at another cousins wedding]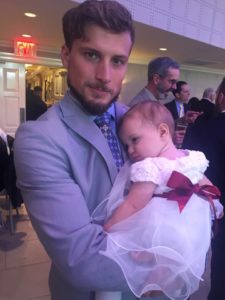 [My brother, the Godfather of baby Charlotte]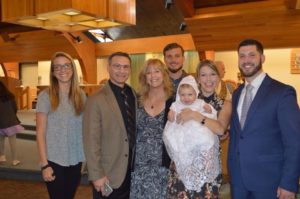 [Me, my Dad, Mom, Brother, Sister, Brother in Law & Baby Charlotte]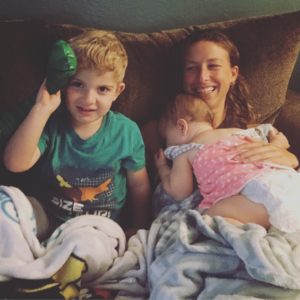 [Me, with the kids who make me happy]
Tomorrow, and tomorrow, and tomorrow,
Creeps in this petty pace from day to day,
To the last syllable of recorded time;
And all our yesterdays have lighted fools
The way to dusty death. Out, out, brief candle!
Life's but a walking shadow, a poor player,
That struts and frets his hour upon the stage,
And then is heard no more. It is a tale
Told by an idiot, full of sound and fury,
Signifying nothing.
— MacBeth
Go To Top