Adventure Pack
Lori Palminteri
May 11, 2021
I don't even own a single pocketbook. Not one. I only have small backpacks and a couple of wristlets. In fact, the handbag craze with women is completely lost on me. Usually if a woman brags about the price tag on her bag I think she is probably not that smart and likely not capable of original thought. If the price on a handbag impresses you, we have literally nothing in common. You're a sheep. I'm a creative.
He didn't mean anything by it, when he said, "can you put this in your purse?" Besides a small favor before we were to hike through the lush, emerald rainforest to find a hidden waterfall in Puerto Rico.
"It's not a purse," I corrected him, taking Craig's phone and putting in my mini back pack, "it's an adventure pack."
"A what?"
"It's an adventure pack! I don't own purses."
At this very moment in time, Craig was annoyed with me. It took us a long time to find the entrance to this trail. We'd been circling the area for over an hour and even though he was hiding his impatience with me at this point given the infancy of our relationship, I could tell he was at minimum irritated with me. Fair enough. We were in paradise and he yearned for a Pina Colada on the beach. Yet, I am restless, and I yearned for adventure. With my pack on my back. Ready to explore.
It's a 20-30 minute hike/rock scramble upstream and it's tough— you really have to mind your steps. It's slippery and if you fall you will get hurt, potentially badly.
But, alas, the reveal of the payoff is awe inspiring. A giant fall, dripping with greens and shimmering with golds in the sunlight with a turquoise sky above.
Because of its exclusivity, there were only three other guys there who gave us pointers on climbing the falls. They left shortly after and we had the place to ourselves. We wouldn't see another human until we headed back. It was just us and the lizards.
"It's the fountain of youth," Craig cried out as the buckets of cold water dumped on his head from the heavens above. He was, of course, referring to Ponce de Leon's obsession with finding the Fountain of Youth. In the 1500's, after colonizing Puerto Rico under King Ferdinand, Ponce de Leon searched and searched for the sacred waters that could restore youth. Tilting my head up, I opened my mouth to let the crisp, fresh water onto my tongue.
Some say Ponce de Leon didn't actually believe in the mythical powers of the fountain of youth— that it was a mere metaphor for finding new lands profitable for governing. As back then there was still much of the world to explore (and conquer/steal from indigenous people). However, mystery and religious mystic still reigned over science. The King himself wanted to find the fountain of youth, not just for wealth but for power, and perhaps love, as he married a woman 35 years his junior.
In some ways, I consider myself a sort of modern day pirate. And to quote Jack Sparrow, "not all treasure is silver and gold, mate." Treasure to me, is this waterfall. It's this experience. It's not merely a place or even something tangible. It's time. But I've no faith in a fountain of youth, and as I drank the waters of a waterfall that could have made Ponce de Leon's eyes dilate, I've no wish to live forever. That's a curse, I know. For all the adventures I can fulfill in my lifetime within this body, with my adventure pack on my back, are treasures because the here and now is fleeting, as I am too. And in my next life, there will be no adventure pack. There will be no baggage to check or fortunes to carry. Just my consciousness, and god willing, these memories.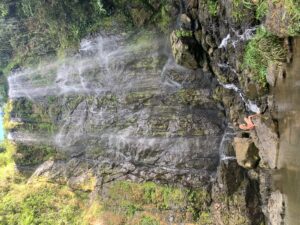 Go To Top