4.5
Lori Palminteri
April 30, 2018
White water rafting is best in the Spring.  And by best I mean most dangerous.  Because as the snow melts, the river levels rise and creates the fastest and largest rapids.
Cut from the same half insane cloth, my cousin Brian and I had our eyes on going on a day trip this Spring.  Brian's mom and my dad are twins.  We're both the middle child and our birthdays are soon approaching, and we're both thrill seekers.
I had gone white water rafting in West Virginia with two of my cousins from my Mom's side of the family years ago.  Yeah, dare-devilish personalities runs on both sides of my family.  We had a blast then, in up to level 3 rapids, and even though both of my cousins fell overboard on that trip, I still craved a little bit more intense of a ride.
For that intensity, it has to be in the Spring.  So, I had my eye on the last weekend in April both because it's optimal rapid season and I have comedy gigs every weekend in May so sometimes opportunity avails itself without room to think about it.
Our original plan was to drive up to our other cousins who lives upstate on Friday (she would have totally gone too, but she is pregnant; when I said we had to go in the Spring for more dangerous rapids, she responded, completely sincerely, "of course, the more dangerous, the more fun"— haha).  But then Brian got a date with a new girl he digs on Friday night.  I told him, no sweat, I'd go with him or without him.  I know what it's like to be smitten, that's happened to me at least once.  He said he still wanted to go after the date, and drive up late at night.  "Yeah, yo, I don't give a shit," was my response, verbatim.
So I chilled Friday night, aiming to relax (not my strong suit), awaiting my cousin knowing the day ahead would require all my energy.  Brian didn't arrive at my apartment till almost 2am. We decided then it would be rather futile to stop at our other cousins, because we'd only have like two hours to rest, and then we'd have to leave.  We just decided to drive straight there and nap in the car for a couple hours before the trip.
Even though he drove, I didn't sleep much on the way up.  Too anxious/excited.  It's about a four hour drive and dawn begins as our drive almost ends, and so does our cellular service.  Our gps craps out and we have no service whatsoever.  Now, I was infinitely grateful I was with my cousin and hadn't trekked this trip alone.  I'd be scared if I was alone without a device to call for help whenever I wanted.  My bravery only extends so far.
Alas, we found the place no problem.  Two and a half hours early.  We both napped a little though I did more reading than napping, and slowly but surely, other people started arriving.  There were more fellow rafters than we expected.  We hadn't expected a lot of other river goers because they blocked buying tickets online and you had to call, because, normally, they allow kids to white water raft but the conditions were going to be rough so children were banned.  We were sent online waivers, and for some reason, any time I'm sent a waiver and the first paragraph says, "WE ARE NOT LIABLE FOR ANY INJURY INCLUDING DEATH," I laugh.  Laughing probably shouldn't be my first reaction to that, but it is.  This is not when or how I die.  I still have eight years left and I will make the most of them.
During the check-in, one of the guys who works there reiterates, "I hope you are here because you like adventure because the river is high and that is no joke.  These are the types of conditions entire rafts flip."
White water rafting is ranked from class 1 through 6.  Class one is basically like a lazy river tube ride.  Class 6 is not for even the daring thrill seeker, professionals only.  We were about to go into up to 4 to 4.5.
Waves and roughness doesn't scare me.  But cold water does. I very much do not want to be thrown into water that is about 45 degrees.  Even though I have the proper gear, going under water in temperature that low is extremely painful brain freeze. And I only know that from surfing in 50 degree water with a hoodie.
When putting on my booties, eight of my ten toes were already white.  As someone with Raynauds disease, I should avoid any activity that will cause my capillaries to cut off blood flow to my extremities, but I don't always make the best decisions.
Once we're geared, ready to go, and on the bus, one of the instructors gives a safety spiel:
"For how many of you is this your first time?"
A bunch of people raise their hands.
"You've never been a bus before?"
This gets a big laugh.  I whisper to my cousin, "that line is hack and kills every time."  My cousin and I laugh to ourselves.  Tour guides are always equipped with hack lines.
I recalled from last time one of the most important rules to remember was if you fall out, you're to tuck in your knees.  If you try to stand up, your foot is likely to get caught in a rock, and the unforgiving riptide will pull your body, and you'll probably break your leg.  "Remember these four words," the guide says, "KEEP YOUR FEET UP."  He goes over commands the guide will use: Forward (paddle forward).  Back (paddle backwards).  Left right/Right left (you get it, right?).  And Rest.
"What are the four most important words?"
The crowd repeats, "KEEP YOUR FEET UP," but my cousin only chimes in at the end, "Feet up."  I laugh, "easier to remember two words anyway," I say to him, "FU, Feet up."
Our guide, or Commander, as I will call him as we are basically reliant on his commands to keep us from dying on the river, is a shorter, older guy, with crazy eyes.  Despite his size and age, I am reassured that he is good because of his crazy eyes:  blue and staring, hardly blinking, the gaze of an insane person— the type of insane person you want captaining your raft.
There are a lot of different rules about what you should do if you fall out, even if you're left behind (stay on the side of the river until someone comes for you).  The place was so sure they'd lose people due to conditions they had an extra person in a kayak to ensure backup safety.  "We're not falling out of the raft," my cousin looks me in the eyes.  "I sure hope not," flashbacks of being pulled under in cold water haunting me.  I fucking hate cold water and being cold.  So this trip is making less and less sense.
Brian and I are quick to cop the front seats.  If I'm going to die, I want the front row seats of my death.  Also, my cousin and I did some prejudging that we were both on the lighter and more athletic side than most of the others on the raft so it would be best for us all that we're on the bow.
It's a nice day.  The sun peeks in and out, but it's a huge difference when it's shining down upon us.  And the Hudson is beautiful.  The cliff side mountains are decorated with pine trees, and trees not yet bloomed, with ice blocks still melting on the shores of the river.  Often times, I wish I had a camera to capture it— to save the memory and to share it, but sometimes I think it better I don't have such a device with me, always insisting at capturing beauty instead of just enjoying it in the present.
[All pictures courtesy of White Water Rafters who had a cameraman set on a cliff to grab these great shots in this here blog.]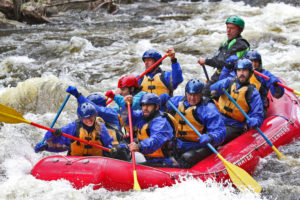 [This here would be consider class 3.  Notice my face is a mixture of "this is fun/oh fuck this is gonna be cold… wait for it"]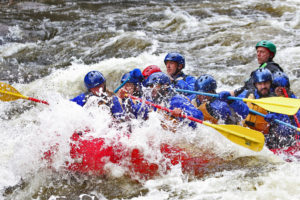 [Annnnndddddd that's really goddamn cold]
The river, to be clear, isn't class 4 or 4.5 the whole time (that would be extremely terrifying and also exhausting, as you're on the river for over three hours).  It will range up and down throughout the ride.  When we hit the first real rapids and a wave punches my cousin and myself in the face, we get the first real, "oh fuck my brain hurts that was cold and I really really really really don't want to fall out of the raft" moment.  And that's followed by laughs and high fives.  My feet are freezing/numb and I know that's not going to change so I try to ignore it.
Our crazy-eyed Commander, who wrote a book about the Hudson river, gave us plenty of information about the river. Some of which was interesting, some of which I tuned out because it just felt like he was pitching his book.  I wanted to tell him the same thing my manager told me when I pitched my book, "the story just isn't strong enough."  Unlike this river.  Which was pretty strong.
Whenever approaching the level 4 (or 4.5) class rapid, Commander would tell us which side we would tackle it, how it would dip, and to listen for his commands, which were sometimes lost on me and my cousin because we were in the front, and therefore the furthest from him, and often, waves were crashing on our heads.
"Forward!"  Commander yells, "FORWARD!  DIG, DIG, DIG."  Fast and faster, we're headed into the rapids.  Waves towering over the raft.  I pull my paddle toward me, head down, grab the rope and duck.  Freezing water engulfs me, rushing all around. I'm not even 100% sure I'm still on the raft.  My head hurts from the cold.  "FOWARD!"  I gasp for air.  Brian is still here.  We're all still here.  I get my grip back on the paddle to obey commands, "FORWARD!"  Another wave crushes over us.
"REST!"
We ride the rapids.  Catch a breath.  Look at each other.
"That was awesome."
"I thought you were going out," the guy behind me says, a middle aged man named Paul.
"I did too."
"I was ready for it."
Then I realized, that when getting on this raft, I was happy to be with my cousin so he could pull me out of the river if the water decided to take me, but being next to me, Brian wasn't in the ideal position.  Paul was.  This stranger behind me.  He was my best bet of being immediately pulled back in if I were tossed out.  And I don't underestimate the power of water.  These rapids throw around logs 4X my weight.  I was happy that Paul had my back.
The journey continued on.  We followed commanders barks, be it FORWARD, BACK, REST.  He reiterated how crucial it was for the raft to remain in a forward position during falls and fast rapids.  Going sideways could mean a raft flipping entirely, which would be a great story, but a horrifying experience.  Commander was like a hardened sea captain: both in love with the water and totally respectful and damaged by years of seeing what she is capable of.  Whenever approaching the more extreme rapids he would say, "listen to my commands because falling out here would result in serious carnage."
"Carnage" is such a good word.  Dramatic.  I love that word and I'm going to use it more often from now on.
"FORWARD!  FORWARD!  DIG!  DIG!  DIG!"
DIG translation: PADDLE LIKE FUCKING HELL STRAIGHT INTO THOSE GIANT FAST WAVES
With every huge wave, the bow of the raft disappeared temporarily, as did myself and my cousin, coming up for air, only to be pounded again and again.
"DIG! DIG!"
But I'm just holding on for dear life.  Everyone else can paddle. I got my feet pressed under the seats.  I manage to get back into paddling position and paddle like fuckin' hell, the worst/best isn't over.  Our raft is about to take on a a giant wave, again, I crouch in the front, bracing for impact.  I think this time I'm going.  This time, the river is going to take me out and I would be fine swirling in rapids if it weren't so fucking freezing.  But I feel a hand on me.  Someone is pushing me down.  It's Paul.  He's keeping me in the raft.
"Holy shit," we say when we're out of those rapids.  There's a lot of "whoo-hoos!" as well.  Caught up in the rush, I'm unsure whether or not I thanked Paul.  I'd regret it if I didn't.  Funny how put in certain situations and conditions that humans can be so helpful to each other.  We were a good team, all of us, strangers.  At first a little clunky, clanking our paddles in different rhythms, but we all kind of synchronized quick.  Perhaps because we had a good Commander.  Even he complimented the crew on our abilities.  He gave my cousin and I a nod for our "improv skills" in the last rush.  I never consider, "duck and hold on for dear life" an improv skill as much as a survival skill, but hey, maybe my "improv skills" are better in the water than on stage.
At this point, I was freezing.  Shaking, and hoping the sun would shine through.  Yes, it was fun, and the scenery was never something not worthy of a post card, but I was fantasizing about a long, lonnnnggggg hot shower, and being dry and naked, and wrapped in a blanket like a swaddled baby.  Though I'm pretty sure a swaddled adult human is just a "straightjacket," but even that sounded appealing given that it would be dry and warm.  Probably where I belong anyway.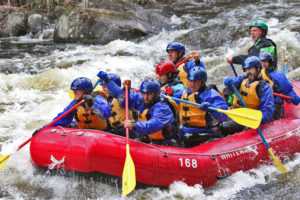 [If only I had such a deranged confidence in my comedy career I might be more successful.]
Despite having stayed up all night, spending hours paddling through rapids, eating very little, my cousin and I were going to drive the four hours home after the trip.  On a normal day, I yearned and looked forward to being home in my soft bed, especially if I could sleep in the following day.  On this day, I was especially stoked for it.  Sure, I would be sore as fucking hell in the morning but even that didn't bother me.  Usually, I wake up sad.  I would trade sore for sad.  Maybe soreness would replace sadness (spoiler alert!  It didn't.  I woke up sad AND sore, and in dire need of a lower back massage).
Commander said we came on what would probably be the best rapids of the year.  Brian and I took this as a compliment as though it was something in our control.
The trip confirmed what I have always known.  Water sports and adventure remain my hearts delight, but I still really fucking hate cold water.  Even working on this blog on the day or two after, there remains a chill.  The truth of it is, it was fun as hell, but my future doesn't hold many white water rafting trips because I can't endure that bone marrow cold.
You might be thinking, "wow, last week you went rock climbing, this weekend white water rafting, you're a comedian and a surfer, you must be the COOLEST chick on the planet."  And I would say, 100% sarcastically, "damn right I am."  Hahaha.  To be clear, more than not, I resemble the person who just took off a wetsuit: trembling, small, uncertain, anxious, longing to be home, with an overall sense of not belonging anywhere.  And maybe that's why I'm drawn to places where no human belongs: like level 4.5 freezing rapids.  Because in the rush, there's no time to think about belonging anywhere.  You're here, looking up at a wave that's about to rock you and freeze you, with one option and one command, "FORWARD."
Go To Top