3 Days Into 30
Lori Palminteri
May 21, 2019
The eve of my birthday, forever the last day of my 20's, my sister took me to see "Harry Potter & The Cursed Child."  Before jumping in here, allow me to review this play.  If you're a Harry Potter fan, it's a must see, but even if you're not big on it, it's such tremendous production.  The story is fantastic, the known characters are done so well, the new characters are compelling, relatable and empathetic.  The sets may be the best I've ever seen in a play (tied with Lion King).  I was floored and I could probably write a whole blog in positive review of this show.  Instead, I'll just say this: I was so happy I lived 29 years to have been a fan and gotten to see this story and show played out on stage.  Completely floored.
May 16th, 2019— I wake up 30 years old.  Physically, I feel fine, if not great.  I look great too, at risk of sounding pretentious, but I always knew my 20s I'd be a scrawny late bloomer and one day guys would look at me with desire (boy, oh boy, did I underestimate how much problems that would also cause).
On my way to work, I was trying to decide what to do with my day.  I had no real plans, and I liked it that way.  The play from the previous night was more than enough for me.  For 7 straight years, I'd been movie attending by myself for my birthday.  Which isn't as sad as it sounds if you knew how much I love going to the movies by myself.  But should I continue my tradition, or break it?  There weren't any movies out I hadn't already seen that I wanted to see.
I wasn't booked but I texted some of my Long Island comedy kin about where they would be, and decided I'd probably go out there, do a set and get drunk.  Really, two of my favorite places are being on stage telling jokes or being in the ocean.
Work was fine.  Because my position at my job is soon to no longer exist, and I'm out of work soon, I've entered a sort of, "oh you guys are going to get unfiltered Lori… how fun for us both!" mode at work.  I got a call to go to front desk to sign for a package, which I knew was bullshit, because when I have to sign for a package, it's at security, so I figured I was walking into getting cupcakes or something.  But much to my surprise, my parents were there.
Apparently, this had been in the works for sometime.  The thought of their daughter spending her 30th birthday alone in a movie theater was heartbreaking to my sweet parents, so they came up from Florida to make sure I wouldn't continue my lonely tradition.
After I finished my work day, I didn't do the gig, my folks and I went out to dinner and then I took them to the jazz club I work for, because it is a pretty dope club— the musicians are so good— I knew they would love it.  They did.
As of late especially, I seem to have spooked my family and friends with both writings here on my blog and my posts with my depressive jokes (my straightjacket pictures also didn't help, but I'm a fan of those, Billie Eilish doesn't have shit on me-hahaha).  As much as it's a warm sentiment, there's a little part of me that resents this, only because I don't want other voices in my head when I write (I'm overloaded with voices as is).  I don't write for you.  I don't write for other people.  If I'm going to live this life as an artist, if I'm going to pursue this, work at this, pour my heart into this, I'm going to do it my way.  I'm going to do as close to my truth as possible.  Because otherwise there is no point.  Otherwise the fire dies and if the fire dies, I'm dead too.  I'd rather die young being this version of me than grow to be someone who compromised so much that the fire is has been long gone before they actually are. Conversely, at the same time, it upsets me knowing I'm upsetting people.  Especially the people I love, the ones who have always been so good to me.  I don't want to talk about it.  It is my birthday after all.
We all got pretty (really) drunk and had a lot of laughs, my folks and me.  The following day, I would show up to work hung over.
After work on Friday, May 17th, I went home and took a near 2 hour nap, I was completely wiped out.  It was one of those long naps that you wake up from and you're completely disoriented if it's nighttime or morning.  Friend and fellow comedian, Sean Donnelly, was rallying comics for his birthday at a pub near where The Stand used to be located.  Paddy MaGuires, an overly decked out Irish pub that appears to be celebrating St. Patrick's Day year round.  Just a block away from a bar all-year decked out in Christmas decor called "Rolf's," which is a hilarious place worth checking out.
I met Sean down at the Comedy Cellar where he was hosting the early show.  Sean and I both have an affinity for aliens and talk of the multiverse, so our conversation gets weird real quick.  Dan Naturman, one of the best comics around, joined our table and wished me a happy birthday, assuring me that 30s weren't so bad at all.
"I know," I said, "I'm mostly joking with that end of the world shit.  As a teenager, I always thought my 30s would be the best years of my life.  But then again, I was a weird teenager."
"You're a weird adult," Dan says, which is a ringing endorsement from Dan Naturman.
Sean and I walk over to the bar.  Lots and lots of comics came by.  Sean is about as nice of a human as humans can be, so it was sweet to see so many people come out to hang.  Most of them didn't know it was also my birthday, but I didn't advertise it either.  Those who did know, I let them buy me a drink.  But I preferred my covert birthday.  This was Sean's celebration.
Comic after comic came through.  The bar was packed and it was a warming scene.  Drinks were pouring and people were laughing.  Comedians are a fucked up bunch, but they're my favorite.
I was at the corner of the bar talking to one of Sean's normal friends (not a comedian), when this drunk Mexican guy came in and sits next to me, not eavesdropping, but staring right at me. Sean's friend asked me how I knew Sean.  I told him I'm a comedian, and even though Sean and I are both native Long Islander's, we become friends as comics.
Cue drunk Mexican guy, "you're too beautiful to be a comedian."
This is the worst compliment you could possibly give me.  In fact, I take it as a giant insult.  All I want is to just be a good comedian.
"Tell me a joke," he requests.
Sean's friend immediately jumps in.
"You can't ask her that!  She's off the clock.  If you want a joke, you're going to have to pay her."
"I have $900."
"Um… what?"
The guy pulls out his wallet to prove he has $900 cash (at least) and he'll pay me $800 for a joke, $900 for a Mexican joke.  Sean's friend was about to make me more money than my manager ever has.
I tell him I don't have any Mexican jokes because I'm not a hack (this was lost on him).  But I did tell him a joke.  A joke that made him pause, think and then laugh, which is a favorite reaction of mine.  He tries handing me a $100 bill and I practically open his wallet to put the bill back in there.
"Put this away!  And stop advertising that you're carrying around $900 cash.  We're in NYC for Christ's sake.  What's wrong with you?"
The following day when I drove out to Long Island, I semi regretted being a nice person and wish I just took the $100.
May 18th, 2019.  I'm slow to get up because I've been drunk for two days.  Unbeknownst to me, this binge was about to continue.  It was a beautiful day and I went for a run around my neighborhood in Astoria Park which is just lovely this time of year.
The plan was to go to my cousins for a BBQ with her family and mine while my folks were still in town.  I was supposed to leave early to go to a surprise birthday party for a woman who was once my teacher, then the mother of the family I was a nanny for for 10+ years and is one of my best friends.  We're almost exactly 20 years apart to the day.  For years my brother has been telling me how weird it was that my closest female friends was 20 years older than me, but as Dan Naturman said, I'm a weirdo.
Traffic heading east on Long Island was (not surprisingly) terrible, so I texted my cousin that I was running a bit late.  When I got there, I went to the gate to the backyard and was first greeted by my Uncle who was wearing a florescent yellow Batman shirt.  It was so bright that it nearly stunned all my senses (I'm not knocking this shirt, I like it very much), and I hugged him hello.  Then when I looked up, I realized, all my friends were there and they delivered a somewhat surprised, "surprise, Lori!"  My entrance was poorly timed, so we all were surprised.  Really, I didn't suspect it.  No ones's ever thrown me a surprise party before, and with my parents already in town to surprise me, that I suppose threw me all together.
My New York family (I have a lot of out of state family) were there, my besties from childhood (I joked to my friend Katrina that she was basically the only friend I've made since I was twelve, the rest of these people were basically family), and even a friend I met and made from Costa Rica.
Comedian friends couldn't make it because they had gigs which I totally understood.  One of my best friends in comedy picked up a last minute gig and I told them they were lucky I wasn't offered that gig first.  Otherwise I'd be driving three hours to some no where town for $300 to do twenty minutes of stand up (with a smile on my face) and I would have missed my own party.  Man, stand up is one hell of a drug.  It was apparently also pitched that they "booked me" on a private gig to prevent me from working, but I told them this was a terrible idea.   If I showed up ready to do a gig and there wasn't, I'd probably be upset (hahaha, comics really are a special kind of insane assholes).
It was a beautiful day out.  My nephew and niece were running about.  We drank and laughed.  Friends of mine who grew up running around our backyard got to see my parents again who've missed them.  My (2) new friends who don't really know my family commented on how nice and funny my family are.  "They're more funny than nice, trust me on this," I say proudly.  Childhood bestie, Lauren, who moved to Minnesota was there which was much of a surprise.
Italian food was catered and drinks flowed.  I was pretty quickly rather drunk, all smiles.
As she was leaving, one of my Aunt's said something equal parts sweet and sad to me.  She asked if I was surprised and happy.  Yes, I said, an honest answer to both.  Then she said, "we want you to feel loved."
Man, my family really doesn't understand depression, or maybe even me to a large degree (apparently my sister was trying to explain how 'really, really dark' my sense of humor is to my parents which is hilarious on a number of levels, especially coming from my sister because she isn't really a dark person).
I wouldn't trade my family for anyone else's.  Batshit craziness and all.
My Uncle Keith is one of my favorites for conversation.  He said, "I just love it when all my kids and family are together."  His eldest daughter lives out of state and couldn't make it, but my Dad and I agreed on the sentiment.  Ours is not a family of dreaded reunions.
"You're an easy person to buy gifts for," my buddy Andrew says, "because it's like shopping for a 10 year old boy."
The others agree.  As evidenced by their birthday cards which included: Batman, Star Wars, Rick & Morty, dinosaurs & monkeys.  A lot of silliness does make smile though.  Is it that odd for a 30 year old to love dinosaurs?  I don't think so.
When the sunset, and my cousins with children parted with their little cuties, my friends and I went out to the bar, where I continued to drink and I'm sure went on some self righteous rants which (I hope) are more entertaining than they are preachy, though I suspect it is a fine line.
For all who came, or knew and continued to keep it a secret, thank you.  To my sister and cousin, especially, thanks for putting it all together.
It sucks being most ages, I think.
But it doesn't suck to be 30 if you're Lori Palminteri.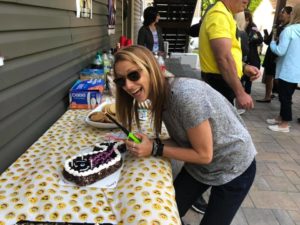 Go To Top